Peso to move sideways ahead of US data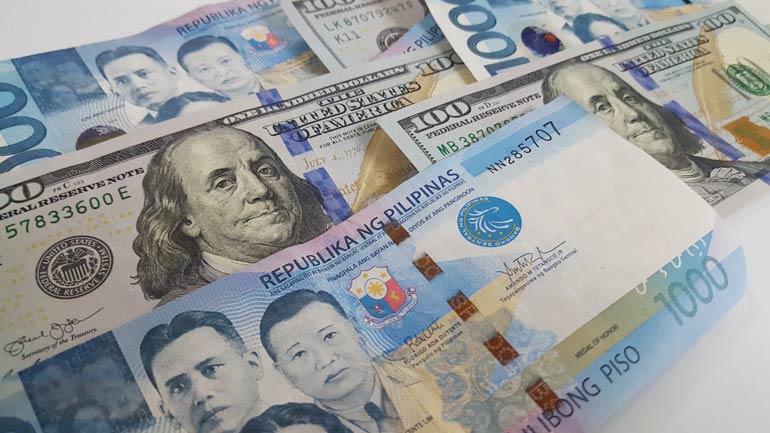 THE PESO is expected to move sideways this week ahead of the announcement of quarantine measures for June and as the market awaits US jobs data to be released on Friday, which could show if the Federal Reserve can tighten its policy settings sooner rather than later.
The local unit closed at P47.80 per dollar on Friday, rising by 18.5 centavos from its P47.985 finish on Thursday, based on data from the Bankers Association of the Philippines.
Week on week, the peso also strengthened by 14.5 centavos from its P47.945 close on May 21.   
Rizal Commercial Banking Corp. Chief Economist Michael L. Ricafort attributed to the local unit's appreciation last week to S&P Global Ratings' affirmation of the country's credit grade.
S&P on Thursday kept its "BBB+" rating on the Philippines and assigned a "stable" outlook on expectations of a "healthy" economic recovery, which will help improve the country's fiscal standing that has weakened because of the coronavirus crisis.
A trader, meanwhile, said the peso strengthened last week amid persistent weakness in the dollar as US Treasury yields rallied.
For this week, the peso could move sideways versus the dollar ahead of key data out of the world's largest economy, which could dictate the pace of the US central bank's policy tightening.
"[The dollar] faces renewed pressure again if the US data release this week capped by a hefty read of nonfarm payrolls later in the week, fail to spawn another round of sell-off in the US treasury market," the trader said.
The trader noted that positive jobs data would accelerate the Fed's tapering.
The US will release its monthly jobs report on Friday. A Reuters poll predicts a 621,000 rise. Strong data could again raise concerns of an earlier-than-expected stimulus unwind by the Fed.
In April, US job growth unexpectedly slowed, possibly because of shortages of workers and raw material. Nonfarm payrolls added a mere 266,000 jobs compared with predictions for more than 3-1/2 times that.
"Steady to retreating May [Philippine] inflation and an upbeat PSEi (Philippine Stock Exchange index) with further relaxation of the lockdown in the NCR (National Capital Region) Plus expected soon, bodes well for [the peso]," the trader added.
Mr. Ricafort said the latest decision on quarantine restrictions in the capital will drive peso-dollar trading this week as this could affect market prospects for economic recovery.
"The expected increase in COVID-19 (coronavirus disease 2019) vaccine arrivals…could help further reduce new COVID-19 cases in a more meaningful manner, justify further re-opening of the economy, including some hard-hit industries/sectors, thereby improve confidence by consumers and businesses, and provide greater support to the overall economic recovery prospects," he said.
For this week, the trader expects the local unit to move within the P47.85 to P48.15 levels versus the dollar, while Mr. Ricafort gave a forecast range of P47.70 to P47.80. — with Reuters