How Cinema '76 carries on in a pandemic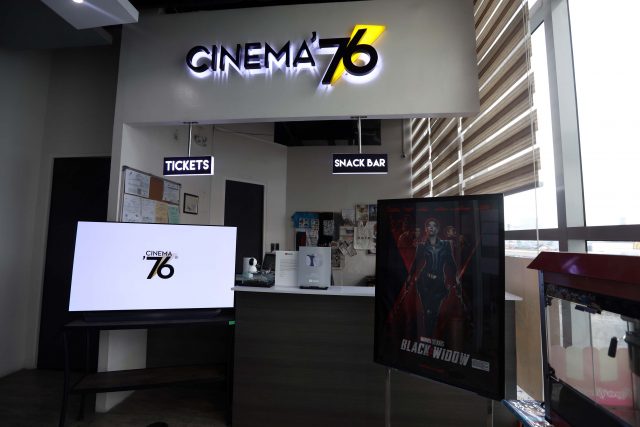 DESPITE the return of the cinema experience, things are different now. No more queueing for a ticket, or munching on popcorn while watching a film in a room packed with fellow patrons laughing and shouting at the events on the screen.
Barely three months since cinemas were allowed to open in the midst of the coronavirus disease 2019 (COVID-19) pandemic, getting audience members to return to the cinema has been a challenge. Then, right after the Christmas holiday celebrations, came the most recent surge of COVID cases in Metro Manila.
Just as many businesses have struggled, the microcinema Cinema '76 Film Society has faced the uncertainty of when it would open its doors again.
"It's a struggle for everybody in the cinema industry. It's a whole business kasi when you produce a film, you have to have a distribution platform to show your films. Granted that there are online platforms —  thankfully it is there —  but it is still different cinema experience and watching it with the audience," Executive Vice-President and General Manager at TBA Studios Daphne O. Chiu said in a Zoom interview in December.
Due to the 19-month closure of cinemas, the microcinema had to say goodbye permanently last year to its original headquarters in San Juan.
"We had to let go of a lot of our staff, walang guarantee kasi din kung kalian magbubukas ang sinehan (there was no guarantee at that time when cinemas would open)," Ms. Chiu said.
However, not all hope was lost as their focus shifted to managing the second branch in Anonas, Aurora Boulevard, Quezon City.
ADJUSTMENTS AND CHALLENGES OF REOPENING
Since the reopening of cinemas in the Philippines in Nov. 2021, Cinema '76 has offered new titles weekly at P260 to P280 per ticket, with seats reserved via online booking.
"It really depends on the title. We are a microcinema and [we] have smaller space and team, and we also understand the need to jumpstart the industry," Ms. Chiu said. "We intend to stay at our [price] range for as long as we can."
The theater's seating capacity has been adjusted to 48 people —  less than 50% of the space's capacity of 120. Since the microcinema operates just one screen, the team employs a sliding tactic for back-to-back shows.
The team has also utilized the venue for private screenings and as an events space. They charge P12,000 for exclusive film screenings, seminars, fundraisers, workshops, and other events for 48 people. The films that can be rented depend on availability.
"We're seeing more venue rentals than the regular walk-ins," Ms. Chiu observed since reopening late last year.
As for Dec. 27, 2021, she said that "about 30% of the total sales come from the venue rentals."
"There's a space. So why not?," she said.
Ms. Chiu also added that there has been a change in behavior among guests.
Prior to the pandemic, Cinema '76 offered new titles on Fridays and accommodated indie titles which are not often seen in commercial cinemas. Since the film distribution is limited nowadays, the titles screened by the microcinema, and its opening dates are in conjunction with major cinemas.
"Now, we open [new titles] on Wednesdays. Surprisingly we see an increase on Thursdays as opposed to before," she said. "And the day before the next Wednesday, tataas ulit. Surprisingly Monday malakas. We're supposedly closed on Mondays, but we open on Mondays now because we see an increase in the audience."
"But we need a little bit more time to study it," Ms. Chiu said, referring to audience behavior.
"Sana (hopefully) a lot more Filipinos can see that this industry is very special… In reality though, marami talagang nag-aantay ng (many eagerly anticipate) Marvel movies. But if we don't support our own, mawawala tayo ([our local film industry] will be left behind)," she said.
THE CINEMA'76 CAFÉ
"We are happy in our new home," Ms. Chiu said.
The microcinema's Anonas branch has also ventured into a food and beverage with the opening of Cinema '76 Café, an al fresco dining area. The café has movie-themed décor including posters from TBA Studios' films, and bench seating.
TBA Studios is behind such films as Heneral Luna, Goyo, Sunday Beauty Queen, Kung Paano Sila Nawala, Birdshot, and Women of the Weeping River.
Ms. Chiu said that the idea of opening a café was born for guests needing a place to eat and discuss the film they had just watched especially during last full shows.
"We're very happy to be doing something entirely different from producing, but it's also film related. We're still a cinema exhibitor, and we have a café that's very cinema slanted and film-themed," she said, adding that some of the staff from the shuttered San Juan branch are now working at the café.
THE ONLINE COMPONENT
To reach a wider audience Cinema '76 also has its online platforms —  Cinema' 76 at Home (https://cinema76fs.eventive.org/welcome) and TBA Play (https://www.tba.ph/global/).
"We have been targeting to reach more Filipinos abroad and their families and foreign friends," Ms. Chiu said.
The titles are carefully chosen. "We all know that once you put it online, the danger of being pirated is there. Pa-isa isa yung nire-release namin, para mabantayan naming yung titles (We release titles one at a time so that we can monitor it)."
Cinema '76 and TBA Studios also have their respective YouTube Channels where some of the action and drama titles, and recordings of virtual conversations with directors and actors are accessible.
In terms of film production for TBA Studios these days, developing a title will depend on safety.
"It's too early to say if we're pursuing it or not… The number one [thing to keep] in mind is the safety of the staff we will be contracting if there will be a project," Ms. Chiu said.
"We are finding our way, but I can proudly say that we survived the height of the pandemic in the last two years. We're not going to start from scratch again, but we're starting from experience," she said.
For ticket purchases, go to bit.ly/c76tickets. For booking inquiries, contact cinema76filmsociety@gmail.com and 0977-705-4276. For more information, visit https://www.facebook.com/cinema76fs. —  Michelle Anne P. Soliman