Jackie Chan 'kicks' off Shopee's shopping season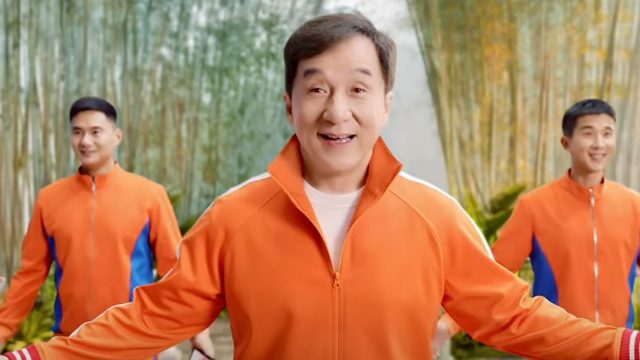 CHINESE actor, cross-continental star, and martial artist Jackie Chan is now e-commerce platform Shopee's newest endorser, specifically for the 9.9 (Sept. 9) campaign aimed to capture the holiday shoppers of the "-ber" months.
An online ad sees the martial arts star at the beginning of a fight before being interrupted by a Shopee sale announcement at which point everything gets an orange transformation (Shopee's trademark color) and everyone starts to dance to the Shopee theme. Mr. Chan ends the ad with a few choice words in Filipino, inviting viewers to shop.
But his participation goes beyond a bit of song and dance.
In a press conference on Aug. 19 where Martin Yu, Director at Shopee Philippines, introduced Mr. Chan's commercial for Shopee, Mr. Yu said, "You can expect a lot of fun in-app content featuring Jackie Chan starting today until Sept. 9." Mr. Chan will be featured in some Shopee games, and also during a special Shopee Live on Sept. 9.
Mr. Yu also said that they have a K-pop performer on board for a future campaign and a Sept. 9 TV special, but, "I can't spoil this one for you yet; you'll have to wait for that one," said Mr. Yu.
In a statement, Mr. Chan said, "I enjoy putting a smile on people's faces. It's exciting to partner with Shopee to celebrate the action-packed year-end festival and bring more joy to my fans and Shopee users. I had a lot of fun working with Shopee and I think people of all ages will enjoy the activities and content that we have prepared together. I hope everyone can join us to make the year-end shopping season a memorable one."
DEALS AND DEVELOPMENTS
For 9.9, Shopee will have the following deals for its Filipino shoppers: a Daily P1 Deals microsite, a two-hour Midnight Mega Sale from midnight to 2 a.m. on Sept. 9, and greater rewards with ShopeePay (the e-commerce platform's e-wallet). Specifically, users can use ShopeePay for online and offline purchases at branches of participating merchants nationwide. Until Sept. 8, shoppers can buy prepaid load and get ₱5 mobile data for only ₱1; pay utility bills and enjoy up to 50% cashback when they pay for Meralco, Maynilad, and other establishments; and scan to pay to score ShopeePay ₱1 Deals from Puregold, Seaoil, Potato Corner, and more.
Users can expect more deals from their favorite brands on Shopee's dedicated in-app portal for authentic brands, Shopee Mall. During the 9.9 Super Shopping Day, shoppers can expect up to 30% off brand vouchers and up to 90% off on leading brands such as Abbott, Havaianas, Maybelline, Nestlé, Colgate-Palmolive, Breyleemall.ph, Del Monte, Unilever Beauty, Adidas, P&G Beauty, Enfagrow, Huawei, Vivo, Pampers, Realme, and Xiaomi. Viewers can also tune in to GMA 7 and Shopee Live on Sept. 9 for a chance to win millions worth of cash prizes and giveaways, including two house-and-lot packages.
Aside from the shopping extravaganza, Shoppee has been busy with some good works. Mr. Yu said that they partnered with the LGUs of Makati and Taguig, providing fans, snacks, and drinks in some vaccination sites, while partnerships with LGUs also resulted in having their Shopee Express riders vaccinated. A program for fully vaccinated customers has also been made available, offering deals and discounts if they sign up.
Mr. Yu also announced partnerships with the Department of Trade and Industry for things like Shopee Thursdays, talks that teach entrepreneurs to use data to operate efficiently in e-commerce. They also launched the second ASEAN online sale day in August (the first one being in May), also with the help of the DTI. Through the Pili Pinoy campaign, users can help preserve local culture and play their part in supporting the local economy by patronizing shops such as Abubot PH, Joy Marcelo RTW Clothing, Via Christi, Tazanna, and Tala by Kyla.
"Shopee's mission is to support the local economy by connecting with MSMEs and consumers meaningfully," said Mr. Yu.
For more information about 9.9 Super Shopping Day, go to https://shopee.ph/m/99. —  J.L. Garcia