A river, trade, and sisig: What makes Kapampangan food so special?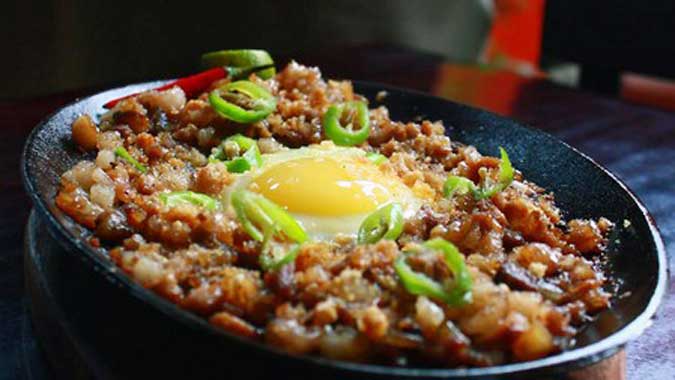 We make up names and labels for the things that we find important. In the case of the Kapampangans, they have named their culture and have tied their identity to the riverbanks (pampang in Filipino), and therefore, to the river.
Restaurateur and author Gene Gonzalez, speaking during a Management Association of the Philippines (MAP) lecture on April 21, provided a unique view of Kapampangan culture, as a son of one of the province's most illustrious families, one that hails from one of the province's most storied towns: Sulipan.
Some of the country's most famous names in food are in some way associated with the province. There's cookbook author, TV host, chef, restaurateur, and founder of a culinary dynasty Nora Daza, Mr. Gonzalez himself, and fellow restaurateurs Claude Tayag and Sau del Rosario. The late American celebrity chef and journalist Anthony Bourdain himself trooped to the province for sisig, the modern version of which was invented by Kapampangan Lucia Cunanan, another name to add to the Kapampangan food pantheon.
Speaking of sisig, Mr. Gonzalez refutes claims that sisig as we know it — sizzling chopped pigs' heads —  was invented from discarded heads from pig carcasses from queasy Americans in Clark Air Base. "Sisig has been around way back, during the turn of the century," he said. According to him, "sisig" is a word that means "chopped," and can be applied to many dishes of the region: they have varieties like banana heart sisig, and even one made with clams. "Sisig is a chopped pickled dish made of vinegar and spices," he explains.
He provides an explanation for sisig's necessity —  at least, one that comes from the class from which he descends. "There are many explanations. All I have to say is that when I was small, people from the elite Kapampangan class all had dentures. They were all sugar soldiers. They all liked sugar, because we come from a sugar-producing area. Before, if you had to be classy, sugar was an expensive spice. So, to be classy, and to emulate conspicuous consumption, people liked to put a lot of sugar in food. And people also have to have lots of dessert. People lost their teeth."
"So how does a toothless person eat lechon (roast pig)? Make it into sisig."
While we might think of legends to explain what we eat, sometimes, the reasons are far more practical. One takes the old form of sisig as a pickle, for example; or else the Kapampangan dish of fermented rice, buro. Pickling and fermenting were popular ways of preparing food in Pampanga — Mr. Gonzalez theorizes that it has to do with living by freshwater. "Because Pampanga is a freshwater produce culture; [and] is not a sea or coastal culture, I would say that early Kapampangan man ate things pickled rather than ate things raw, because of the presence of more parasites in freshwater fish." In the same vein, the fish and prawns that went into a buro provided preservation and gave an umami flavor — but also left behind amino acids and probiotics, in the absence of a robust dairy-consuming culture.
On a personal note, he remembers feasts with large barramundi fish with homemade mayonnaise (a remnant left behind by European traders). It is this spirit of trade that seems to have propped up the fortunes (economic and culinary) of Pampanga — and it's all due to the river. "Everything is furnished by the river," he said.
According to him, ancient trade networks were opened up due to the connection between the Rio Grande de Pampanga and the Pasig river (and thus to the seas). During the Spanish colonial period, the same river network would come in handy, this time for trading luxury goods to the local sugar and rice-filled elite — think fine porcelain and crystal. He even says that there is some evidence that Kapampangans who were sent to Mexico during the Galleon Trade may have taught local Mexicans how to distill tequila —  a story he promises to tell another time.
The prosperity achieved by Pampanga's sugar crop bought it cosmopolitan cuisine and flair; it also led the province to entertain some of the biggest names of the world: apparently, the Grand Duke Alexei Alexandrovich, uncle to the last Czar of Russia, had been to a home in Sulipan (a suitably grand one filled with the aforementioned European luxuries), as were various Asian royals, and a host of our founding fathers, and many members of Manila's elite.
Do these justify the reputation of Pampanga as the country's culinary capital? A lot of rival provinces might disagree.
"Many people say that Pampanga is the center of cuisine of the country," said Mr. Gonzales. "Pampanga is one of the citadels of cuisine in our country. Remember that we are [in] one of more than 7,000 islands. Each and every area would have a different interpretation of any Filipino dish.
"I can tell you that I will only claim that it is one of the citadels because of very good commerce, trade —  and marketing," he said.
According to him, one of the variables that make for good cuisine is the particular trade that goes on in a place. "Maybe we just go to the axiom that Pampanga was first," he said. "Sometimes, in marketing, the axiom that 'it's better to be first than to be better' will apply. I don't want to make any grandiose claims, though many traditionalists would always say that it's Kapampangan cuisine in the center."
This should settle the debate: "I would like our friends and our fellow Filipinos to investigate and to see and to try the food of other areas themselves; to be able to understand that there is a rich food culture that is present." — Joseph L. Garcia