Russia-Ukraine crisis may derail PHL recovery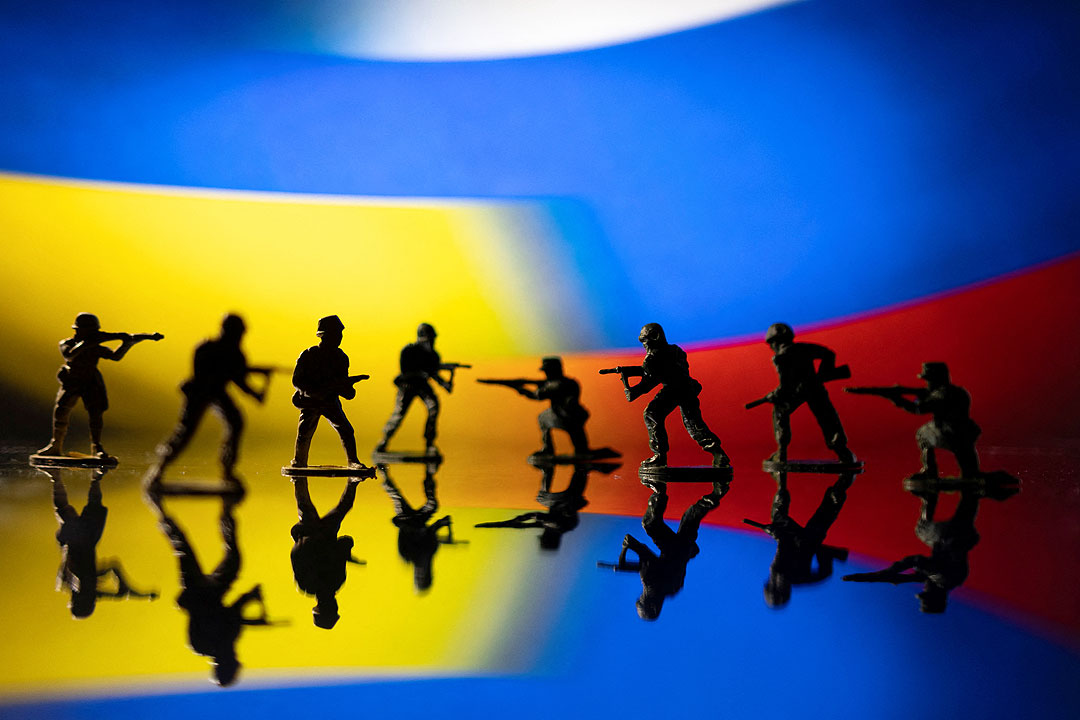 By Revin Mikhael D. Ochave, Kyle Aristophere T. Atienza
and Alyssa Nicole O. Tan, Reporters
THE COUNTRY'S economic recovery may be threatened as Russia's invasion of Ukraine is likely to boost oil prices even higher and dampen investor sentiment.
Russian President Vladimir Putin on Tuesday ordered the deployment of troops to two breakaway regions in eastern Ukraine, a move that drew swift international condemnation. (Read related story "Global economic recovery faces more uncertainty if Russia invades Ukraine" on S1/8.)
University of Asia and the Pacific (UA&P) Senior Economist Cid L. Terosa said in an e-mail interview the Russia-Ukraine crisis may spook investors, prompting them to flee developing countries like the Philippines for safe havens.
"In times of crisis, capital moves away from developing countries to developed countries that are perceived to be safer havens for capital investments. This means that developing countries like the Philippines will most probably lose potential investments simply because foreign investors would like to be more cautious with their investments," he said.
Mr. Terosa noted the capital outflow from the Philippines will likely affect the peso. "The peso-dollar rate can depreciate, which can make important intermediate goods or production inputs more expensive for Philippine industries and firms to buy. This can increase inflationary pressures and reduce the purchasing power of the peso," he added.
The escalating tensions between Russia and Ukraine have caused a spike in global oil prices in recent weeks, with Brent oil now nearing $100 a barrel. This is expected to translate into even higher local pump prices, which will further quicken inflation.
Based on the weekly price reports of local oil companies, oil products have increased by P8.75 per liter for gasoline, P10.85 per liter for diesel, and P9.55 per liter for kerosene since Jan. 1.
"Higher inflation would slow down the economic recovery, amid the reduction in the purchasing power or disposable income amid more spending for oil and to pay for higher prices of affected goods services," Rizal Commercial Banking Corp. Chief Economist Michael L. Ricafort said in an e-mail interview.
The Bangko Sentral ng Pilipinas (BSP) last week raised its average inflation forecast for this year to 3.7% from its previous 3.4% estimate. It is still within the 2-4% target band. Upside risks to inflation include the possible impact of higher oil prices on transport fares, the BSP said.
UnionBank of the Philippines, Inc. Chief Economist Ruben Carlo O. Asuncion said in an e-mail interview a prolonged conflict will "stall any upbeat growth momentum."
"Consumer and business sentiment will turn cautious and worry over the broadening of the conflict in Europe," he added.
Economic managers expect the Philippine economy to grow by 7-9% this year, after a 5.6% growth in 2021.
PREPARATIONS
Meanwhile, Malacañang is now "preparing for any and all eventualities" in Ukraine amid threats of a Russian invasion, Cabinet Secretary Karlo Alexei B. Nograles told a regular news conference on Tuesday.
He said the Philippine government hopes that parties in the Russia-Ukraine crisis will "explore all avenues for peace."
Foreign policy experts said the Russia-Ukraine crisis might spark debates about the credibility of the United States' commitment to its allies.
"There are concerns that the Ukraine issue showed how significant or not is the US capability to deter potential threats to sovereignty in the region," said Herman Joseph S. Kraft, who heads the University of the Philippines Political Science Department.
"If any of its allies is threatened, could it provide support that has enough material basis to deter potential aggressors?" Mr. Kraft said in a Viber message.
Henelito A. Sevilla, Jr., professor and dean of the Asian Center of the University of the Philippines Diliman, said via e-mail that the "success and failure of the US as a global power in diffusing (the) tension in the border of Ukraine and in persuading Russia's leadership from its possible military intervention will seriously call for the reevaluation of US global strategic preparedness."
Renato C. de Castro, international studies professor at the De La Salle University, said in a Viber message he is confident the US will provide the necessary assistance to the Philippines in case of a similar situation.
"It will be forced to act to protect its credibility as an ally," he said. "Big powers view wars as part of the game great powers play. The US will assist the Philippines based on its vital interests not because it values its partnership with (a) middle power like us."
Former Ateneo de Manila University School of Government Dean and political science professor Antonio La Viña said that for the United States, national interest always takes precedence.
"It's reliable only to us if it fits their interest," he said in a Viber message to BusinessWorld. "Right now, it does, so they will likely back the Philippines," he added.
Experts earlier told BusinessWorld that the US has to consider its own survival when trying to defend an ally such as the Philippines, whose sea dispute with China has gained the attention of the international community.
The Philippines can still rely on American security guarantees in case of an attack in the South China Sea because the disputed waterway is a key global trade route, according to foreign policy experts.
Washington last year warned China that an armed attack on Philippine defense forces in the waterway would trigger a 70-year-old mutual defense treaty.
"We should not be totally dependent on another state. It is a dog-eat-dog world out there. We cannot entrust the future of the existence of our state just to one other state," Senator Aquilino Martin L. Pimentel III, who heads the Foreign Affairs Committee, told BusinessWorld in a Viber message.
"We should not entertain the idea of the US being the world's policeman," he added.