Traffic congestion eases in Metro Manila in 2021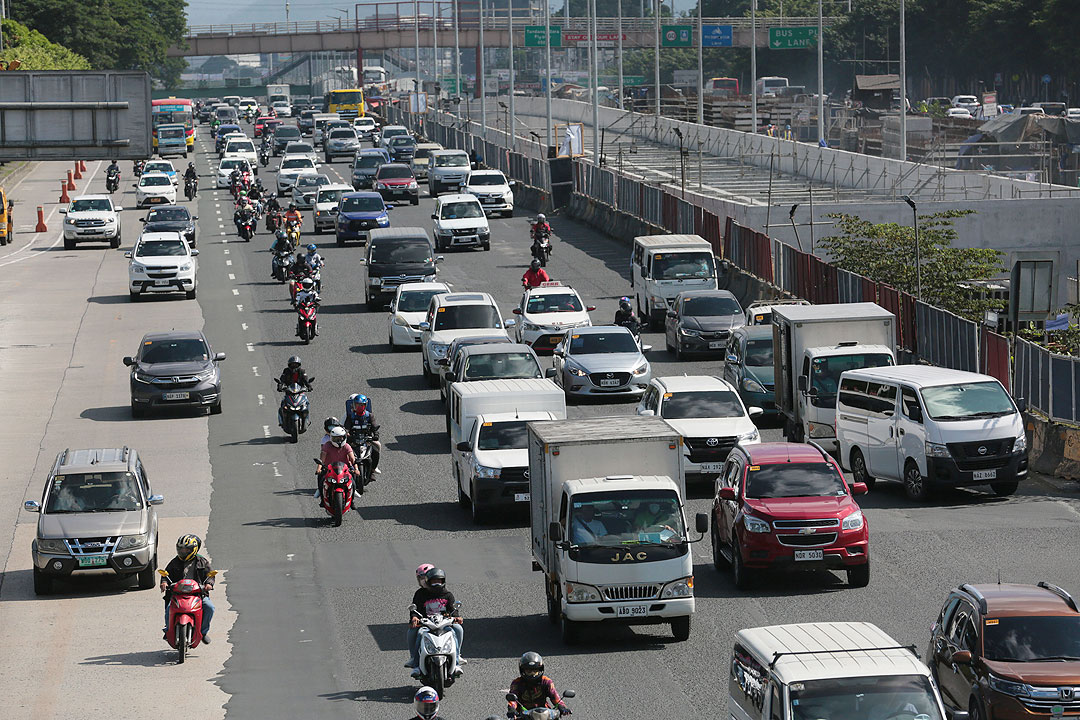 By Arjay L. Balinbin, Senior Reporter
TRAFFIC CONGESTION in the Philippine capital further eased last year, pushing Metro Manila out of the top five most congested cities in the world.
The TomTom Traffic Index 2021 showed Metro Manila is the 18th most congested city in the world, from 4th spot in 2020.
With strict lockdowns and mobility curbs in place during the second year of the coronavirus pandemic, Metro Manila saw its average congestion level decline to 43% in 2021, from 53% in 2020.
Amsterdam-based TomTom International B.V. said a 43% average congestion level means that on average, travel times were 43% longer than during the baseline non-congested conditions. For instance, a 30-minute trip driven in free-flow condition will take 13 minutes longer in 43% congestion.
TomTom, a geolocation technology specialist, computes the baseline per city by analyzing free-flow journey times of all vehicles on the entire road network — recorded 24/7, 365 days a year. It covered 404 cities in 58 countries.
The most congested city is Turkey's Istanbul, with an average congestion level of 62%, followed by Moscow, Russia (61%); Kyiv, Ukraine (56%); Bogota, Colombia (55%); and Mumbai, India (53%).
Aside from Metro Manila, other cities with an average congestion level of 43% last year were Yekaterinburg, Russia; Tel Aviv, Israel; and Tokyo, Japan.
Metro Manila was the sixth most congested in Asia. India's Mumbai, Bengaluru, and New Delhi were the region's top three most congested cities.
In 2021, Metro Manila experienced the worst day in terms of traffic congestion on Aug. 5 with 90%. This was the day before the capital region was placed under an enhanced community quarantine due to the Delta-driven surge in coronavirus cases.
The report showed Friday had the worst rush hour, from 5 p.m. to 6 p.m. in Metro Manila. This was earlier than the 6-7 p.m. Friday rush hour in 2020 and 2019.
Congestion in Metro Manila averaged 53% during morning rush last year, a decrease of 42 percentage points since 2019, or before the pandemic, while it averaged 81% during evening rush, a decrease of 47 percentage points since 2019.
Time lost by motorists during rush hours last year reached 157 hours or equivalent to six days and 13 hours. This was four days and five hours less than in 2019.
Sought for comment, Transport expert Rene S. Santiago said the results for Metro Manila were not surprising because of the strict lockdowns.
"No face-to-face schooling means about four million trips a day disappeared. Work from home still dominated in 2021," he said in a Viber chat.
"It is not a cause for joy, ironically, because economic activities [are] humming below pre-pandemic [levels]. What we should be planning for: how to retain some hybrids of remote working and remote schooling post-COVID," he added.
Acting Socioeconomic Planning Secretary Karl Kendrick T. Chua said last year the community quarantines and physical distancing regulations intended to help protect lives had inadvertently "reduced transport supply and resulted in public transport shortages."
In response to the public transport shortages, the government started creating protected bike lanes around the National Capital Region (NCR). The government had built 296 kilometers of bike lanes as of April last year, complete with pavement markings, bollards, curbs and solar studs.
TRAFFIC JAMS
Now that the NCR is under the more relaxed alert level status, the congestion level in Metro Manila as of Feb. 14 at 4:02 p.m., according to TomTom's live traffic update, was 89%, significantly higher than the average last year.
"The economy is more open this year than last year. December last year, infection level was low and people underwent a lockdown revenge," Mr. Santiago said, adding that face-to-face classes may resume soon.
Even if all restrictions on public transportation are lifted, Mr. Santiago expressed concern that there would be a shortage in drivers.
"Jeepney drivers will lose money if they go out because revenues won't cover boundary fee plus cost of fuel," he added.
For his part, Robert Y. Siy, a development economist and city and regional planner, said there is a need to make the "Build, Build, Build" infrastructure program of the current administration "less car-centric."
"Ang laki ng share ng infrastructure for roads and bridges that are primarily for cars," he said during an online forum on Monday.
He also said that the government should replicate the EDSA Busway in other areas of Metro Manila. "We need to have dedicated lanes for public transport. Majority of our citizens use public transport, and public transport is our best weapon against traffic, climate change, and pollution," he added, noting that this will eventually convince car users to shift to public transport.
Meanwhile, the Management Association of the Philippines (MAP) expressed its support for the government's Integrated Bus Terminal Exchange (ITX) program.
"It is a key structural and transformational transportation reform measure in which provincial buses terminate inbound trips at an ITX terminal on the outskirts of the metropolis and passengers transfer to city commuter buses," it said in an e-mailed statement.
MAP noted the ITX system spares provincial buses from getting stuck in urban traffic and enables faster turnaround trips back to provincial destinations.
"The government can assist the provincial bus operators in extracting value from their idled city terminals, which are sitting on now valuable land. These terminal sites can be devoted to other higher-yield commercial uses or disposed of at much higher prices. The gains earned should more than offset the cost of using the ITX terminal," it added.