OceanaGold plans to reopen Didipio mine 'as soon as possible'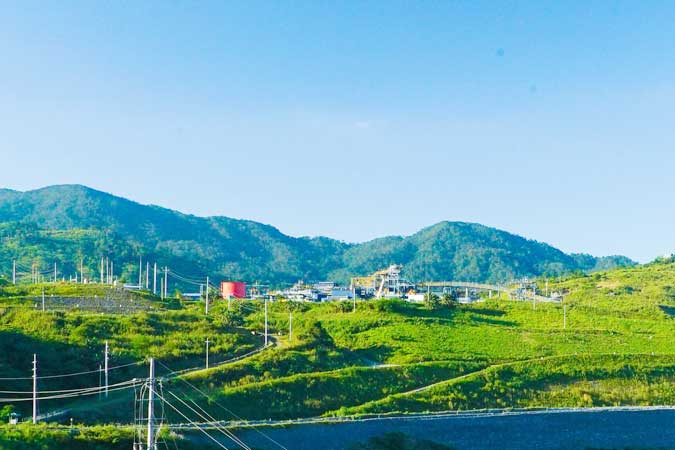 By Kyle Aristophere T. Atienza and Revin Mikhael D. Ochave, Reporters
OCEANAGOLD CORP. said on Wednesday it plans to restart the Didipio gold and copper mine "as soon as possible," after the Philippine government renewed its contract for another 25 years.   
This comes nearly two years after the Didipio mine's operations were stopped due to a dispute between the Canadian-Australian mining firm and the provincial government.
In a statement on its website, OceanaGold said the new financial or technical assistance agreement (FTAA) applies retroactively from June 19, 2019.
"We look forward to commencing restart activities and continuing to work in partnership with our regulators, communities, employees, and all stakeholders to contribute to the Philippines' post-COVID-19 economic recovery," Michael Holmes, president and chief executive officer of OceanaGold, was quoted as saying.
While the new FTAA mainly had similar financial terms and conditions from the previous one, the company said there were some changes such as increasing the percentage of gross revenue allocated for community development by 1.5%. 
"The additional 1.5% allocated to community development will take the form of increased contributions to communities in the region and provincial development projects. While the existing fund for Social Development and Management Program will continue to be provided for the host and neighboring communities, 1.0% of the additional 1.5% will be allocated to community development for additional communities and 0.5% to the host provinces of Nueva Vizcaya and Quirino," OceanaGold said.
Under the new deal, mine operator OceanaGold Philippines, Inc. (OGPI) is required to list at least 10% of its common shares on the Philippine Stock Exchange (PSE) within the next three years.
OGPI is also mandated to transfer its main office to a host province within the next two years in order to generate business taxes for the local government.
Under the FTAA, OGPI is also directed to offer not less than 25% of its annual gold doré production for purchase by the Bangko Sentral ng Pilipinas (BSP).
OceanaGold said its first priority is to rehire and train its workforce in the Philippines.
"The Company plans a staged restart of operations with milling to recommence as soon as possible utilizing stockpiled ore of which the operation has approximately 19 million tons available. The Company aims to achieve full underground production capacity within twelve months," the company said.
Once fully operational, OceanaGold said the Didipio mine will be able to produce approximately 10,000 gold ounces and 1,000 tons of copper per month.
Palace Spokesperson Herminio "Harry" L. Roque, Jr. on Wednesday announced the executive order on the renewal of OceanaGold's FTAA has already been signed. A copy has yet to be released.
Wilfredo G. Moncano, Mines and Geosciences Bureau (MGB) director, said in a mobile phone message to BusinessWorld the resumption of Didipio's mine operations will give direct employment to about 1,800 people and indirect employment for another 2,000 to 3,000 employees.
"An increase in the contribution of (the) mining (industry) to the country's gross domestic product (GDP) is also expected but cannot be estimated at the moment. Other small businesses and local suppliers of food, transport, repairs, housing, and other services will also gain from the operation," he said.
This will also boost the country's gold and copper concentrate production for exports.
"Portion of the gold will also be sold in the Central Bank that will increase the country's gross international reserves," Mr. Moncano added.
Calixto V. Chikiamco, Foundation for Economic Freedom (FEF) president, said the restart of OceanaGold's mining operations will have an immediate boost to the economy, as there is a strong demand for minerals due to the shift to electric cars and consumer demand for electronic devices.
"The renewal of OceanaGold's FTAA will have an immediate impact. Mining is an industry of the future and can contribute to our economy in the same way that business process outsourcing services are. The Philippines has enormous potential in mining — being one of the five most mineralized countries in the world," Mr. Chikiamco said in a mobile phone message.
Chamber of Mines of the Philippines (COMP) Chairman Gerard H. Brimo noted OceanaGold's Didipio mine is known for its responsible mining practices.
"The resumption of OceanaGold's operations will undoubtedly help increase the country's exports and the industry's contribution to our GDP and bring back the hundreds of jobs that are most needed now as our economy struggles to recover from this pandemic," he said.
However, the resumption of operations at the Dipidio mine "will do more damage than recovery for our pandemic-affected economy because it immediately affects jobs and livelihood in local agriculture and nature-based economies," said Kalikasan People's Network for the Environment national coordinator Leon A. Dulce.
"We are sacrificing rural livelihoods for mining revenue that benefits foreign markets, with previous average of exported mineral value at 93.4%, rather than our domestic economy," he told BusinessWorld in a Facebook Messenger chat, adding the government has failed to monitor the environmental impact of these mining operations.
Mr. Dulce said the mining sector's annual average share in total employment from 2001 to 2020 was only 0.49%. The sector's average annual share in the country's growth output was only 1.02%, he said.
After OceanaGold's first FTAA expired in June 2019, Nueva Vizcaya Governor Carlos M. Padilla released an order directing local authorities to stop the firm's mining operations, which at that time continued under a temporary license. A blockade by residents and various groups eventually led to OceanaGold halting its operations.