Home
Editors' Picks
Marcos approval and trust ratings fall amid spiraling food, petroleum prices
Marcos approval and trust ratings fall amid spiraling food, petroleum prices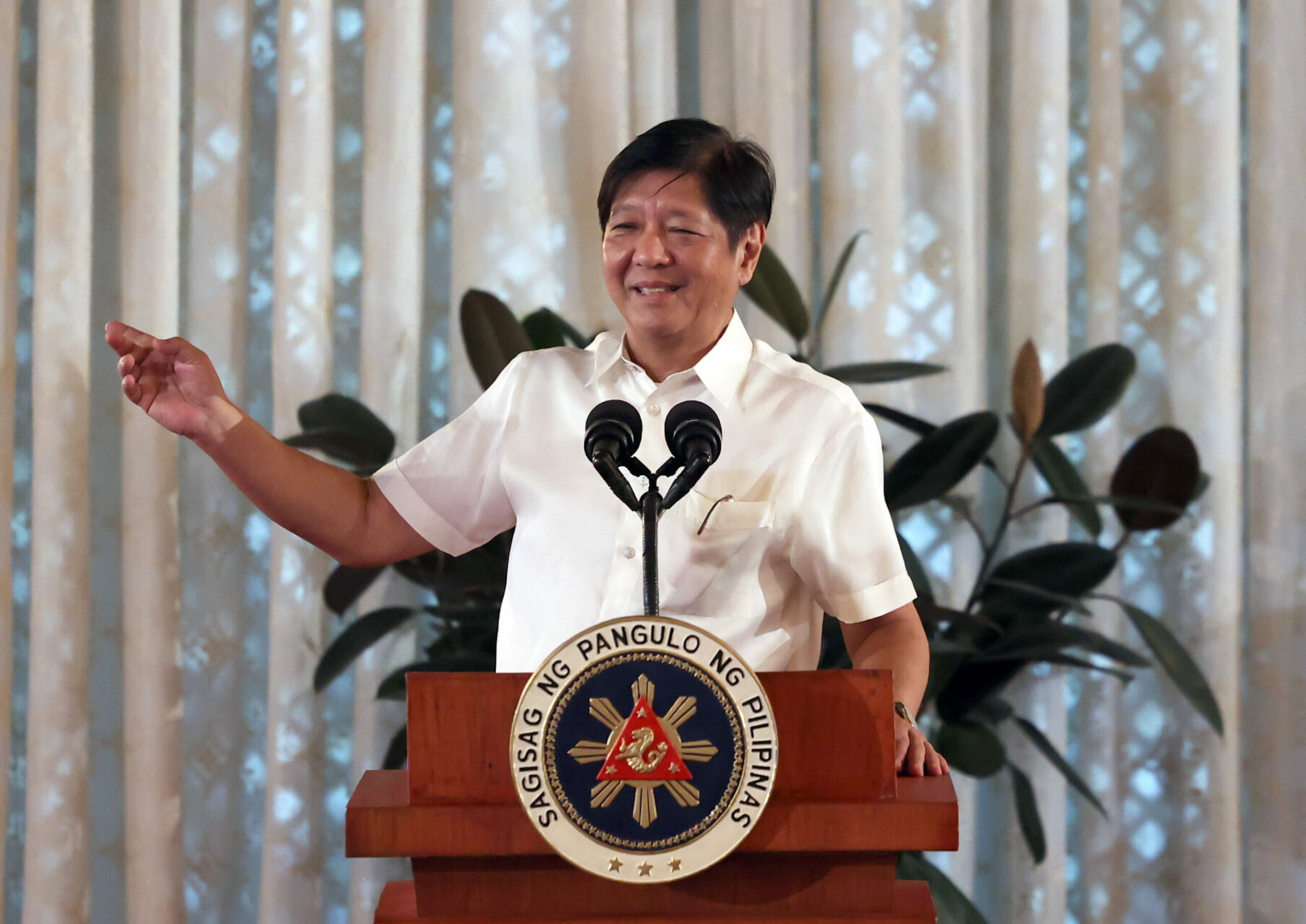 By Kyle Aristophere T. Atienza, Reporter
PHILIPPINE President Ferdinand R. Marcos, Jr.'s approval rating fell by 15 points in September from a quarter earlier amid spiraling food prices.
The President got an approval rating of 65% in Pulse Asia Research, Inc.'s latest poll, while his trust rating also fell by 14 points to 71%.
His approval rating fell across all regions and social classes, the pollster said in a statement on Monday. It fell by 14 to 15 points in Luzon including Metro Manila, the Visayas and Mindanao, and by 14 to 15 points across all classes.
"Although the President and Vice-President continue to enjoy majority approval scores at the national level and across geographic areas and socioeconomic classes, both experienced significant erosions in their respective approval ratings in June to September 2023," it said.
Vice-President Sara Duterte-Carpio's approval rating fell by 11 points to 73, declining by 5 to 13 points across all regions and by 8 to 18 points across socioeconomic classes, Pulse Asia said. Her trust rating also fell by 12 points to 75.
The Senate's approval rating fell by 3 points to 59, and by 4 points for the House of Representatives. The Supreme Court's approval rating likewise declined by 4 points to 49.
"Our present leadership failed to respond to the immediate needs and concerns of our people, specifically on the issue of addressing the rising cost of food prices including rice, which is very sensitive to Filipinos," said Gary Ador Dionisio, dean of the De La Salle College of Saint Benilde School – Diplomacy and Governance.
The ratings are "a clear result of an early crisis of governance," he said. "We have no clear policy direction on agriculture amidst the global food crisis and we have an absentee Department of Agriculture Secretary."
During the 2022 presidential campaign, Mr. Marcos, who didn't participate in major presidential debates, vowed to bring the price of rice to P20 a kilo.
More than a year later, commodity prices have been rising, with rice inflation soaring to 8.7% in August from 4.2% a month earlier.
In September, the President issued an executive order limiting the price to P41 a kilo for regular milled rice and P45 for well-milled rice, amid reports of smuggling and hoarding.
Mr. Marcos has said the country has enough rice supply, blaming economic saboteurs for spiraling prices.
"The increase in the prices of basic commodities like rice is so disappointing," Lily G. Terrenio, a former overseas Filipino worker who considers herself a Marcos loyalist, said by telephone. "But I still believe in him."
She also voted for Ms. Carpio, who is under scrutiny after her office spent P125 million in confidential and intelligence funds in just two weeks last year.
PUBLIC DISCONTENT
"Vice-President Sara's programs failed to become relevant and important to Filipinos despite her huge budget," Mr. Dionisio said. "The Office of the Vice President can't provide innovative and collaborative projects to make it more relevant at this juncture."
"The drop in ratings is quite consistent considering the controversies they have been embroiled in throughout the past two quarters — the economy for Marcos and funding and red-tagging for Carpio," Hansley A. Juliano, a political economy researcher studying at Japan's Nagoya University, said via Facebook Messenger chat.
"It's telling how their popularity took a hit this way."
The fact that their ratings remained above 50% means that they still enjoy public support, Mr. Juliano said.
Local politicians are "still clearly onside Malacañang, which is consistent with our patronage dynamics," he added. "Even the confidential funds are easily pointed to feeding this machinery."
Pulse Asia President Ronald Holmes told OneNewsPH it is notable that the President's approval rating has declined by double digits as early as in the second year of his six-year term.
Former Philippine leaders, particularly the late President Benigno S.C. Aquino III and Rodrigo R. Duterte, did not experience a significant decline in their approval ratings in their second year, Mr. Holmes said.
"Events like economic crises and rising prices often affect public opinion," he said in Filipino.
A separate Pulse Asia poll in June showed that inflation was the top concern of most Filipinos, followed by wages (44%), jobs (31%), poverty (30%) and corruption (25%).
Arjan P. Aguirre, who teaches political science at the Ateneo de Manila University, said the drop shows some Filipinos have become dissatisfied with how the government has dealt with rising prices.
He also cited public discontent in the use of confidential funds by Ms. Carpio, who is asking for P450 million and P150 million in secret funds next year for the Office of the Vice President and Education department, which she also heads.
"The promises made during the elections were too high and closer to the gut," Jan Robert Go, a political science professor at the University of the Philippines, said in a Messenger chat. "But now, more than a year after his presidency, the promises are far from reality and things have become worse." — with Norman P. Aquino