7 illegal online cockfighting websites shuttered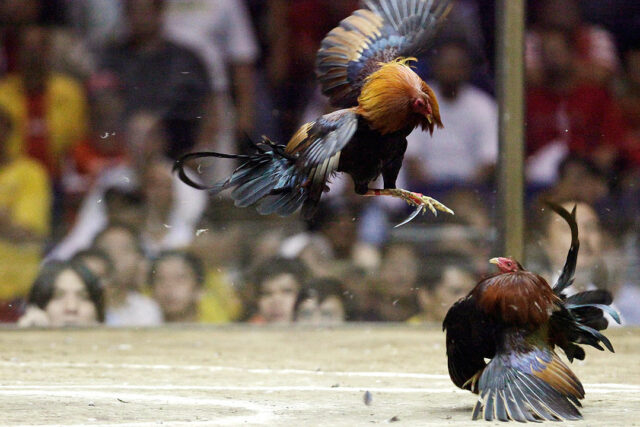 THE PHILIPPINES' Interior department on Wednesday shut down seven online cockfighting websites amid a crackdown of a multibillion-peso industry that President Rodrigo R. Duterte banned early this month.
Police were investigating the administrators of these websites and would file charges against them, Interior Undersecretary and spokesman Jonathan E. Malaya said in a statement.
"These criminals thrive on the anonymity of the internet and they are taking advantage of this but the Philippine National Police (PNP) together with our colleagues from the National Bureau of Investigation (NBI) will not rest until they have been unmasked," he said.
The police's Anti-CyberCrime Group were monitoring 12 other websites and eight social media platforms that are operating illegally.
"We are coordinating with the Department of Information and Communication Technology (DICT)  for these websites to be shut down," Mr. Malaya said.
Only two of the websites monitored were registered in the Philippines while the rest were based overseas, he added.
Mr. Malaya noted that the PNP and the DICT have been closely monitoring cyber-space for illegal gambling outfits.
The Department of Interior and Local Government (DILG) earlier held a nationwide survey that showed 62% of 8,463 respondents wanted online cockfighting operations to be outlawed.
Earlier this month, Mr. Duterte ordered the termination of online cockfighting operations in the country as recommended by Interior Secretary Eduardo M. Año.
"We urge the public to immediately contact your nearest police station if you know where the studios of these illegal operations are so we can put a stop to it," Mr. Malaya said. "If you also know who the operators are, please contact your nearest police station."
Analysts have said Mr. Duterte's decision to stop these operations might force operators to go underground.
Stopping online cockfighting operations abruptly without providing a clear roadmap for affected sectors would probably force small-time operators and their workers to operate illegally, said John Paolo R. Rivera, an economist at the Asian Institute of Management.
Mr. Malaya said the DILG had also asked Meta Platforms, Inc., Facebook's parent company, to immediately delete or suspend pages that promote online cockfighting.
Mr. Duterte had refused to suspend the operations because of the revenue it generated for the government.
The Philippine Amusement and Gaming Corp. (Pagcor) estimated revenues from online cockfighting averaged P400 million monthly last year and P640 million a month since January.
Mr. Duterte earlier said the government's previous stand was only based on the industry's economic benefits.
"It's working against our values," he said of the game. "The impact on families and on people, it turns out players are not sleeping for 24 hours."
Online cockfighting gained popularity during the coronavirus pandemic, as Filipino gamblers only needed to place bets using their mobile phones.
But the disappearance of at least 30 people allegedly linked to online cockfighting sparked a Senate investigation and prompted calls for its suspension.
Senator Ronald M. dela Rosa, who had pushed the president to suspend online cockfighting operations, has said there is no time for Congress to act on a bill that seeks to transfer the authority to issue permits from Pagcor to Congress.
Senator Francis N. Pangilinan has said the debates on online cockfighting should be left to the next Congress to give lawmakers more time to assess the popular online game. — John Victor D. Ordoñez