9M COVID-19 vaccines to arrive this month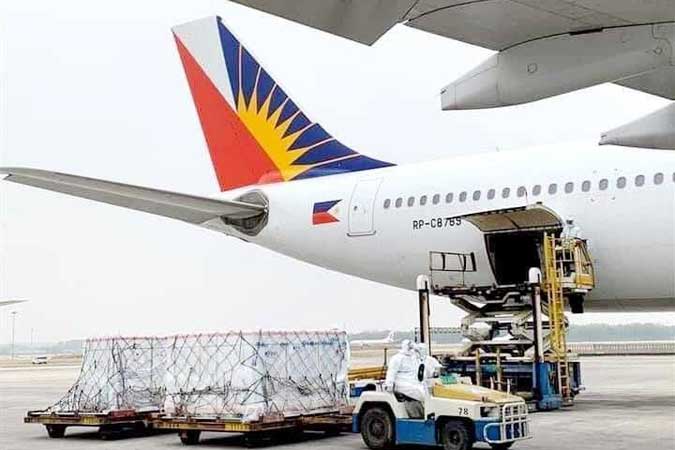 THE PHILIPPINES will take delivery this month of about nine million doses of coronavirus vaccines, according to the country's vaccine czar, as the government struggles to reach its vaccination targets.
About 4.5 million doses of CoronaVac, made by China's Sinovac Biotech Ltd., are expected to arrive this month, vaccine czar Carlito G. Galvez, Jr. told ABS-CBN News on Wednesday. He added that 2.2 million doses of the vaccine made by Pfizer, Inc. and two million doses from AstraZeneca Plc are also coming in.
Several hundreds thousands of vaccine doses made by Moderna, Inc. and Russia's Gamaleya National Research Center of Epidemiology and Microbiology are also due this month, he said.
Mr. Galvez said a number of economic frontliners would get vaccinated against the coronavirus once the shots from SinoVac and Pfizer arrive. The Pfizer vaccines were obtained under a global initiative for equal access.
"More or less, we will have five million doses this coming mid-June," he said.
The government earlier said the vaccination of the country's workforce would start in the capital region and other areas experiencing a fresh surge in infections, such as Metro Cebu, Metro Davao, Pampanga, Bulacan, Cavite, Laguna, Rizal and Batangas.
Teodoro J. Herbosa, a special adviser to the government's pandemic task force, told a televised news briefing the vaccination of 28 million workers under the fourth priority group would probably extend until November.
DAILY TALLY
The Department of Health (DoH) reported 5,257 coronavirus infections on Wednesday, bringing the total to 1.24 million.
The death toll rose by 146 to 21,158, while recoveries increased by 6,266 to 1.17 million, it said in a bulletin.
There were 52,132 active cases, 1.5% of which were critical, 93.1% were mild, 2.3% did not show symptoms, 1.9% were severe and 1.32% were moderate.
It said eight duplicates had been removed from the tally, six of which were tagged as recoveries. Eighty-six recoveries were reclassified as deaths. Three laboratories failed to submit data on May 31, the agency said.
About 12.6 million Filipinos have been tested for the coronavirus as of May 31, according to DoH's tracker website.
The coronavirus has sickened about 171.9 million and killed 3.6 million people worldwide, according to the Worldometers website, citing various sources including data from the World Health Organization.
About 154.4 million people have recovered, it said.
The Philippines took delivery of about 50,000 more doses of Sputnik V made by Gamaleya on Sunday night.
The vaccines would be given out in areas experiencing a fresh surge in infections, presidential spokesman Herminio L. Roque, Jr. said on Monday. The government has received 80,000 Sputnik V doses from Russia, he said. 
The government had also taken delivery of about 193,000 doses of the Pfizer vaccine. Thousands of Filipinos flocked to vaccination sites in Manila, the capital and a nearby city last month to get the Pfizer shot, which many Filipinos supposedly prefer.
President Rodrigo R. Duterte earlier ordered health authorities to give the Pfizer vaccines to indigent Filipinos. He also barred local governments from announcing available vaccine brands to avoid crowding at vaccination sites.
Mr. Galvez has said the country's vaccine portfolio would include vaccines made by AstraZeneca, Moderna and Gamaleya.
His deputy Vivencio B. Dizon said the government seeks to vaccinate as many as five million Filipinos this month.
Mr. Galvez earlier said more than five million Filipinos have received their first dose.
Meanwhile, Mr. Roque said the World Health Organization's approval of CoronaVac for emergency use would boost vaccine confidence in the Philippines.
"Another institution has said the Sinovac vaccine, of which we have a lot in the Philippines, is safe and effective," he told state television PTV4 in Filipino.
The World Health Organization validated CoronaVac for emergency use after reviewing the latest clinical data on the vaccine's safety as well as the company's manufacturing practice. 
"Vaccine efficacy results showed that the vaccine prevented symptomatic disease in 51% of those vaccinated and prevented severe COVID-19 and hospitalization in 100% of the studied population," it said in a statement.
The WHO said a vaccine must be included in its emergency use listing to be eligible for the global vaccine sharing program and international procurement. It also allows countries to expedite their own approval to import the vaccine.
The inactivated vaccine has "easy storage requirements" which makes it very manageable and particularly suitable for low-resource settings, the WHO said.
CoronaVac, the first vaccine to arrive in the country, was approved for emergency use by Philippine drug regulators in February.
Local health authorities initially did not recommend CoronaVac for health workers at risk of exposure to the coronavirus and seniors due to efficacy issues.
The Chinese shot's efficacy rate is 65% to 91% for people aged 18 to 59, according to the evaluation made by the local drug regulator. It is 50.4% and 51% effective for health workers and seniors, respectively.
Filipinos preferred CoronaVac over other vaccines, according to a poll by the Social Weather Stations. It was most preferred in the southern and central parts of the country, it said.
About five million doses of CoronaVac have arrived in the country. — Kyle Aristophere T. Atienza and Vann Marlo M. Villegas