Stock index declines in the absence of catalysts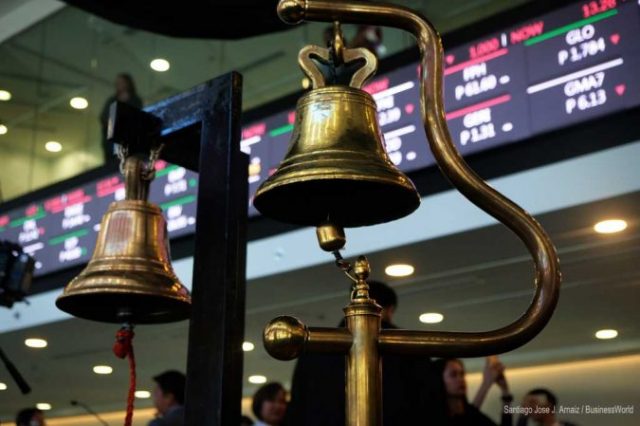 PHILIPPINE shares declined on Thursday amid a lack of catalysts and as investors continue to monitor the country's coronavirus disease 2019 (COVID-19) situation.
The benchmark Philippine Stock Exchange index (PSEi) lost 32.41 points or 0.46% to close at 6,886 on Thursday, while the all shares index went down by 3.70 points or 0.08% to 4,199.89.
"The market traded flat for most of the session on lack of catalysts," AB Capital Securities, Inc. Junior Equity Analyst Lance U. Soledad said in a Viber message.
"The market ended lower as traders sold shares during the last minute of trading, after two consecutive days of rallying up to the 6,900 level," Timson Securities, Inc. Trader Darren Blaine T. Pangan said in a separate Viber message.
"Investors may be assessing the COVID-19 situation, and are waiting for signs that the currently enforced lockdown measures will be relaxed in the coming weeks," he added.
Majority of sectoral indices closed in the red on Thursday except for industrials, which gained 25.72 points or 0.27% to 9,505.06; and financials, which rose by 3.26 points or 0.21% to end at 1,491.35. 
Meanwhile, mining and oil declined by 113.25 points or 1.21% to 9,226.95; holding firms went down by 57.11 points or 0.82% to 6,865.43; services shed 12.44 points or 0.79% to 1,561.66; and property lost 18.55 points or 0.54% to end at 3,393.63.
Value turnover inched up to P6.48 billion with 4.36 billion issues traded on Thursday, from the P6.14 billion with 4.2 billion shares switched hands on Wednesday.
Decliners narrowly beat advancers, 100 against 97, while 52 names remained unchanged.
Net foreign selling slowed to P912.22 million on Thursday from the P1.44 billion logged in the previous day.
AB Capital Securities' Mr. Soledad said catalysts for Friday's trading will be the results of the Bangko Sentral ng Pilipinas' (BSP) monetary policy meeting on Thursday.
He said he expects the index to trade between 6,800 and 7,000, while Timson Securities' Mr. Pangan forecasts the market to finish between 6,760 to 7,080.
The BSP announced after the stock market's close that its Monetary Board decided to maintain the interest rate on the central bank's overnight reverse repurchase facility at its record low of 2%, as expected. The interest rates on its overnight deposit and lending facilities were likewise kept at 1.5% and 2.5%, respectively.
The central bank said it kept borrowing costs steady amid lingering economic risks.
"On balance, the expected path of inflation and downside risks to domestic economic growth warrant keeping monetary policy settings unchanged. The Monetary Board believes that sustained monetary policy support for domestic demand should help the economic recovery gain more traction, especially as risk aversion continues to temper credit activity despite ample liquidity in the financial system," it said. — K.C.G. Valmonte