NGAP: 3 Filipino golfers to see action at Tokyo Olympic Games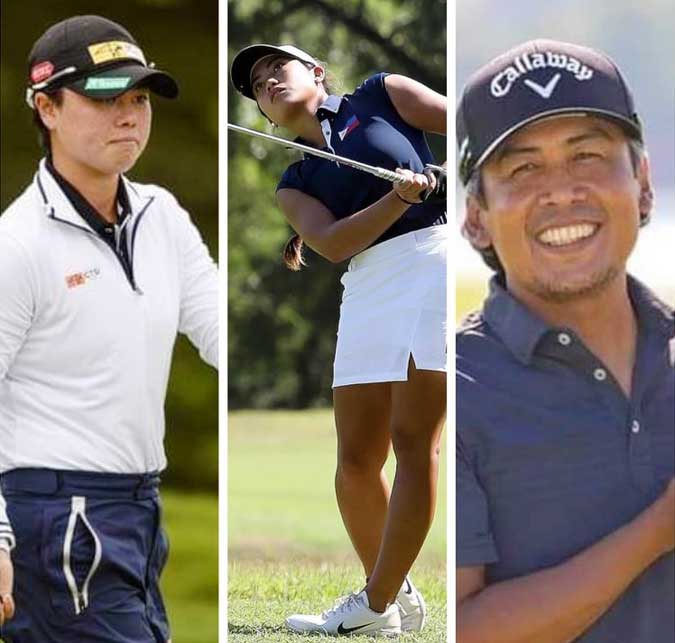 THREE Filipino golfers are expected to compete in rescheduled Olympic Games in Tokyo, Japan, on the strength of their standings in the world rankings.
Newly crowned US Women's Open champion Yuka Saso, Asian Games and Southeast Asian Games gold winner Bianca Pagdanganan, and Juvic Pagunsan are all technical qualified for the biennial Games since they are all in top 60 players in their respective divisions, shared Bones Floro, secretary-general of the National Golf Association of the Philippines (NGAP), at the online Philippine Sportswriters Association Forum on Tuesday.
Ms. Saso, 19, is currently number eight in the world, boosted by her historic win recently in the US Open in San Francisco, while Ms. Pagdanganan, 23, sits at the number 42. Forty-three-year-old Pagunsan, for his part, has made a late charge deep in the rankings, now sitting at 51st.
In the Olympics, the top 60 players for men and women earn spots.
The NGAP and the players are only waiting for the official confirmation.
Mr. Floro said at the moment they have begun working on what the players will need for their participation in the Olympics.
"It is going to be challenging since Yuka, Bianca and Juvic will be coming from different parts of the world, but we are up for it. That's our job," said Mr. Floro.
He went on to say that the players still have some tournaments to take part in the lead-up to the Games and that the NGAP will be coordinating with the players' respective groups as far as preparations are concerned.
The NGAP official said that they are expecting a tough road in the country's Olympic golf quest, but one should like the chances of the Filipino players with the way they are competing with the best in the world.
"Yuka, for one, gained a lot of confidence with her win in the US Open. The victory made her realize she can stand against the top players and have defeated them, which will be big entering the Olympics," Mr. Floro said.
Ms. Pagdanganan has been a steady competitor in the Ladies Professional Golf Association Tour, the most recent in the LPGA Mediheal Championship in Daly City, California, from June 10 to 13.
Mr. Pagunsan, meanwhile, won the Mizuno Open in Japan on May 30.
The NGAP said for this year's Olympics, happening from July 23 to Aug. 8, there will be no team competitions.
Golf will be played for the second straight Olympics in Japan. The Tokyo Olympics golf competitions are scheduled from July 29 to Aug. 7 at the Kasumigaseki Country Club. — Michael Angelo S. Murillo