Philippine schools level up with new tech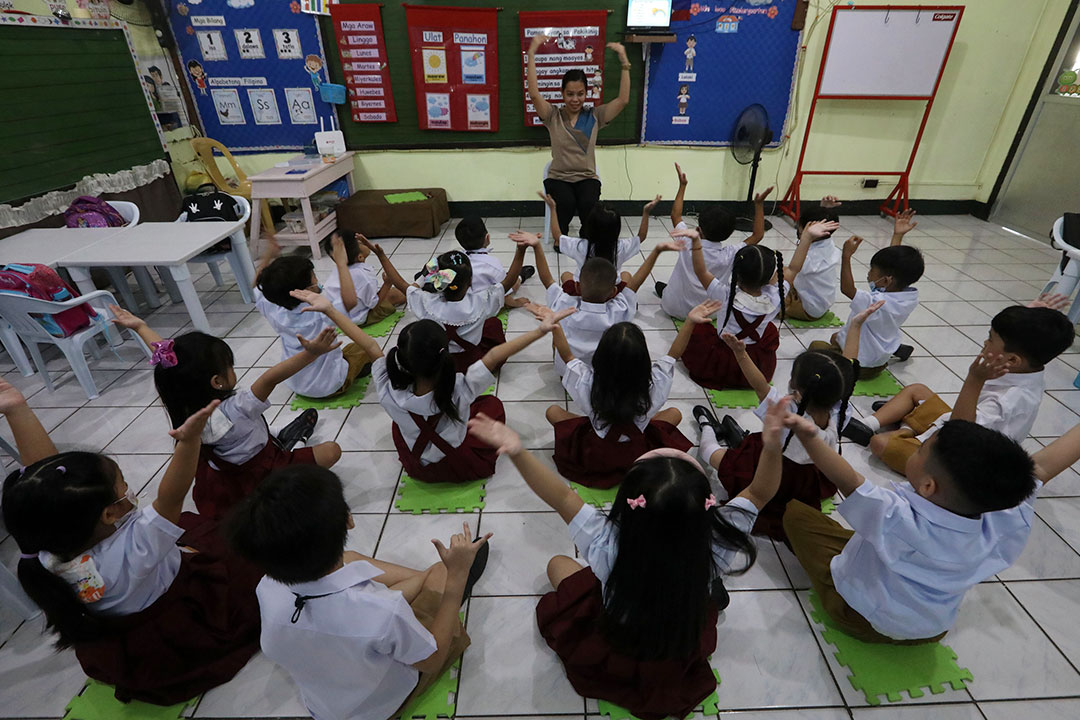 By John Victor D. Ordoñez, Reporter
UPSKILLING teachers and taking advantage of new technologies remain top priorities for the Philippine education sector as the country transitions out of the global coronavirus pandemic, according to education experts.
The pandemic forced many schools to invest in up-to-date equipment to allow teachers and students to work more efficiently, said Maria Ella Calaor-Oplas, an economics professor who specializes in human capital development research at De La Salle University.
"Investment in online collaboration platforms is also important to facilitate online classes and efficient learning experiences for teachers, administrators and students," she said in a Viber message, citing the need for teachers to be trained on how to conduct classes online.
Universities have adopted online platforms as one of the primary modes of learning even as schools returned to in-person classes.
Ms. Oplas said the private sector and government need to upgrade the country's network infrastructure to ensure reliable and fast internet.
The Philippines ranked 83rd out of 140 countries in June for mobile internet performance, with a download speed of 26.98 megabits per second (Mbps), according to global network testing firm Ookla. The speed was below the global average of 42.92 Mbps.
As schools continue to introduce new online tools such as artificial intelligence (AI), it may also pose risks to the integrity of the learning process, Ms. Oplas said.
"AI may be dangerous especially when students at the primary and secondary levels start using it," she said. "It does not allow students to develop critical thinking," she added, citing new web-based applications teachers use to detect AI-generated inputs in schoolwork.
"Education institutions have learned a significant insight into the role of artificial intelligence as a catalyst for enhancing the efficiency and efficacy of the learning process," Ms. Oplas said.
Crafting AI policies in education should help countries "ensure inclusive and equitable quality education and promote lifelong learning opportunities for all," according to the United Nations Educational, Scientific and Cultural Organization.
Turnitin Philippines, an online plagiarism detection and educational feedback company, has partnered with local universities to upskill teachers in using AI to help them grade papers online.
In a July report, the Asian Development Bank (ADB) said the Philippines should use education technology to bridge the skill gap or risk job losses due to rapid technological advancements.
It said 20% of the Philippine workers face a "high risk of losing their jobs" due to automation.
Raymond Basilio, secretary-general of the Alliance of Concerned Teachers (ACT), said the education sector needs to do something about the outdated skill training programs for public school teachers.
"Nothing much has been done to equip teachers to remedy the learning loss caused by the pandemic," he said in an e-mail. "To address the learning loss, the government must consider overhauling the curriculum because it is the major culprit of learning loss."
Students in the Philippines and Indonesia are more than a year behind in their learning because of the pandemic, McKinsey & Co. said in a report published in April last year.
A quarter-million Filipino students moved from private to public schools in 2020 and 2021, as many parents lost their jobs, according to the Education department.
Data from the ADB showed that 21% of children from middle-income countries who are of school age by 2030 will not learn basic primary-level skills.
It cited the need for the Philippines to develop the technical and vocational education training sector to increase workers' competitiveness.
'NO MAGIC WAND'
The Philippines had a learning poverty rate of 91% and a learning deprivation rate of 90.4%, among the highest in Southeast Asia, according to a 2022 report by the World Bank.
"We learned during the pandemic that our schools and systems must be ready with mitigating measures or alternative programs that can be used during times of calamities or emergencies," Mr. Basilio said.
The Department of Education needs more than a trillion pesos ($17.6 billion) next year to pay for teachers' salaries, benefits and school supplies, ACT Teachers' Party-List Rep. France L. Castro said in June.
The higher budget would allow the country to comply with a United Nations standard for education to account for at least 6% of economic output, she said.
Under the proposed 2024 national budget, the education sector will get P924.7 billion, 3.3% higher than this year.
"More seminars, training programs for teachers and other forms of capacity building should be conducted and learning modules must be updated to make them more effective educational tools," Renato B. Magtubo, chairman of the Partido Manggagawa labor group, said in a Viber message. Schools should also invest in faster WiFi connectivity and tablets for students.
International Labour Organization (ILO) Director-General Gilbert F. Houngbo has urged the government and local employers to boost investments in education and equip teachers with modern skills to address youth unemployment.
The World Bank said in February that millions of children around the world could lose up to 10% of their future average yearly earnings due to learning setbacks caused by the coronavirus pandemic.
George T. Barcelon, president of the Philippine Chamber of Commerce and Industry, said improving Science, Technology, Engineering, and Mathematics (STEM) programs could help bridge the skill gap in the workforce.
"We encourage the use of new technologies to help our young develop new skills and for our students to go up the global value chain," he said by telephone. "Platforms such as YouTube could provide broad learning access to our young."
Mr. Barcelon said improving proficiency in the English language should be prioritized to produce more employable students. "The command of English is important for our students since a lot of reading material is in that language."
Last year, the Philippines placed 22nd out of 111 countries in the 2022 English Proficiency Index by Education First.
The country got a score of 578, which is considered high, second in the Asia-Pacific region after Singapore.
Mr. Barcelon said the Philippines lacks good teachers who are proficient in STEM fields, adding that performance-based salary increases could attract more capable people to the profession.
"The country needs to have a program that provides proper training for teachers and wherein we rate them on standards based on meritocracy," he said. "There is no magic wand that we can wave to solve the losses we incurred in the education sector. The best we can do is address the gaps."