Revenge spending to extend into 2023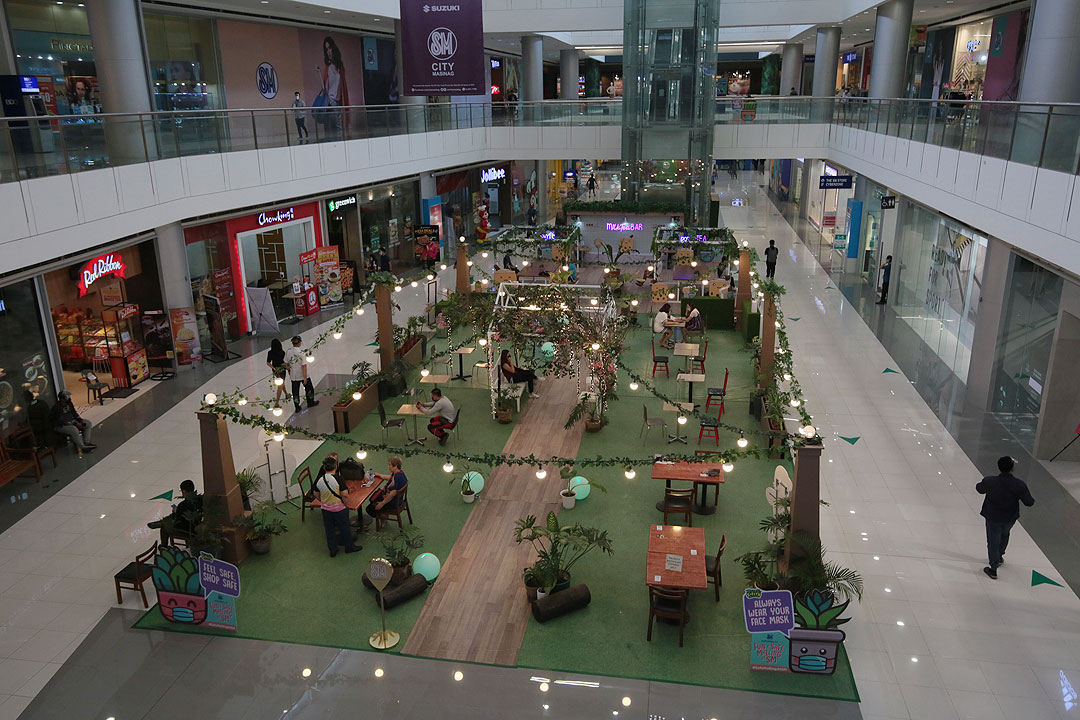 (This is the second of a two-part property market outlook by Colliers Philippines)
MALL OPERATORS should brace for more foreign and local retailers as consumer confidence and foot traffic pick up this year. 
Major mall developers have been reporting that consumer traffic has now reached between 85%-95% of pre-COVID levels in the third quarter of 2022 from only 40% a year ago.
In 2023, we see more retailers (foreign and local) taking up physical mall space to take advantage of rising consumer traffic and anticipated increase in purchasing power.
Colliers sees the approval of the amendments to the Retail Trade Liberalization Act (RTLA) as paving the way for the entry more foreign retailers in the country. Based on our mall scans, the food and beverage (F&B) segment will account for 50% of the upcoming retailers followed by fashion accessories and beauty and health at 27%.
Colliers recommends that mall operators reactivate their event spaces or activity centers by organizing events such as trade fairs, exhibits and concerts to attract more mallgoers. F&B and clothing & footwear retailers should also consider opening pop-up stores, especially those testing the feasibility of the Philippine retail market.
We also encourage mall operators and retailers to continue implementing regular sanitation and other health and safety protocols, especially in high-density retail spaces.
In 2023, we see vacancy marginally rising to 17% from a projected 16% vacancy in 2022 due to the substantial delivery of 448,900 square meters (sq.m.) (4.8 million square feet) of new supply. Despite record-high new supply, we expect greater retail space absorption from brick-and-mortar shops following the improved consumer traffic as reported by mall operators and the consumer confidence index of the Philippine central bank.
Colliers encourages developers to reassess the ideal sizes of upcoming retail developments as they welcome more consumers back to their properties.
From 2024 to 2026, Colliers sees the completion of 62,000 sq.m. (667,100 sq.ft.) of new retail space annually, only a fifth of the annual delivery of 327,200 sq.m. (3.5 million sq.ft.) of new supply that we recorded from 2017 to 2019.
Colliers believes that online shopping will remain popular as Filipinos continue to put a premium on convenience. In our view, this will likely complement brick-and-mortar shopping which we see receiving a boost from the dropping of mask mandates.
Colliers encourages mall operators and retailers to further strengthen their omni channel strategies to support brick-and-click shopping.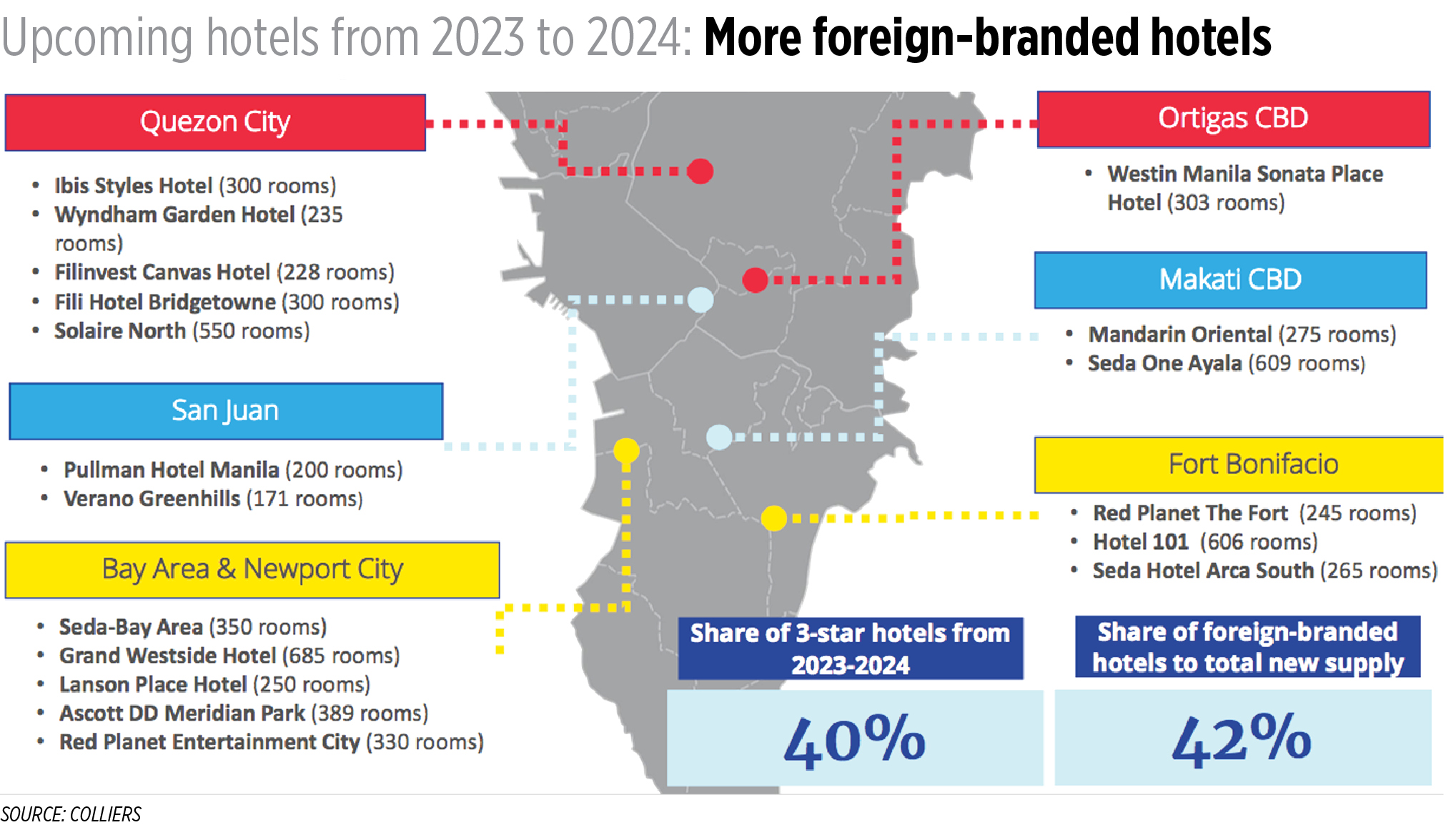 LEISURE: DOMESTIC TOURISTS TO JUMPSTART RECOVERY
Data from the Department of Tourism (DoT) showed that foreign arrivals as of Nov. 14, reached 2 million, already exceeding the full year target of 1.7 million arrivals. The United States, South Korea and Australia were the top source markets during the period.
Meanwhile, hotel occupancies in the capital region as of H1 2022 reached 47% from 44% in H2 2021 as we saw the return of business travel and resumption of MICE activities.
The DoT also reported that visitor arrivals from February to September 2022 generated P100.7 billion ($1.7 billion) in visitor spending, higher than the P4.94 billion ($8.4 million) a year ago.
Meanwhile, data from the Philippine Statistics Authority (PSA) showed that the tourism sector's share to the country's economy reached 5.2% in 2021 from 5.1% in 2020. Domestic tourism expenditures also reached P783 billion ($13.2 billion), up 39% year on year after reporting 37.3 million trips in 2021 (from 27 million in 2020).
The DoT is optimistic that the removal of mask mandates will likely attract more travelers to visit the country. In our view, this is likely to stoke demand for hotels across the country and help raise occupancy levels.
However, the Philippine Hotel Owners Association (PHOA) is "cautiously optimistic" for 2023 as rising inflation and higher airfares as well as global geopolitical tensions are likely to affect customers' travel decisions.
For 2023, Colliers projects the completion of a record-high 3,900 rooms as developers anticipate the projected recovery in global travel. From 2023 to 2025, Colliers expects the annual delivery of 2,120 rooms, higher than the 720 rooms completed yearly from 2020 to 2022. We expect more foreign-branded hotels opening in the next 12 to 36 months. From 2023 to 2025, about 42% of the new supply are foreign brands and are likely to open in the Bay Area, Makati and Ortigas central business districts.
Colliers sees average daily rates (ADRs) rising by about 15% in 2022 after recording a cumulative drop of 20% in 2020 and 2021. ADRs are likely to continue to improve in 2023 following the projected rise in local and foreign tourists.
The ADRs of selected high-end resorts have either held firm or increased versus the previous half. Colliers attributes this to continued revenge travel across the country. In our view, the increase in rates is likely to be sustained as the country attracts more international travelers, especially the long-haul and high-spending ones.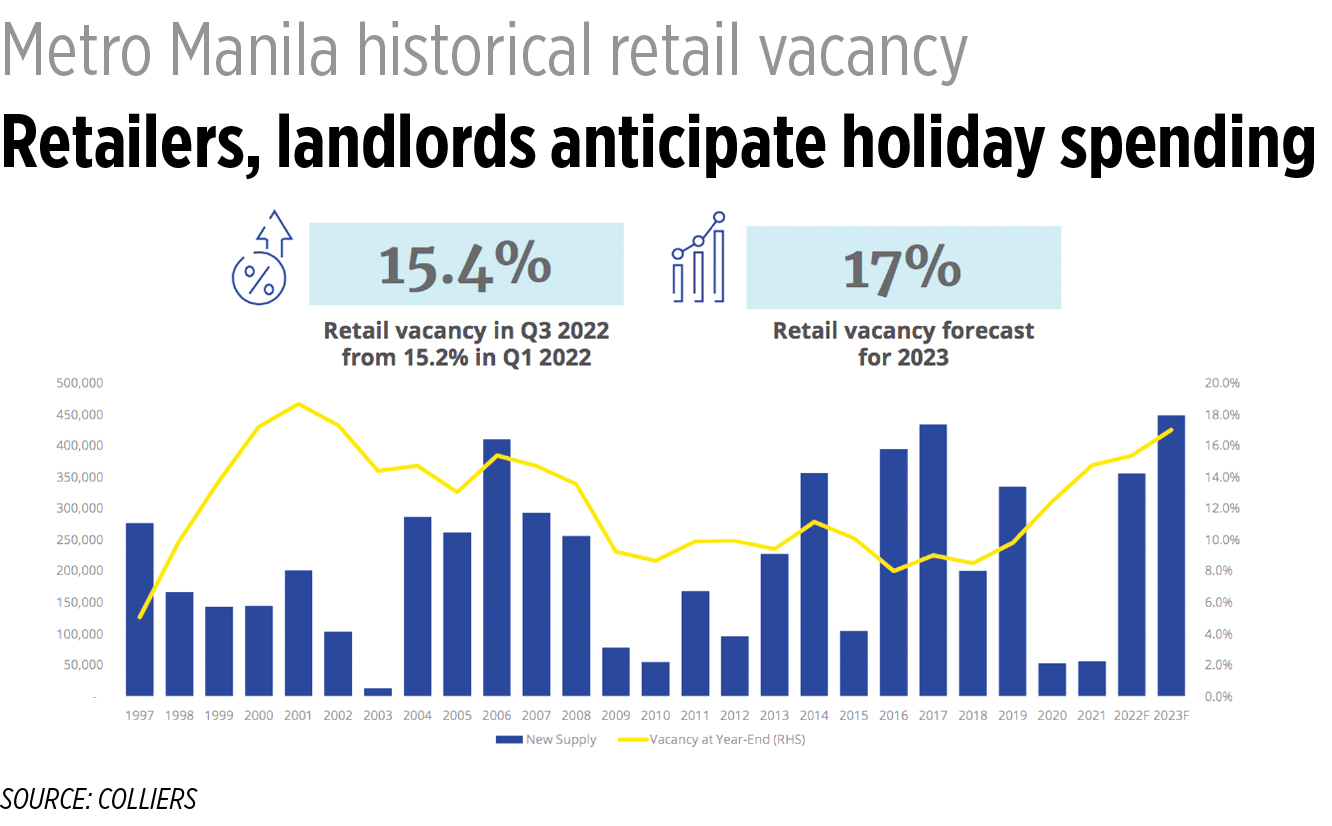 INDUSTRIAL: Industrial parks to support manufacturing's revival
The industrial sector is likely to benefit from the Marcos administration's push for industrialization. Prioritizing job-generating manufacturing activities was among then-candidate Ferdinand Marcos, Jr.'s priorities. Colliers believes that improving manufacturing competitiveness should result in greater inflow of investments and these should benefit industrial parks, especially those located in northern and central Luzon.
In June 2022, the Department of Trade and Industry (DTI) highlighted that it is expecting more than P500 billion ($8.4 billion) worth of investments in the Philippines in the next 18 months. According to DTI, the manufacturing sector will likely be a major recipient of these pledges. Colliers believes that this will play a vital role in industrial space absorption once these investments materialize.
We also see the cold chain sector sustaining demand for industrial and warehouse assets, especially with the growing preference for online groceries and same-day deliveries. Recently, the German-Philippine Chamber of Commerce and Industry (GPCCI) disclosed that there are seven German companies which are seeking local partners in the cold chain industry. The Board of Investments (BoI) aims to increase cold storage capacity in the country to 650,000 pallets by 2023 from 500,000 pallets in 2020.
In our view, data centers are potential industrial locators beyond 2022. Industrial parks are ideal locations for data centers because of their power capacity that can support data centers' electricity requirements. Developers should be proactive in cornering the demand from data centers by highlighting features of industrial parks such as the potential for customization and subsidized utility costs. Upcoming data centers located inside industrial parks include YCO Cloud Centers in Light Industry and Science Park 4 in Batangas and Dito Telecommunity in Clark Global City in Pampanga.
Industrial parks in Central Luzon will likely remain as popular alternative options to CALABA (Cavite-Laguna-Batangas). From 2023 to 2024, we see the delivery of 210 hectares (520 acres) of new industrial space particularly in Tarlac and Subic. The DTI is currently pitching Central Luzon as a manufacturing and logistics hub, highlighting growth opportunities in Pampanga's New Clark City, Bataan's Freeport Area, and Tarlac's Luisita Industrial Park. Singaporean firms are also keen on investing in the Filinvest Innovation Park in New Clark City.
Joey Roi Bondoc is associate director and head of research at Colliers Philippines.