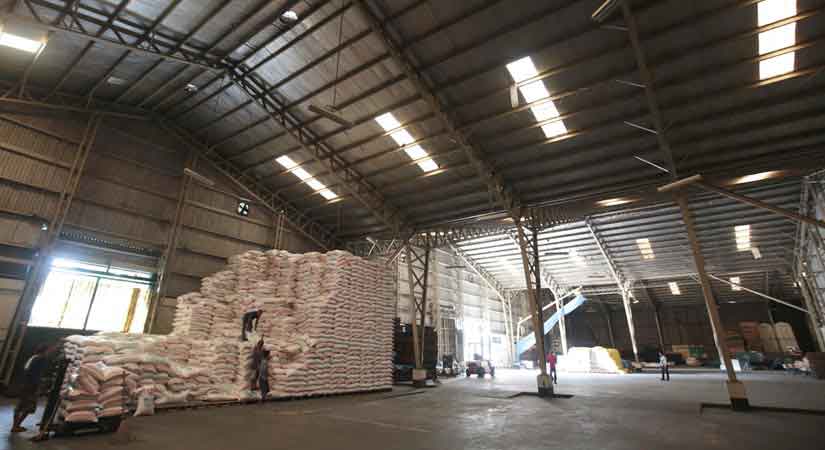 THE National Food Authority (NFA) met with its rice milling contractors to iron out logistics issues after food deliveries continue to be disrupted by the enhanced community quarantine (ECQ), which has been extended to the end of April.
"We cannot afford to let anything hamper our palay milling activities to continuously serve the rice requirements of the National Capital Region (NCR) and of the other areas in the country during this time of crisis," NFA Administrator Judy Carol L. Dansal said.
The NFA has issued identification cards to all milling contractors' employees and laborers which will be presented at quarantine checkpoints for easy passage.
In addition, the trucks which transport palay for milling from the NFA and deliver back rice were also provided with passes from the Inter- Agency Task Force for the Management of Emerging Infectious Diseases (IATF) for unhampered movement.
Ms. Dansal also guaranteed that the NFA has more than enough workers in its warehouses after hiring tricycle drivers and other workers who have temporarily lost their jobs due to the lockdown.
On the procurement of parts and consumables by rice mills, Ms. Dansal said that she will also recommend to the IATF to allow Manila-based suppliers of rice mill spare parts to operate.
The NFA will also issue a certification to be presented at checkpoints for the unhampered transport and purchase of parts for the immediate repair of rice mills.
On the sale of rice by-products, NFA has also made adjustments in the "guaranteed milling recovery" to assist rice millers regain their lost income.
"We shall also recommend to the IATF to make representations with Department of Interior and Local Government (DILG), to advise the LGUs where the rice mills are located, to find places where the rice hulls could be dumped, because right now there are no rice hull buyers," Ms. Dansal said.
Meanwhile, the NFA also continued to strengthen its procurement of palay, or unmilled rice.
Ms. Dansal said that an average of 20,052 bags of palay are being procured daily, as farmers continue to harvest their dry-season crop.
"We are ready to serve the farmers and buy their harvest, especially when farmgate prices fall below the P19 per kg support price of the government," Ms. Dansal said.
Between January and mid-April, the NFA bought 2.56 million bags of palay. It set a target of buying 2.4 million bags in April, 1.6 million bags in May, and 15.44 million bags for 2020.
The national rice inventory has been estimated at the equivalent to a supply of 116 days or nearly four months.
Ms. Dansal said that the 440 NFA warehouses and buying stations are open daily, including weekends and holidays.
Since the ECQ declaration, 100% of NFA's rice sales have gone to government agencies, which are stepping up their food distribution due to the coronavirus disease 2019 (COVID-19) outbreak and resulting lockdown.
As of April 13, the total withdrawals of NFA rice by the Department of Social Welfare and Development and local government units (LGUs) hit nearly two million bags. — Revin Mikhael D. Ochave