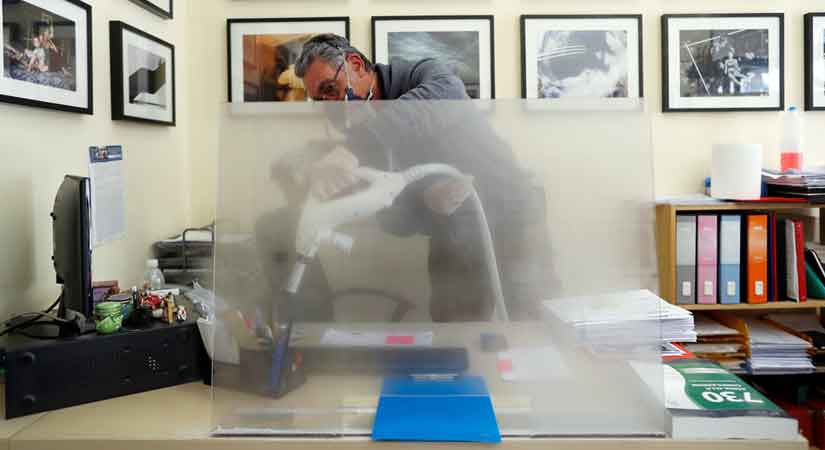 By Denise A. Valdez
Reporter
AS coronavirus lockdowns are increasingly easing around the world, how should companies prepare their workplace for the return of employees?
Global real estate services firm Cushman & Wakefield crafted a "Safe Six" guide that real estate owners should follow in preparation for the "new normal" in offices.
Cushman & Wakefield Global Chief Operating Officer Bill Knightly presented the guide in a briefing last week, saying this was the result of collaboration with different Cushman & Wakefield offices around the world. It is also based on guidelines by the World Health Organization and different public health organizations.
STEP 1: PREPARING THE BUILDING
This means coordinating with landlords on policies and engaging with vendors on what needs to be done before reopening the workplace for employees.
Mr. Knightly said it is important to establish clear roles and responsibilities early on and communicate this to tenants before returning to offices. This step also covers completing inspections, remediations and repairs in buildings before reopening.
STEP 2: PREPARING THE WORK FORCE
Office rules should be communicated with employees. Companies should also decide which workers really need to return to the office and when. Mr. Knightly said one of the questions to ask oneself is: "What groups of the work force have proven to be highly productive at home, and in what scenario should they be coming to work to become more productive?"
If workers need to return to the office, Mr. Knightly noted it is important to display empathy, as they would be navigating a stressful situation being thrust outside their homes with high likelihood of anxiety over the virus.
"Lots of communication needs to be done upfront prior to employees returning to work, not just to help alleviate the fears but also to help establish new habits," he said.
STEP 3: CONTROLLING ACCESS
This step already covers a lot of what governments require in public spaces while on lockdown, such as disclosure of health conditions, temperature checks and other forms of screenings.
Mr. Knightly said office operators have to plan for multiple scenarios which focus on high traffic areas: elevators, entry and exit points, and lobbies. There should be guidelines on how to maintain social distancing in such spaces. If needed, a six-feet-apart guide should be painted or indicated on the ground.
STEP 4: CREATING A SOCIAL DISTANCING PLAN
The goal is to decrease density by studying foot traffic patterns and installing shields if found necessary. In line with this, Mr. Knightly said some practices in other countries are temporarily closing small spaces and managing common areas and restrooms to maintain social distancing more easily.
STEP 5: REDUCING TOUCH POINTS AND INCREASING CLEANING
"Leveraging large procurement organizations can be very helpful here to make sure that you have key supplies like hand sanitizers, disinfectant wipes, other cleaning supplies and various personal protective equipment," Mr. Knightly said.
He added it is important to enforce new cleaning protocols and institute a clean desk policy.
With a concerted effort to minimize touch points, Mr. Knightly said Cushman & Wakefield is expecting an acceleration of technology solutions in equipment and spaces like printers and elevators.
STEP 6: COMMUNICATING CONFIDENCE
Lastly, Mr. Knightly advises transparent and frequent communication across all stakeholders for however long office reopening will take.
"We have to facilitate an open dialogue with safety in our mind," he said. This means listening to landlords and tenants, setting clear employee expectations and recognizing fear in returning.
"What we do know is this will be very complex and will happen in phases… and progress unfortunately is likely to be linear," he said.
"We've seen the rules of the game change if not by the week or day, maybe even the hour. One thing Cushman will continue to do…(is) believe from the get go that collaboration is key, and as such encourage landlords and tenants, corporates and suppliers, all stakeholders to partner, collaborate, during these challenging times," he added.