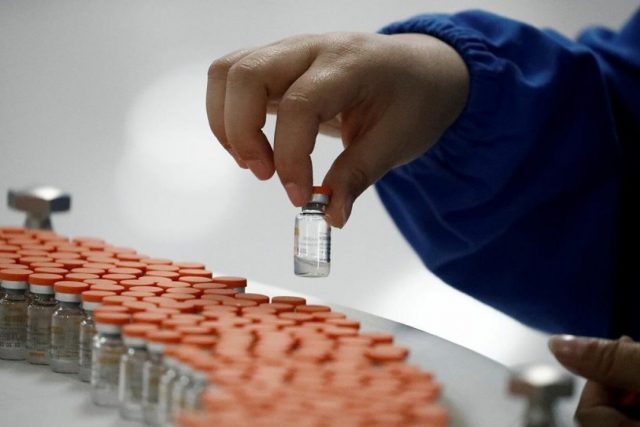 While the new SARS-CoV-2 variant of concern, Omicron, has not been detected in the Philippines, health experts say that its entry into the country is just a matter of time.   
The World Health Organization (WHO) stressed that there is no need to panic but all countries must prepare for its likely spread. The international health agency reported that Omicron is now in 63 countries, as of this writing, once again putting pressure on health systems. Given the current available data, it is likely that it will outpace the Delta variant where community transmission occurs. 
The US Centers for Disease Control and Prevention (CDC) also said that Omicron will likely spread more easily than the original SARS-CoV-2 virus.  
The CDC emphasized that current vaccines are expected to protect against severe illness, hospitalizations, and deaths due to infection with the Omicron variant. Breakthrough infections, or an infection of a fully vaccinated person, are likely to occur.   
As a science-driven industry, the biopharmaceutical industry over the past two years has demonstrated its commitment to respond rapidly to coronavirus disease 2019 (COVID-19).  The industry is bringing the same expertise, experience and resolve to counter the Omicron variant.     
Crucial to this action is the swift sharing of the Omicron variant by South African and Botswana scientists through the GISAID. The immediate sharing of harmful pathogens and variants will allow the industry to develop effective vaccines, treatments and diagnostics.  
With extensive knowledge on earlier variants, the industry is once again scanning authorized and unapproved vaccines and treatments to determine if they could provide protection against Omicron. Vaccine developers have also been quick to announce that they will specifically target this latest variant.   
In a statement, Pfizer said that preliminary laboratory studies demonstrate that three doses of the Pfizer-BioNTech COVID-19 vaccine neutralize the Omicron variant while two doses show significantly reduced neutralization titers. Pfizer and BioNTech also announced that they have started to develop an Omicron-specific COVID-19 vaccine; the first batches can be produced within 100 days pending regulatory approval, the companies said.   
Johnson & Johnson also announced that it is pursuing an Omicron-specific variant vaccine. "In parallel, we have begun work to design and develop a new vaccine against Omicron and will rapidly progress it into clinical studies if needed," Johnson & Johnson said in a statement.    
Moderna said that it is working rapidly to test the ability of the current vaccine dose to neutralize the Omicron variant. Moderna will also advance an Omicron-specific booster candidate. "This candidate is part of the Company's strategy to advance variant-specific candidates for a subset of variants of significant concern," said Moderna.    
AstraZeneca, meanwhile, announced that its long-acting antibody combination for pre-exposure prophylaxis of COVID-19 neutralizes all previous variants, and that it is working to establish its efficacy against the new Omicron variant. The US Food and Drug Administration (FDA) granted Emergency Use Authorization for tixagevimab co-packaged with cilgavimab for pre-exposure prophylaxis in adults and adolescents with moderate to severe immune compromise.    
Also, GlaxoSmithKline said that sotrovimab, an investigational monoclonal antibody, retains in vitro activity against the full known Omicron spike protein. "These pre-clinical data demonstrate the potential for our monoclonal antibody to be effective against the latest variant, Omicron, plus all other variants of concern defined to date by the WHO," said GSK.   
Earlier, the US FDA granted EUA for molnupiravir for the treatment of mild to moderate COVID-19 in adults with positive results of direct SARS-CoV-2 viral testing who are at high risk for progressing to severe COVID-19. "With the continued spread of the virus and the emergence of variants, additional treatments for COVID-19 are urgently needed," MSD said in a statement.   
Roche, on the other hand, has said that it has developed additional testing options to differentiate mutations in the Omicron variant. The variant kits allow differentiation between unique mutations present within the Omicron variant compared to other SARS-CoV-2 variants. "It's critical to identify Omicron quickly and accurately, which will help inform ongoing research — including the further development of therapeutics and vaccines — and potentially stop or slow down the advance of this new variant," said Roche.   
Abbott, meanwhile, announced that it has conducted an assessment of the Omicron variant and is confident that its rapid and PCR tests can detect the virus. "The process for evaluating variants and stress testing our tests doesn't stop with the current variants. We are actively collecting real-world samples and using viral cultures to verify that our tests continually detect circulating strains," said Abbott.   
Even as the country is now categorized as having low risk when it comes to COVID-19 transmissions, efforts must continue to prepare for the Omicron variant. The country is just getting back from the Delta variant surge, and the public health system and our frontliners need time to recover.      
Teodoro B. Padilla is the executive director of Pharmaceutical and Healthcare Association of the Philippines (PHAP), which represents the biopharmaceutical medicines and vaccines industry in the country. Its members are at the forefront of research and development efforts for COVID-19 and other diseases that affect Filipinos.