Gov't told to probe dumping of waste in South China Sea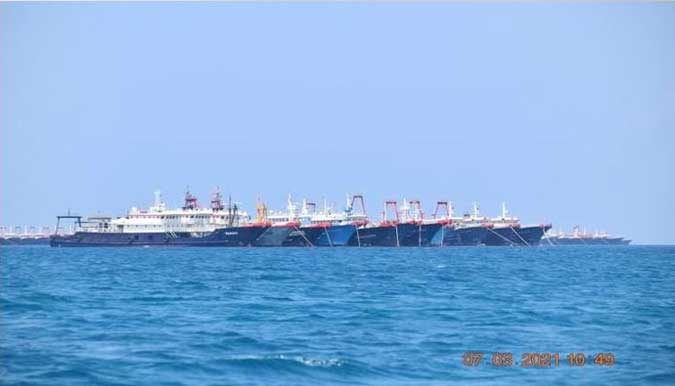 A SENATOR on Tuesday asked the government to investigate reports that swarms of Chinese ships anchored in Philippine-claimed areas in the South China Sea were dumping human waste there.
The Department of Environment and Natural Resources "should investigate this, and if there is basis, file charges in court," Senator Ralph G. Recto said in a statement on Tuesday. "The government cannot fine sidewalk litterers while turning a blind eye to this."
Reports by US-based geospatial imagery firm Simularity, Inc. showed that Chinese vessels have been dumping raw sewage into the Spratly and Paracel Islands in the South China Sea.
Mr. Recto noted that ships are barred by domestic and international laws from dumping their trash in the oceans.
"Under Philippine laws, such are environmental crimes that carry a jail term and a hefty fine," he said. "But even without these laws, decent human behavior commands civilized men not to turn rich fishing grounds into a cesspool of feces."
Simularity founder and Chief Executive Officer Liz Derr earlier told a forum organized by a Philippine think-tank human waste and wastewater have accumulated at Union Banks in the resource-rich Spratly Islands, where more than 200 Chinese ships have moored.
The raw sewage led to the overgrowth of harmful algae in the disputed area, threatening marine life and damaging corals, she said.
"Is this Beijing's disgusting toast to Duterte's 'piece of paper' remark on the Hague ruling, by allowing its vessels to dump human waste in the West Philippine Sea?" Party-list Rep. Arlene D. Brosas said in a statement, referring to areas in the sea with the country's exclusive economic zone.
Ms. Brosas said she would seek a House of Representatives probe of the practice. — Kyle Aristophere T. Atienza