Gilas looks to stay unscathed in FIBA Asia Cup Qualifiers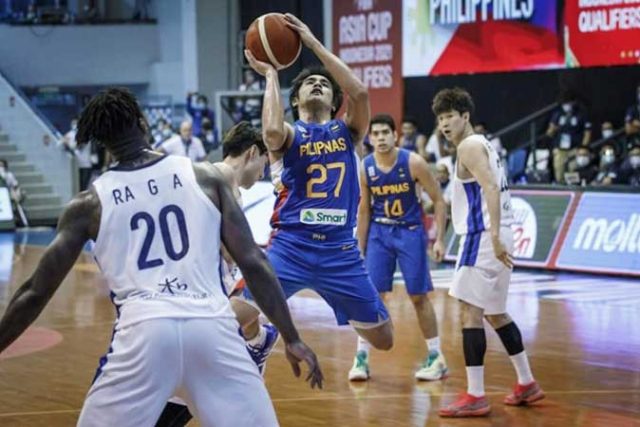 By Michael Angelo S. Murillo, Senior Reporter
GROUP A-leading Gilas Pilipinas looks to keep its unblemished record in the International Basketball Federation (FIBA) Asia Cup Qualifiers (ACQ) intact when it takes on the Indonesian national team on Friday at the Angeles University Foundation gym in Pampanga.
Currently sporting a 4-0 record in the grouping, the nationals try to defend home turf anew in their scheduled 6 p.m. contest.
Gilas is coming off a huge and impressive 81-78 victory over rival South Korea on Wednesday that saw spunky guard SJ Belangel drain the game-winning triple as time expired.
The win put Philippines on solid ground to land direct qualification to the FIBA Asia Cup happening in Jakarta in August.
The young Gilas squad struggled early against the physical play of the Koreans, trailing for most of the first half (by 17 at one point) and staring at an eight-point deficit, 44-36, at the break.
It, however, would storm back in the third canto, led by Dwight Ramos and Kai Sotto, to narrow the gap, 57-56, heading into the final frame.
In the payoff quarter, Gilas sustained the momentum it got, building a 63-59 advantage with seven minutes to go in the contest.
The two teams went back and forth until the Koreans got some more breathing space, 75-70, following Seonghyen Jeon's three-pointer with 2:27 to play.
But Gilas was not deterred and fashioned a chargeback, paced by Messrs. Ramos and Belangel, Carl Tamayo and naturalized player Angelo Kouame, taking a three-point lead, 78-75, with 10 seconds remaining.
Then Hyunjung Lee hit a triple to level the count at 78-all with two seconds left to play.
BELANGEL HEROICS
That set up Mr. Belangel's heroics.
Off a broken play, Mr. Ramos inbounded the ball to Mr. Belangel who managed to find an opening away from his defender to hit a banked shot three-pointer at the buzzer to send the Philippines to the win. Hero Belangel finished with 13 points, five rebounds and two assists while Mr. Ramos top-scored for Gilas with 16 points.
Korea was led by former Philippine Basketball Association import Ra Guna (Ricardo Ratliffe) with 24 points and 15 rebounds.
"It's a great moment for Filipino basketball," said Gilas program director and head coach Tab Baldwin after the game.
"I think it's just a reward for the work that these young fellas have put in. It was a great game of basketball."
It is the same performance that Gilas wants to have against Indonesia, who will be bannered by naturalized player Lester Prosper, also a former PBA import, and coached by one-time Gilas coach Rajko Toroman.
For Friday's game, Gilas will insert Filipino-Australian Jordan Heading, Lebron Lopez and Geo Chiu in place of Javi Gomez De Liaño, Jaydee Tungcab and Mike Nieto.
Gilas defeated Indonesia, 100-70, in their first meeting in the FIBA Asia Cup Qualifiers in February last year.
Thirdy Ravena paced the Philippines in said game with 24 points while for Indonesia it was Andara Prastawa Dhyaksa who showed the way with 23.
The Gilas-Indonesia game can be seen over TV5, One Sports+, Cignal and Gigafest.Smart.