NCCA recognizes 63 artists at the 2021 Ani ng Dangal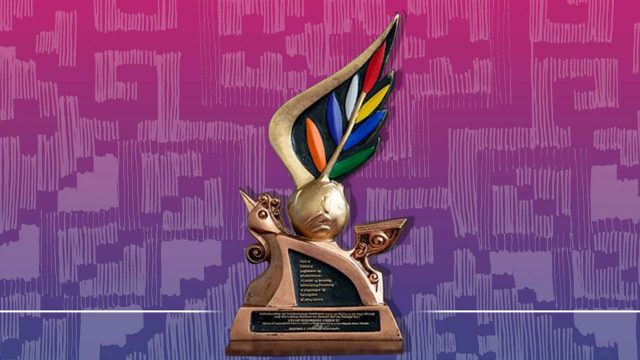 THE NATIONAL Commission for Culture and the Arts (NCCA) awarded 63 artists in various fields at its annual Ani ng Dangal (Harvest of Honors) held on Aug. 15 via Facebook live.
Ani ng Dangal recognizes natural-born Filipino artists or groups who have earned international awards and accolades in nine categories — Architecture, Cinema, Dance, Dramatic Arts, Literary Arts, Music, Visual Arts, Folk Arts, and Broadcast Arts — over the past year.
"This year's theme: 'Alab Sining, Alay Sigla' perfectly captures our passionate commitment to reignite our arts and culture sector as we race towards a hopeful future," Arsenio "Nick" J. Lizaso, chairman of the NCCA, said in a video.
"Being an artist isn't just about putting pencil to paper nor putting brush to canvas. An artist is an individual that is compelled to create meaningful art and help his peers blossom into better individuals. Your contribution of making the arts accessible to the people, to the grassroots level, is nothing short of commendable," he added.
Of the 63 awardees, one each are from the fields of architecture and allied arts and the literary arts, four are in the field of music, 25 are in visual arts, and 31 are in cinema, including actors Dingdong Dantes (who received his Ani ng Dangal for receiving the Asian Star Prize Award for his work in the Philippine adaptation of Descendants of the Sun at the Seoul International Drama Awards), Cristine Reyes (who was named Best Actress for the film Untrue at the 40th Fantasporto-Oporto International Film Festival), and the late Eddie Garcia and Tony Mabesa (who shared the Best Actor Award for the film Rainbow's Sunset at the 52nd Worldfest Houston International Film Festival).
Louie Ignacio, director of School Service, is one of this year's awardees for the cinema category.
"Isa pong malaking karangalan na mapabilang sa taong ito sa mga pararangalan ng NCCA Ani ng Dangal ang aming pelikulang School Service. Malaking bagay para sa akin ang karangalan ito sapagkat hindi po madali para sa aming mga filmmakers, [at] mga producers, ang makipagtunggali at makipagtapatan sa mga pelikulang banyaga. Maraming salamat sa parangal NCCA Ani ng Dangal (It is an honor for our film School Service to be one of this year's awardees of NCCA Ani ng Dangal. This award is a great honor for me because it is not easy for us filmmakers and producers to compete and go up against foreign films)," said Mr. Ignacio.
The artists receive the sarimanok trophy — modeled after a mythical bird of the Maranaos — created by National Artist for Visual Arts Abdulmari Asia Imao.
Since 2009, the NCCA Ani ng Dangal has recognized 10 awardees for architecture and allied arts, 255 for cinema, 66 for dance, nine for dramatic arts, 60 for literary arts, 129 for music, 131 for visual arts, and, 27 for folk arts and broadcast arts. — MAP Soliman
---
The awardees for the 2021 Ani ng Dangal
CINEMA
• Alon by Gabriel Fernandez
• Ang Lihim ni Lea by Rico Gutierrez
• Ang Pagpakalma Sa Unos by Joanna Vasquez Arong
• Aria by Carlo Catu
• Aswang by Alyx Ayn Arumpac
• Benjamin Tolentino
• Breech Asher Harani
• Cristine Reyes
• Derick Cabrido
• Dingdong Dantes
• Eddie Garcia and Tony Mabesa
• Elijah Canlas
• Eric Ramos
• Filipiñana by Rafael Manuel
• Geraldo B. Jumawan
• Isabel Sandoval
• Jun Robles Lana
• Lav Diaz
• Lingua Franca by Isabel Sandoval
• Louise Abuel
• Mallorie Ortega
• Maria Diane Ventura
• Mary Rose Colindres
• Pan de Salawal by Che Espiritu
• Rainbow Sunset by Joel Lamangan
• Ruby Ruiz
• School Service by Louie Ignacio
• Tarang by Arvin Belarmino
• The Halt by Lav Diaz
• Valerie Castillo Martinez
ARCHITECTURE AND ALLIED ARTS
• SGS Design Landscape Architecture
LITERARY ARTS
• Joel Donato Ching Jacob
• Enrique Villasis and Bernard Capinpin
MUSIC
• Damodar das Castillo
• Niño Cesar Borromeo Tiro
• Josue Greg Zuniega
• Manila Camerata Artists
VISUAL ARTS
• Gabriel Agtay
• Mark Anthony Portugal Agtay
• Christopher G. Andres
• Anthony Tario Austria
• Rolando Batacan
• Ferdinand Bedaña
• Mark Belicario
• Kimberly Kate Garsain Dayo
• Buddy P. Gadiano
• Donell Gumiran
• Sherwin Flores
• Mark Frederick Abejero Jereos
• Eisa Jocson
• Edwin Loyola
• Sherwin Magsino
• Hannah Reyes Morales
• Jun Epifanio Pagalilauan
• Jaylord Plaza
• Froilan Caparas Robas
• Archt. Don Ferdinand S. Tabbun
• Maria Taniguchi
• Angelica Tejada
• Maria Felicity Tejada
• Roger Tingle
• Jophel Botero Ybiosa