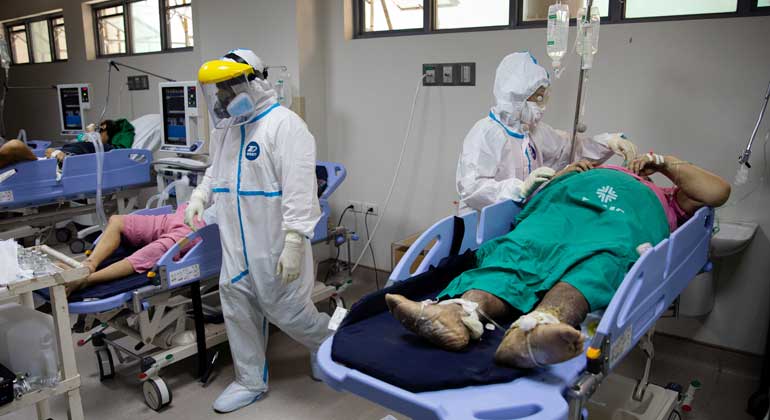 A RESURGENCE in coronavirus case counts and slow vaccine rollouts will hinder the recovery of most Asia-Pacific (APAC) economies, including the Philippines, as governments resort to more restrictive measures to contain the pandemic.
"With many APAC economies dependent on imported COVID-19 vaccines, at least in the near-term, their ability to bring their new pandemic waves under control is likely to be built on strategies of a combination of restrictive measures as well as trying to accelerate their vaccination programs," Rajiv Biswas, APAC economist at IHS Markit said in a note late Monday.
New infections are rising in the Philippines, India, Japan, Malaysia, Thailand, Singapore, Vietnam and Thailand.
Mr. Biswas said new waves have forced governments to tighten quarantines, weakening domestic demand and slowing the pace of recovery.
"The escalating COVID-19 waves evident in many Asian economies are likely to be a significant near-term drag on their economic recovery paths, with considerable uncertainty about when their new COVID waves will come under control," the report added.
Mr. Biswas said the high case counts in Asian economies may be due to the slow roll out of their vaccination programs.
In the Philippines, lockdowns were imposed again in Metro Manila and nearby areas for nearly two months before restrictions were eased on May 15, following a spike in new cases last month. The Health department reported 3,972 new cases Tuesday, bringing the total number of active cases to 48,201.
Around 4.3 million Filipino adults have been vaccinated as of Monday, against the government's target to inoculate at least 50 million this year.
The stricter measures have dampened economic activity, he said, after the IHS Markit Philippines Manufacturing Purchasing Managers' Index (PMI) deteriorated in April, indicating a worsening in conditions for manufacturing from a month earlier.
Mr. Biswas said activity in Japan's services sector deteriorated sharply this month compared with April after stricter measures were put in place, while Singapore's PMI eased to 51.8 last month from 53.5 after local infections rose once more.
In India, where daily cases remained elevated and the health system overwhelmed, IHS Markit's services sector indicator experienced a slowdown last month while the manufacturing sector remained hard-hit by the pandemic.
Mr. Biswas said the region's exports may benefit from the stronger recovery elsewhere.
"The strong global rebound in manufacturing output is helping to drive demand for industrial electronics products, while improving consumer spending is driving demand for consumer electronics," he said.
"For many Asian developing countries, the path to recovery from the pandemic remains protracted and fraught with significant uncertainties," he added. — Beatrice M. Laforga