Filipinas navigate entrepreneurship in the Kathmandu Valley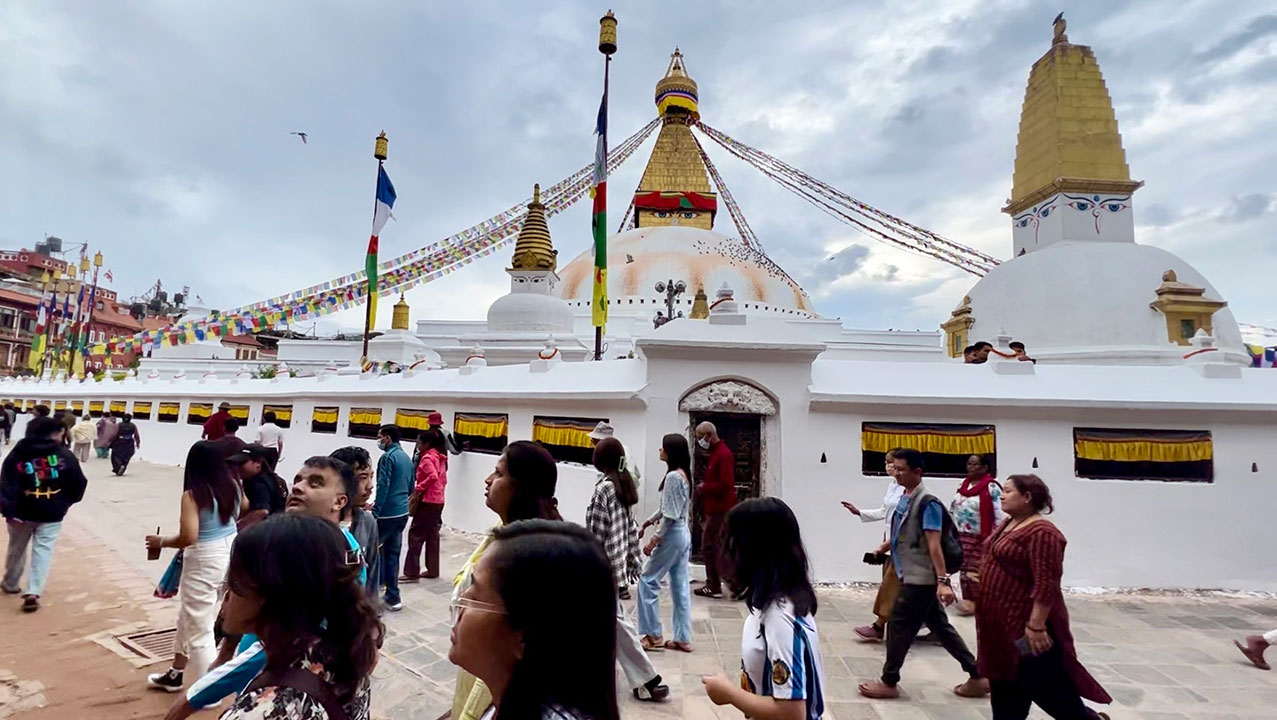 By Arjay L. Balinbin, Multimedia Editor
KATHMANDU, NEPAL — Against the backdrop of rich cultures and traditions in the Kathmandu Valley, three Filipinas are navigating opportunities as entrepreneurs.
Sharon G. Shakya, Ludivina "Vina" Maharjan, and Sheilla Mae J. Manto, all with Nepali husbands, said their journeys have exposed them to unique and sometimes daunting challenges that come with running a business in Nepal.
Many Filipinas have established businesses in the country, including manpower agencies, education consultancies, inns, schools, spas, travel companies, cafes, bakeries, restaurants, and import-export trading houses, the Nepal-Philippines Chamber of Commerce and Industry said on its website.
Ms. Shakya, a dentist, moved to Kathmandu a few years back with the goal of making an impact on oral healthcare alongside her husband, who is also a dentist.
Yet, her journey did not stop at dentistry. While co-running Cosmo Dental Clinic with her husband, she ventured into the culinary world, opening a Filipino restaurant called Cebu Fiesta in Lalitpur, a city on the outskirts of the capital Kathmandu.
"Cebu is already like my second home in the Philippines because that's where I met my husband when he was studying there," Ms. Shakya told BusinessWorld, explaining why she named her restaurant after Cebu despite being born in Negros, another region in the central Philippines.
Ms. Shakya is among Filipinas who married Nepali spouses they met at Philippine medical schools. This is not surprising, as the relationship between Nepal and the Philippines is often linked to education. "We have hundreds of Nepali students going to the Philippines for studies, including aviation training and medicine," said non-resident Ambassador of the Philippines to Nepal Ramon S. Bagatsing, Jr. in an interview with local news agency myRepublica in 2022.
"Most Filipino women living in Nepal are married to Nepali men," Mr. Bagatsing noted.
For Ms. Shakya, her restaurant is more than just a business venture; it is a cultural bridge connecting the flavors and traditions of the Philippines with the Nepalese palate.
She envisions Cebu Fiesta as a place where people from various backgrounds in the Himalayan nation can come together to savor Filipino dishes and learn about Filipino culture.
"It is a good start for us that we are slowly introducing our food — our culture — here," she said.
The restaurant offers a diverse selection of Filipino dishes, with the bestsellers being lechon kawali (crispy fried pork belly), sisig (sizzling pork dish), and chicken adobo (chicken stew).
Cebu Fiesta, nestled in a residential area near schools and other small businesses, is adorned with Filipino handicrafts like buri products, creating a welcoming Filipino ambiance. The menu also features sinigang (sour soup), crispy pata (deep-fried pork leg), chop suey (vegetable stir-fry), halo-halo (shaved ice dessert), and more.
FROM DOMESTIC HELPER TO JEWELRY BUSINESS
The story of Ms. Maharjan, executive director at Classic Diamond Jewellers, is one of ambition and relentless pursuit. She began her journey as a domestic helper in Hong Kong but took an unexpected path when she married a jeweler from Nepal.
Born and raised in La Union in the northern Philippines, Ms. Maharjan's journey embarked from a place where opportunities were scarce.
According to her, the year 1996 marked the inception of the jewelry business.
With a modest budget, her husband's family ventured into the jewelry trade. The journey began within the confines of their home.
"The whole family started it, because in Nepal it's usually a joint family business," she said.
"I didn't join the business immediately. I worked at a travel agency in Nepal for two years just to learn the language, and after that, I went to India to gain knowledge of diamond assorting and colored stones, where I stayed for six months," she added.
She said that understanding every aspect of the business, from the ground up, was essential. She had also spent five years working in the family's jewelry factory.
"After that, we opened our first store in Lalitpur, then in America, in Jackson Heights, New York, and in Maryland, and then in Europe. I think we have four stores," she said.
Ms. Maharjan said her interest in jewelry began in her childhood, watching celebrities on TV, and it deepened during her stay in Hong Kong.
"Whenever I would pass by the streets of Hong Kong, I would always look for jewelry shops."
While she may not consider herself an artist, she said that her passion and keen eye for aesthetics drive her design process.
Drawing inspiration from various sources, she said that she brings her unique touch to each piece.
"Almost everything here, I designed. These are not exactly my designs — I got the idea from the internet or magazines and just modified them," she said.
The jewelry business takes pride in its diamond-encrusted crowns, particularly tiaras, which are popular not only among royalty but also among stylish customers.
According to her, skilled workers from Kolkata, India, known for their expertise in jewelry-making, are the foundation of the craftsmanship that distinguishes their jewelry.
She is proud to see her creations worn at parties and special events, she said.
"I recognize them — they look different because of the finishing."
MOTHERHOOD TO ENTREPRENEURSHIP
Ms. Manto, a registered nurse from Cebu, set foot in Nepal in 2018. Having met her husband, Suav Zuwa, who studied medicine in the province, their shared passion for improving lives through skincare and medicine kindled the idea of bringing their expertise to Nepal.
The couple started their entrepreneurial journey by venturing into retail.
"From brightening skin to combating acne scars," Ms. Manto said, they recognized the demand for cosmetic products in Nepal.
Ms. Manto, president of Zuwa Enterprises, also said she was determined to balance the responsibilities of motherhood with her entrepreneurial dreams.
"I want to take care of my three kids while doing the business," she said.
Her background in customer service and sales in the Philippines also provided valuable insights into handling customers effectively, she noted.
Soon, they diversified their operations, delving into import and export activities between the Philippines and Nepal, by introducing their own skincare brands under the Zuwa Enterprises umbrella.
Recognizing the low trade volume between the Philippines and Nepal, "we saw an opportunity to contribute," said Mr. Zuwa, Ms. Manto's husband.
In the last 25 years, Nepal's exports to the Philippines grew at annualized rate of 7.39%, from $30,800 in 1996 to $184,000 in 2021, based on data from the Observatory of Economic Complexity, a platform for international trade data.
Meanwhile, the Philippines' exports to Nepal increased at a faster rate of 12.2%, reaching $6.21 million in 2021.
According to Mr. Zuwa, a key milestone in Zuwa Enterprises' journey was the positive reception of Philippine-made skincare products in Nepal.
The products "gained good attention especially during the summer months," he told BusinessWorld.
The couple also highlighted the similarities between Nepal and the Philippines.
Both nations share an Asian heritage and a preference for brighter and flawless skin, they said,  adding that there is a high demand for exfoliants and whitening products like glutathione, collagen, and tretinoin in both countries.
After a brief hiatus due to the pandemic, the company resumed operations in December 2022 and imported a substantial 4,000 to 5,000 kilograms of cosmetic products in the previous quarter, Mr. Zuwa noted.
The company, he also said, encountered "no resistance" when introducing its products in either the Philippines or Nepal, witnessing rapid growth fueled by the shared enthusiasm for "trying new, unique, and effective" cosmetic solutions.
Ms. Manto uses TikTok to market her company's products. Initially, TikTok served as a modest platform for their marketing efforts, but the shift toward livestreams and engaging video content significantly boosted sales, she noted.
"Sheilla herself wants to be on TikTok, and this trend, I think, is inspired by beauty company CEOs in the Philippines," Ms. Manto's husband said, noting that the platform enables direct engagement with customers and aids in product improvement.
Zuwa Enterprises in Nepal operates from its own office in Kathmandu and delivers products nationwide, offering cash-on-delivery services. "We have had around 40,000 customers reach out to us," said Ms. Manto's husband.
MAKING CHOICES
The Filipino restaurant owner, Ms. Shakya, said she faces challenges during religious and cultural celebrations. For instance, Nepalese people's preference for vegetarian food during Shrawan (mid-July to mid-August) affects sales, she noted.
To address this, she made the bold decision of adapting her menu to the Nepali culture by offering purely vegetarian dishes during this month.
She ventured into online delivery services to survive during the toughest times, especially during the pandemic.
Ms. Shakya also found support in her Filipino friends. "Many friends were willing to help me," she noted.
"They said, 'Okay, in cooking, we will be there for you… because I didn't really have a background in this since my profession is different,'" Ms. Shakya said.
This camaraderie among Filipino expatriates plays a vital role in her journey, she added.
For Ms. Maharjan, the jeweler, a key challenge in the Nepali market is "ensuring customer satisfaction."
In Nepal's close-knit business environment, reputation and word-of-mouth are crucial. Even a single dissatisfied customer's complaint can have a significant impact, she said.
"They are the customers, so they are always right; even if it's impossible to do what they want, we still try, because Nepal is a very small market."
Ms. Maharjan also emphasized the importance of treating customers like family.
"We treat them like family," she said. "We have regular customers, and that's what makes me happy here. If you have regular customers, it's like a cycle, generation to generation."
Effective communication with local customers was a challenge for Ms. Manto of Zuwa Enterprises, prompting her to turn to technology and use artificial intelligence translation tools to understand and engage with Nepali customers.
Her advice to fellow entrepreneurs is grounded in her own experiences.
"We need to have persistence because the market is not constant; sometimes it's up and sometimes down, so you have to be patient and consistent with your marketing strategies," Ms. Manto said.