Yields on gov't debt rise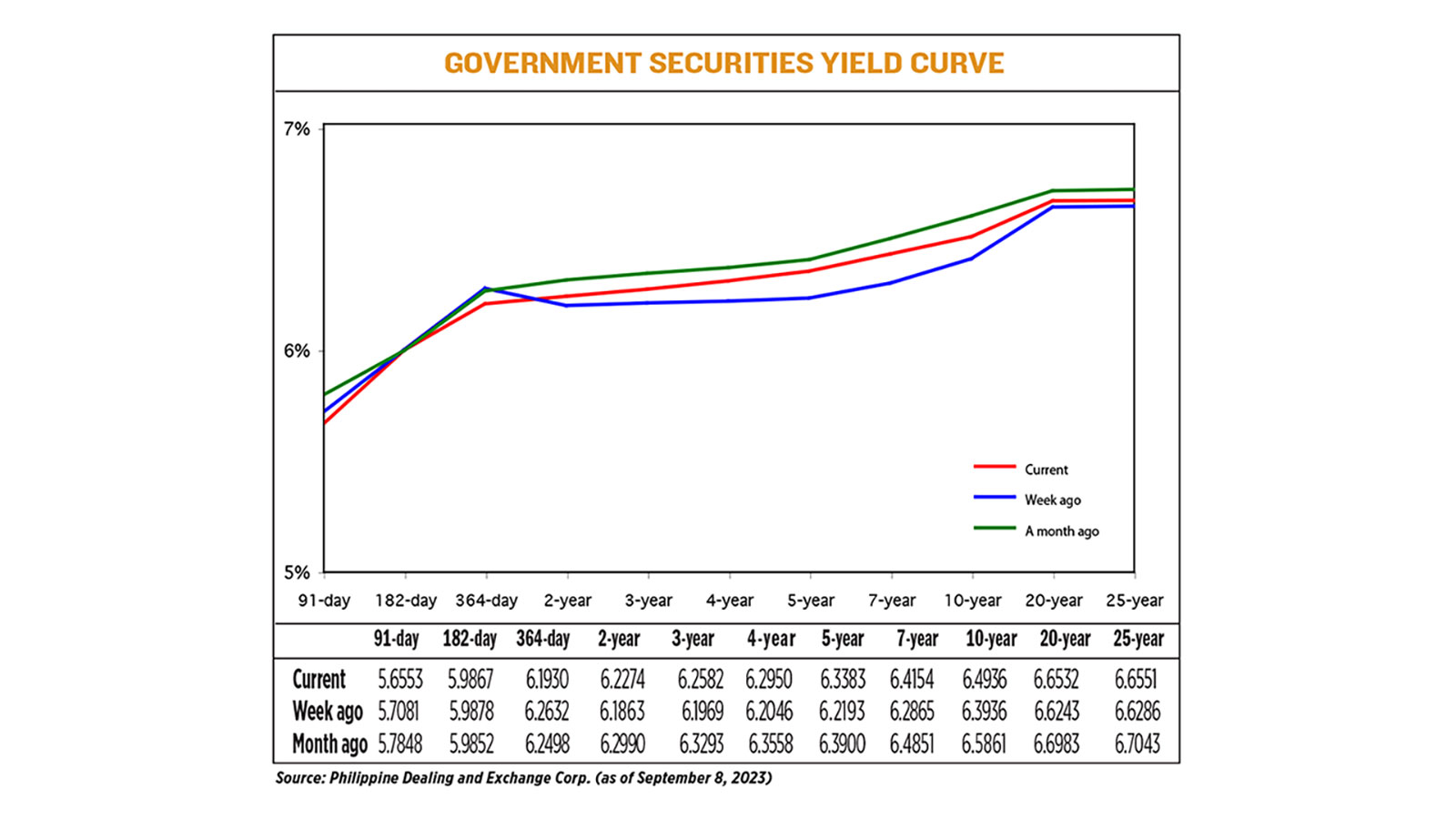 YIELDS on government securities (GS) traded in the secondary market increased last week as inflation accelerated last month, pushing yields higher.
GS yields, which move opposite to prices, climbed by 4.29 basis points (bps) on average week on week, based on PHP Bloomberg Valuation Service Reference Rates as of Sept. 8 published on the Philippine Dealing System's website.
Rates were mixed last week as yields on the 91-, 182- and 364-day Treasury bills (T-bills) declined by 5.28 bps, 0.11 bp and 7.02 bps to 5.6553%, 5.9867%, and 6.193%, respectively. 
Meanwhile, the belly of the curve went up as yields on the two-, three-, four-, five-, and seven-year Treasury bonds (T-bonds) rose by 4.11 bps (6.2274%), 6.13 bps (6.2582%), 9.04 bps (6.2950%), 11.9 bps (6.3383%), and 12.89 bps (6.4154%), respectively.
At the long end, the rates of the 10-, 20-, and 25-year debt papers also increased by 10 bps (6.4936%), 2.89 bps (6.6532%) and 2.65 bps (6.6551%), respectively.
Total GS volume traded on Friday fell to P13.63 billion from P31.13 billion a week earlier.
Yield movements last week were mostly inflation-related, a bond trader said in a Viber message.
"The market sentiment shifted last week after the BSP (Bangko Sentral ng Pilipinas) released its inflation range of 4.8% to 5.6%, representing a lower bound that was already higher than July and indicated a higher month on month figure as well," the bond trader said.
Globally, yields remained elevated with US Federal Reserve officials still uncertain on their policy path, the bond trader added.
"The market reverted to defensiveness through the week as it digested what the August inflation figure implies moving forward and [that the BSP governor] has already indicated that inflation will likely stay above the target range for the fourth quarter," the bond trader said.
Noel S. Reyes, chief investment officer for Trust and Asset Management Group at Security Bank Corp., said the market started the week defensively given higher global yields.
"Latest CPI (consumer price index) data, which was worse than consensus and further increases in global yields,… added to the defensive tone," Mr. Reyes said in an e-mail.
Headline inflation quickened for the first time in seven months to 5.3% in August, up from 4.7% in July but slower compared with the 6.3% print a year earlier.   
The CPI settled within the BSP's 4.8-5.6% forecast range and marked the 17th consecutive month that inflation surpassed the central bank's 2-4% target.
Year to date, inflation averaged 6.6%, still above the BSP's full-year forecast of 5.6%.
BSP Governor Eli M. Remolona, Jr. last week said inflation is expected to return within the central bank's target by the first quarter of 2024.
He added that the central bank may hike its inflation forecast of 5.6% for 2023 at their Sept. 21 meeting.
"GS yields will likely remain elevated for an extended period of time since higher inflation expectations will probably push back the BSP's timeframe to start cutting rates," the bond trader said.
The trader added that the Monetary Board will likely keep rates unchanged at its meeting, but continue to signal a readiness to tighten if inflation will continue to persist.
For this week, the bond trader expects the market to trade sideways and take its cue from the result of this week's bond auction.
The government will offer P30 billion in reissued seven-year bonds on Tuesday that have a remaining life of six years and 10 months.
"Although inflation remains a concern, market participants have become used to that already and will just try and ride out the volatility for now," the bond trader added.
Mr. Reyes said yields may continue to move sideways as the market awaits the Fed's Sept. 19-20 meeting and the BSP's own review a day after.
"Recent inflation was supply-side driven and should not be a factor for MB (Monetary Board) to turn on a hawkish bias during the meeting. Core inflation was lower and supports keeping the policy unchanged. If ever the MB moves, it will be to guard against pressures on the peso if the Fed raises another time," he added. — A.M.P. Yraola