Peso expected to remain weak versus dollar until next month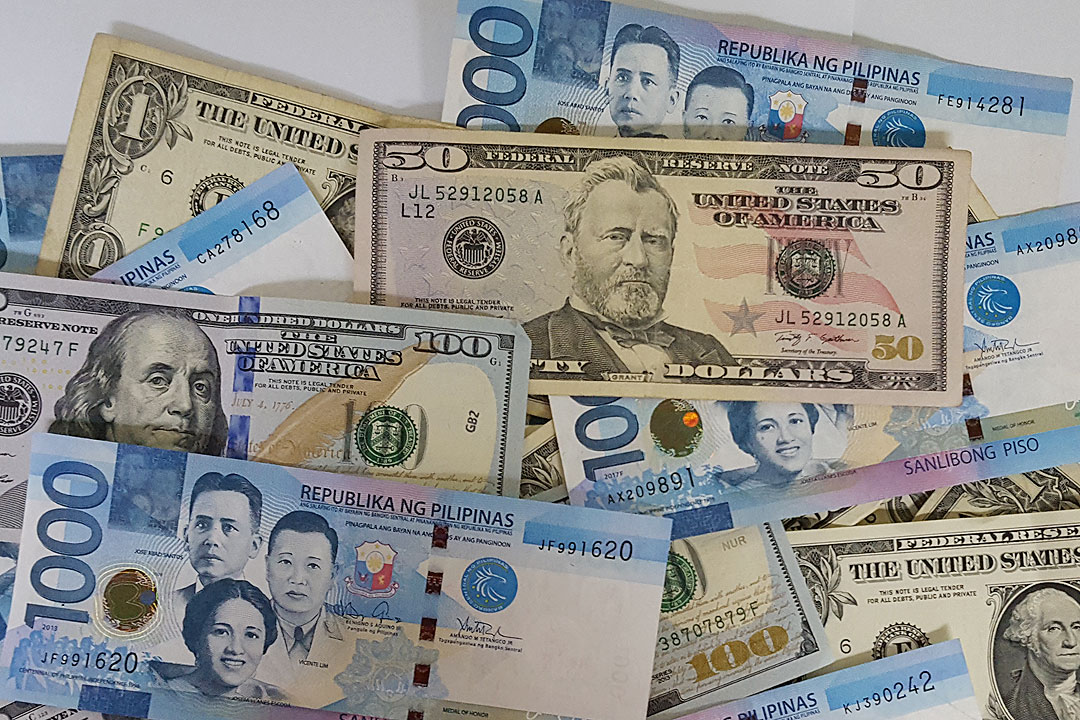 THE PESO is expected to remain weak against the greenback until next month amid a seasonal rise in dollar demand for imports this quarter, analysts said.
"This third quarter, there really is a seasonal depreciation as businesses buy US dollars to import and stock up on inventories ahead of the holiday season," China Banking Corp. Chief Economist Domini S. Velasquez said in a Viber message.
"In the fourth quarter, we will likely see the peso appreciate again as remittances come in," Ms. Velasquez said.
The local unit closed at P56.57 versus the dollar on Friday, strengthening by 19 centavos from Thursday's P56.76 finish, data from the Bankers Association of the Philippines' website showed.
For the year so far, the peso has depreciated by 1.44% against the dollar from its P55.755 close on Dec. 29, 2022.
The peso could recover to the P55 level in the fourth quarter amid the seasonal increase in remittances, Rizal Commercial Banking Corp. Chief Economist Michael L. Ricafort likewise said in a Viber message.
Ms. Velasquez added the peso could also appreciate if the US Federal Reserve signals that they will hike one more time this year.
"Fundamentally, the peso is stronger because we have smaller trade deficits this year, continued inflow of remittances, and increasing tourist arrivals," she said.
The Fed may need to raise interest rates further to cool still-too-high inflation, Fed Chair Jerome H. Powell said on Friday, promising to move with care at upcoming meetings as he noted both progress made on easing price pressures as well as risks from the surprising strength of the US economy, Reuters reported.
While not as hawkish a message as he delivered this time a year ago at the annual Jackson Hole Economic Policy Symposium, Mr. Powell's remarks still delivered a punch, with investors now seeing one more rate hike by yearend more likely than not.
The Fed raised borrowing costs by 25 basis points (bps) last month, bringing its target rate to a range between 5.25% and 5.5%.
It has hiked rates by a cumulative 525 bps since it began its tightening cycle in March last year.
Bank of the Philippine Islands Lead Economist Emilio S. Neri, Jr. likewise said the peso's weakness will likely continue next month amid rising imports.
"Slower inflation prints for the Philippines combined with seasonal strength of remittances may bring us back to the P55 level by yearend," he added.
Headline inflation slowed for a sixth straight month to 4.7% in July. For the first seven months, inflation averaged 6.8%, above the central bank's 5.6% forecast and 2-4% target. — AMCS with Reuters