Peso down on lack of progress in US debt ceiling discussions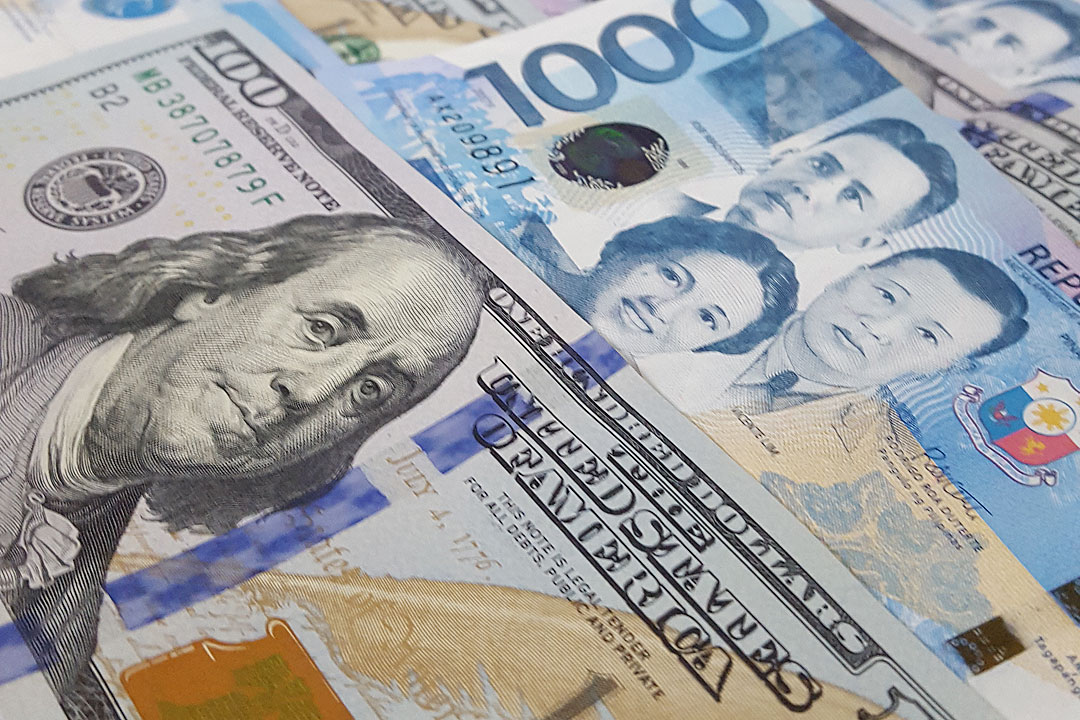 By Aaron Michael C. Sy, Reporter
THE PESO weakened on Wednesday due to the lack of progress in US debt ceiling talks, offset by the recent upgrade by Fitch Ratings' credit outlook for the country to stable from negative.
It closed at P55.77 a dollar, 4.50 centavos down from Tuesday's P55.725 finish, according to data from the Bankers Association of the Philippines website.
The peso opened the session at P55.77 a dollar. Its worst showing for the day was at P55.82, while its intraday best was P55.725 versus the greenback.
Dollars traded fell to $890.3 million from $1.19 billion on Tuesday.
The peso weakened as the dollar strengthened due to the lack of progress in US debt ceiling meetings, Michael L. Ricafort, chief economist at Rizal Commercial Banking Corp. said in a Viber message.
ING Bank N.V. Manila Senior Economist Nicholas Antonio T. Mapa echoed his view. "The peso tracked regional weakness after market players turned skittish over the lack of progress on the US debt ceiling talks," he said in a Viber message.
The dollar index, which measures the US currency against a basket of major peers, reached 103.65, the highest since March 20, Reuters reported.
The greenback also rose to 138.91 against the Japanese yen, the highest since Nov. 30, before falling back to 138.57.
Meanwhile, US President Joseph R. Biden, Jr. and Speaker Kevin McCarthy showed no signs of progress from their meeting on Tuesday on how to raise the US government's $31.4-trillion debt ceiling, almost a week before a possible default that could sink the US economy.
The two parties remained deeply divided about how to rein in the federal deficit, with Democrats arguing wealthy Americans and businesses should pay more taxes while Republicans wanted spending cuts.
Mr. Mapa said the peso did not weaken as much due to Fitch Ratings' credit outlook upgrade.
Fitch on Monday affirmed the country's "BBB" rating and raised its outlook, signaling confidence in the Philippine economy's continued recovery from the coronavirus pandemic.
The debt watcher downgraded the Philippines' rating outlook to negative in July 2021 due to the pandemic's impact on the economy.
The peso was also dragged down by higher global crude oil prices after Saudi Arabia's Energy minister warned short-sellers on global oil markets of pain ahead, Mr. Ricafort said.
Brent crude futures had risen by 1% or 74 cents to $77.58 a barrel by 6:45 a.m. GMT, while the US West Texas Intermediate crude (WTI) gained 1.2% or 84 cents to $73.75 a barrel.
Brent earlier rose as much as $1.03 to $77.87 a barrel. WTI had jumped as much as $1.07 to $73.98 a barrel.
Fears of a supply squeeze mounted after Saudi Arabia's Energy Minister Prince Abdulaziz bin Salman said he would keep short sellers — those betting that prices will fall — "ouching" and told them to "watch out."
"Speculators, like in any market they are there to stay, I keep advising them that they will be ouching, they did ouch in April, I don't have to show my cards, I'm not a poker player… but I would just tell them watch out," he told the Qatar Economic Forum organized by Bloomberg.
Some investors took that as a signal that the Organization of the Petroleum Exporting Countries and allies including Russia could consider further output cuts at a meeting on June 4.
Mr. Ricafort expected the peso to trade between P55.65 and P55.85 a dollar on Thursday.