Yields on term deposits mixed on concerns over Delta variant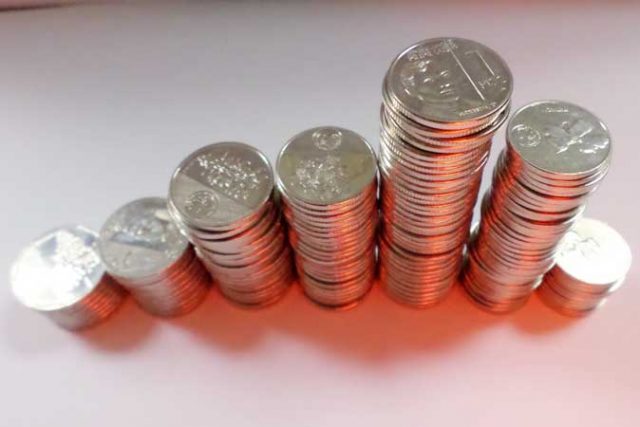 YIELDS ON THE central bank's term deposits were mixed on Wednesday, with investors preferring safe assets due to escalating concerns over the impact of the Delta variant and a possible tightening of restrictions on the economy.
Demand for the term deposit facility (TDF) of the Bangko Sentral ng Pilipinas (BSP) reached P613.267 billion on Wednesday, higher than the P570 billion on offer but failing to beat the P741.811 billion in tenders logged last week.
Broken down, the seven-day papers fetched bids worth P181.371 billion, more than the P170 billion auctioned off by the BSP but lower than the P230.57 billion in tenders recorded a week ago.
Banks asked for yields ranging from 1.65% to 2.05%, a wider band compared with the 1.65% to 1.7075% margin logged in the previous auction. This caused the average rate of the one-week term deposits to increase by 1.62 basis points (bps) to 1.7154% from the 1.6992% quoted for the tenor last week.
Meanwhile, tenders for the 14-day deposits amounted to P431.896 billion, surpassing the P400 billion on the auction block but falling below the P511.241 billion in bids seen on July 21.
Accepted rates for the tenor ranged from 1.72% to 1.7695%, narrower than the 1.7295% to 1.779% band seen last week. With this, the average rate of the two-week papers declined by 1.68 bps to 1.7486% from the 1.7654% recorded in the previous week's auction.
The central bank did not offer 28-day term deposits for the 40th straight auction to give way to its weekly offerings of bills with the same tenor.
The BSP uses the TDF and its short-term bills to gather excess liquidity in the financial system and to better guide market rates.
Rizal Commercial Banking Corp. Chief Economist Michael L. Ricafort said TDF yields ended mixed amid worries over the local transmission of the highly infectious Delta variant of the coronavirus disease 2019 (COVID-19).
"This (transmission) could lead to tighter quarantine restrictions that could, in turn, slow down economic recovery prospects," Mr. Ricafort said in a text message.
COVID-19 infections rose by 7,186 to bring active cases to 56,477 on Tuesday, based on data from the Department of Health. This was the highest daily tally in over a month or since June 13 when daily cases increased by 7,302.
Health Undersecretary Maria Rosario S. Vergeire on Tuesday said infections in Metro Manila could reach about 11,000 daily under the assumption that the Delta variant is 60% more transmissible, citing projections from a surveillance tool developed by the Ateneo de Manila University. She asked local government units to strictly implement protocols urged people to get vaccinated and adhere to minimum health standards.
There were 119 Delta variant cases in the Philippines as of Sunday.
President Rodrigo R. Duterte on Monday warned a lockdown is possible if the Delta variant's spread in the Philippines becomes "really dangerous."
Business leaders in an online forum on Wednesday said they will support a strict lockdown by the second or third week of August, but asked for time to prepare. — Luz Wendy T. Noble