Peso weakens vs dollar ahead of US inflation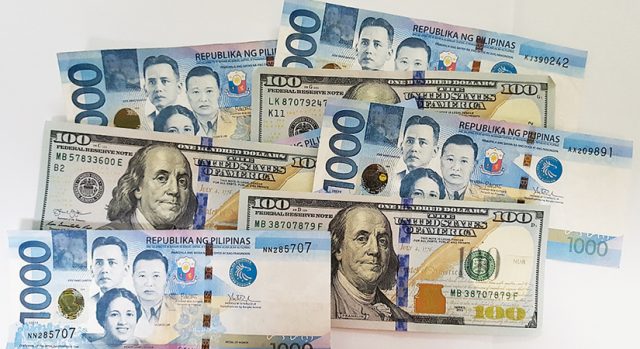 THE PESO weakened versus the greenback for a third straight day on Thursday on safe haven demand as the market awaits the release of US inflation data, which could dictate the pace of the Federal Reserve's tapering.
The local unit closed at P47.765 per dollar on Thursday, shedding 3.4 centavos from its P47.731 finish the day prior, data from the Bankers Association of the Philippines' website showed.
The peso opened Thursday's session at P47.72 versus the dollar. Its weakest showing was at P47.777 while its peak for the session was at P47.68 against the greenback.
Dollars traded inched up to $680.2 million on Thursday from the $675 million seen on Wednesday.
The peso retreated versus the greenback ahead of the release of latest US inflation data, Rizal Commercial Banking Corp. Chief Economist Michael L. Ricafort said on Thursday.
Meanwhile, a trader attributed the peso's weakness to risk-off sentiment due to the risk of taper tantrum as the Fed looks to wind down its asset purchases.
The US Labor department was due to report May inflation data overnight. In April, US inflation stood at 0.8%, which was its quickest pace since June 2009.
Economists said the data will likely show the consumer price index (CPI) increased 0.4% last month after surging 0.8% in April, which was the largest gain since June 2009, Reuters reported.
In the 12 months through May, the CPI is forecast accelerating 4.7%. That would be the biggest year-on-year increase since September 2008 and follow a 4.2% rise in April. The anticipated jump will partly reflect the dropping of last spring's weak readings from the calculation. These so-called base effects are expected to level off in June.
Inflation could also get a boost from employers raising wages as they compete for scarce workers, despite employment being still 7.6 million jobs below its peak in February 2020. There are a record 9.3 million unfilled jobs.
Federal Reserve Chair Jerome Powell has repeatedly stated that higher inflation will be transitory. The US central bank slashed its benchmark overnight interest rate to near zero last year and is pumping money into the economy through monthly bond purchases.
The Fed has signaled it could tolerate higher inflation for some time to offset years in which inflation was lodged below its 2% target, a flexible average. Its preferred inflation measure, the personal consumption expenditures price index, excluding the volatile food and energy components, increased 3.1% in April, the biggest rise since July 1992.
For Thursday, Mr. Ricafort gave a forecast range of P47.70 to P47.80 per dollar, while the trader expects the local unit to move within the P47.65 to P47.80 band. — with Reuters