Yields on term deposits climb on concerns over US inflation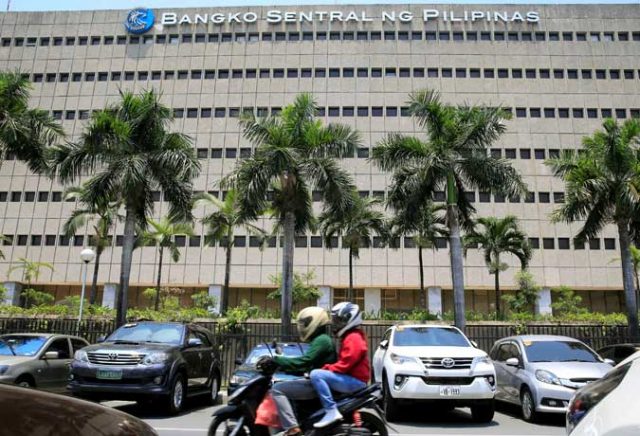 YIELDS ON THE central bank's term deposits increased on Wednesday due to concerns over US inflation, which could affect the US central bank's future policy path, and as the market priced in a possible easing in restriction measures due to the decline in the daily tally of local coronavirus cases.
Demand for the term deposit facility (TDF) of the Bangko Sentral ng Pilipinas (BSP) amounted to P599.126 billion on Wednesday, going beyond the P520 billion on the auction block and the P572.605 billion in bids logged last week.
Broken down, tenders for the seven-day term deposits amounted to P140.165 billion, lower than the P150-billion offer as well as the P158.544 billion in bids seen during the previous auction.
Accepted rates for the tenor ranged from 1.7% to 2.49%, a wider band compared with the 1.7% to 1.73% logged a week ago. This caused the average rate of the one-week papers to rise by 3.82 basis points (bps) to 1.7582% from 1.72% last week.
Meanwhile, demand for the two-week term deposits amounted to P458.961 billion, going beyond the P370 billion auctioned off by the BSP and the P414.061 billion in tenders recorded a week ago.
Banks asked for yields ranging from 1.65% to 1.88%, a slightly wider band versus the 1.6875% to 1.9% logged in the previous auction. With this, the 14-day papers fetched an average rate of 1.795%, inching up by 0.09 bp from the 1.786% quoted on June 2.
For the 33rd straight auction, the BSP did not offer 28-day term deposits to give way to its weekly offerings of bills with the same tenor.
The central bank uses the term deposits and the short-term bills to gather excess liquidity in the financial system and to better guide market rates.
Yields inched up due to market concerns ahead of the release of latest US inflation data, Rizal Commercial Banking Corp. Chief Economist Michael L. Ricafort said in a text message.
The US Labor department will report May consumer price index data this Thursday. In April, US inflation stood at 0.8%, which was its quickest pace since June 2009.
Investors are growing nervous about whether the beginning of the end of enormous monetary stimulus and low interest rates is near as some think the Federal Reserve's tapering could be hastened if US inflation runs hotter than the 0.4% monthly clip that economists expect.
Mr. Ricafort added that the term deposits fetched higher yields as local coronavirus infections continued to ease, which could strengthen the case for a further reopening of the economy.
Coronavirus disease 2019 cases in the country hit 1.28 million, with 4,777 new cases logged on Tuesday, based on data from the Department of Health.
Government officials have been eyeing a further relaxation of restrictions. Socioeconomic Planning Secretary Karl Kendrick T. Chua has said families should be given leeway to engage in more activities to boost the economy through consumption. — L.W.T. Noble