Creating in the time of the pandemic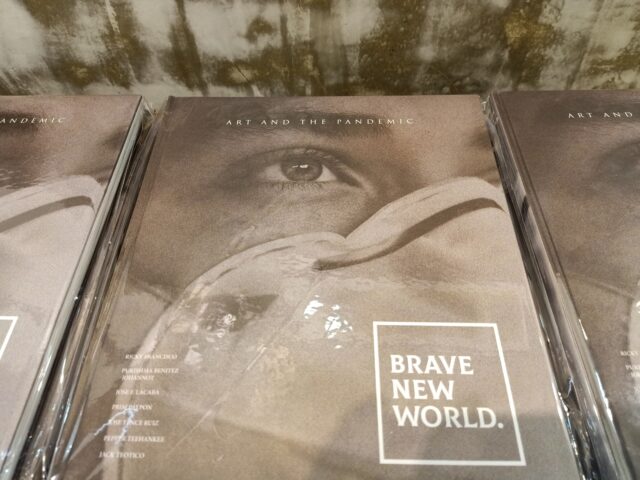 Coffee table book documents art created under COVID-19's cloud
IF THERE was a shape to describe book illustrator and artist Jomike Tejido's feelings during the early days of the coronavirus disease 2019 (COVID-19) lockdown in 2020, it would be a roughly textured triangle.
"My works were composed of triangles that are very disjointed and seeking their own balance," Mr. Tejido said of the pieces he kept busy with while in lockdown. "It is akin to people who are also finding their own balance in a very weird situation when the pandemic first hit."
While many artists had the luxury of time to produce works of art during the lockdown, the galleries that would have shown them were closed. It was also when the team from Art Plus Magazine thought of documenting the period through a book.
From June to July 2020, the magazine's team invited 12 galleries and various artists for a possible collaboration. The project was initially created to help the artists involved make a living despite the community quarantine.
The project culminated in a book titled Brave New World, which features more than 400 works by over 300 artists. The works in the book recount the artists' struggles to survive and work. Artists also sought to honor the various frontliners who worked throughout the pandemic.
Among the featured artists in the Brave New World coffee table book are Jomike Tejido, Max Balatbat, Anton Del Castillo, Brave Mabalo Singh, John Paul Antido, Renz Baluyot, Kim Hamilton Sulit, Renato Barja, Jr., Wesley Valenzuela, Michael Villagante, Charlie Co, Antipas Delotavo, Angelito Antonio, Norma Belleza, Michael Cacnio, Ramon Orlina, Demi Padua, Winner Jumalon, Jojit Solano, Joel "Welbart" Bartolome, Sid Natividad, Chelsea Theodossis, Manix Abrera, Roel Obemio, and Alfredo Esquillo. Contributing writers include Prim Paypon, Ricky Francisco, Purissima Benitez-Johannot, Jose F. Lacaba, Jose Tence Ruiz, Pepper Teehankee, and Jack Teotico.
"It took us quite a while to produce the book because there were so many artworks to juxtapose and we were trying to make sure that they will go well together, [to] try to be cohesive given the wide variety of subjects and styles," Jewel Chuaunsu, Art Plus magazine managing editor and the book's editor, told BusinessWorld at the launch at The Podium's Art Lounge Manila on March 16.
While the team was in the collection and curatorial process, they also mounted an online exhibition in July 2020 as a fundraiser for the artists and galleries.
"Many artists were not exhibiting at that early stage of the pandemic; a lot of the galleries were still closed. By this project, we were able to help them raise funds for their livelihood," contributing writer and book content curator Ricky Francisco told BusinessWorld during the launch.
The book launch was accompanied by a second art exhibit featuring works by the contributing artists at The Podium's Art Lounge Manila. The exhibit is on view until March 26.
"Art kind of adds a lot to our sense of identity, has given us our heritage, history, and nation. And I think these are things you can take for granted," Ms. Chuaunsu said of the role of the arts at a time of crisis.
"This becomes really an important document of that short period of time. So, I hope people get to see it," Mr. Francisco said.
Brave New World is available at a discounted price of P4,000 (the regular price is P4,500) until March 26. For orders, visit https://artplus.shop/products/brave-new-world-coffee-table-book. — Michelle Anne P. Soliman