By Patricia B. Mirasol 
The coronavirus pandemic has exacerbated the move to a more digital, mobile, and platform-dominated media environment, according to the Reuters Institute Digital News Report 2021. 
According to the same report, social media as a news source in the Philippines rose to 72% (up 4 percentage points), with TikTok becoming a destination for news among Filipinos (6%), joining Facebook (73%), YouTube (53%), Facebook Messenger (36%), and Twitter (19%). 
In the Philippines, "going digital makes sense," said Yvonne T. Chua, a journalist and associate professor at the University of the Philippines College of Mass Communication. Ms. Chua cited We Are Social's Digital 2021 report that said the Philippines spends the greatest amount of time online in the world (nearly 11 hours per day), particularly on social media (more than four hours).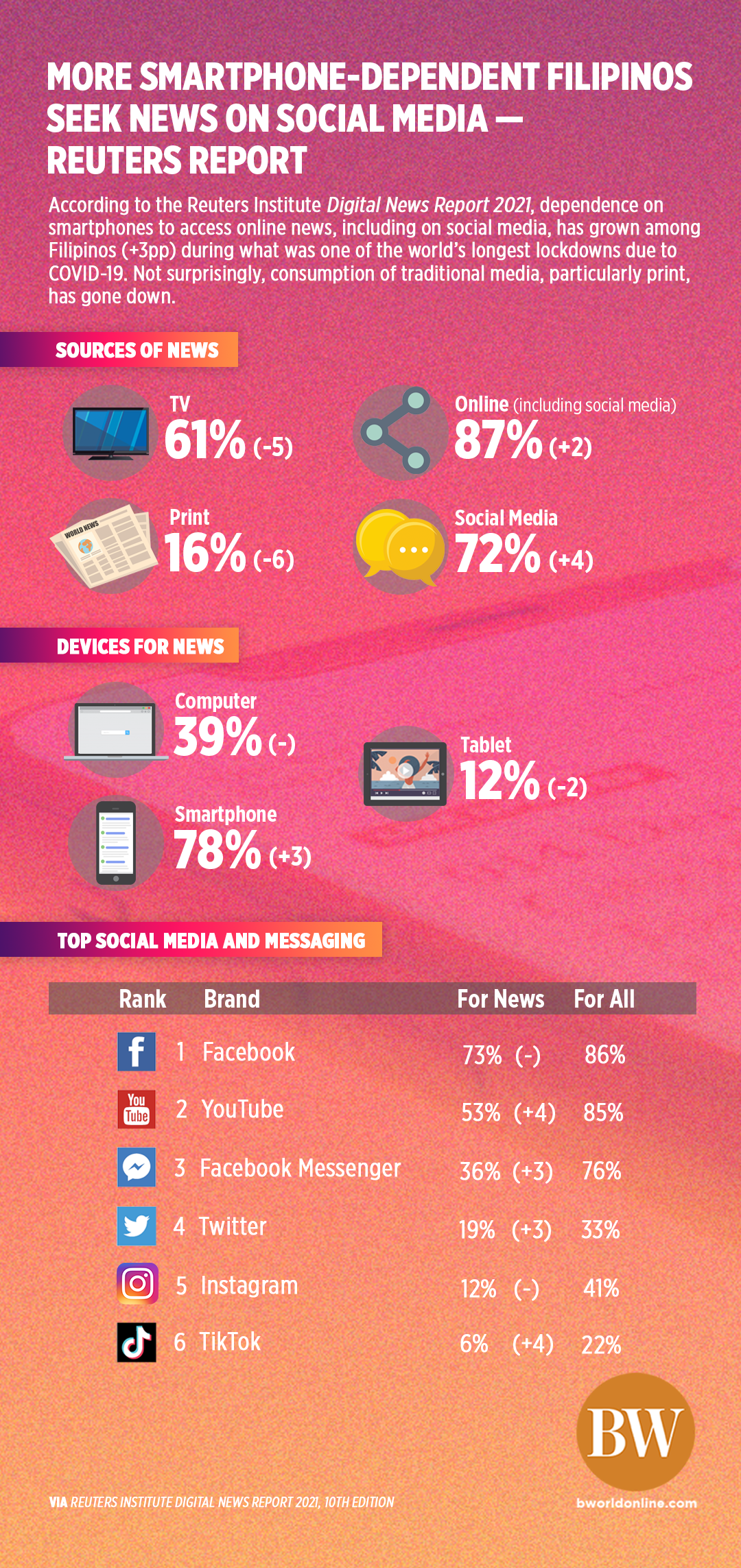 The report also identified the following trends in the Philippine media landscape: 
TV viewing in the Philippines slid to 61% by February this year, even as TV viewership increased globally due to stay-at-home directives. According to Ms. Chua, this decline may have been partly influenced by the closure of ABS-CBN's free-to-air stations in 2020. 
Many other big television networks have taken to rebranding or reformatting programs to engage consumers. TV5 converted its primetime newscast Aksyon to Frontline Pilipinas and fielded more anchors. This February, GMA Network rebranded GMA News TV, its second free-to-air channel, as Good TV, adding more sports, entertainment, and lifestyle programs to its existing news and current affairs programs. GMA has also earmarked more than P20 billion for capital expenditure and content creation, part of which will go to digital TV expansion. 
The coronavirus disease 2019 (COVID-19) pandemic curtailed local newspaper distribution, hitting the industry hard. The Philippine Daily Inquirer, one of the country's biggest dailies, offered early retirement to employees, let go of several columnists, shut down its Metro section, and shrank the number of its pages. It also closed its free paper, Inquirer Libre, and started publishing its tabloid Bandera purely online.  
At least 12 community newspapers, including the Visayan Daily Star, have moreover either closed down or scaled back operations due to the pandemic, according to a Philippine Press Institute tally. This leaves the public they serve with information gaps, said Philstar.com editor-in-chief Camille Diola and ABS-CBN deputy editor Tarra V. Quismundo, as national media tends to cover communities only when disaster strikes. 
TikTok, a short-form video-sharing app, has been harnessed by organizations and politicians alike to reach the under-25 demographic. Among the Filipino politicians using TikTok are Cabinet Secretary Karlo B. Nograles and Presidential Spokesperson Herminio L. Roque, Jr.  
Acknowledging TikTok's reach, Philippine Commission on Elections (Comelec) spokesperson James B. Jimenez said in a tweet that he hoped Filipinos would also use TikTok for civic campaigns such as encouraging young people to vote. 
Another platform with growth potential is podcasting. The survey found that, despite the overall slight drop in podcast listenership from a year ago (a decrease in 3 percentage points to 54%), podcasting remains especially popular with younger users. A 2020 Spotify survey on millennials and Gen Zs bears this out, with 61% of the respondents saying audio offers "a nice escape" from "too much visual stimulation" nowadays. The audio-streaming platform has since signed up 16 Filipino podcasts exclusively.  
GLOBAL FINDINGS
Among the report's key global findings are as follows: 
Trust in the news has grown by six percentage points in the wake of the coronavirus pandemic, with 44% of the report's total sample saying they trust most news most of the time. Finland and the US have the highest and lowest levels of overall trust (65% vs. 29%), respectively. 

 

The trust gap between the news in general and that found in aggregated environments has grown, with audiences seemingly placing a greater premium on accurate and reliable news sources. 

 

In countries with strong and independent public service media, the Reuters report saw greater consumption of trusted news brands. The report, however, also found signs that some are turning away from the news media and even avoiding news altogether. 

 
A majority of the respondents (74%) say they still prefer news that reflects a range of views and lets them decide what to think. Most also think that news outlets should try to be neutral on every issue (66%), although some younger groups think impartiality may not be appropriate or desirable in some cases, such as in social justice issues. 

 

The use of social media for news remains strong, especially with younger people and those with lower levels of education. 

Messaging apps like WhatsApp

 and Telegram have become especially popular in parts of the Global South such as Brazil and Indonesia, creating the most concern when it comes to spreading misinformation about COVID-19. 

 

Global concerns about false and misleading information have edged slightly higher this year, ranging from 75% in Kenya to just 37% in Germany. Social media users are more likely to say they have been exposed to CVOID-19 misinformation than non-users. 

 
"This year's survey finds evidence that some brands have benefited from a desire for reliable information around the pandemic — both in terms of higher reach, higher trust, and more paying subscribers," said Rasmus Kleis Nielsen, director of the Reuters Institute for the Study of Journalism (RISJ), in the report's foreword. "While the effects are uneven, do not apply to all brands or all countries, and may not last after the crisis is over, these are positive findings from publishers' point of view." 
The 2021 study, now on its 10th edition, was commissioned by the RISJ to understand how news is consumed in different countries. Research was conducted by market research firm YouGov and their partners, using an online questionnaire at the end of January through the beginning of February 2021. Samples were assembled using nationally representative quotas for age, gender, region in every market, and education in all markets except Bulgaria, Croatia, Greece, India, Indonesia, Kenya, Malaysia, Mexico, Nigeria, Philippines, Romania, South Africa, Thailand, and Turkey. In the US, UK, Denmark, Sweden, Norway, and Italy, the news agency applied additional political quotas based on vote choice in the most recent national election.