Pump price hikes may affect inflation downtrend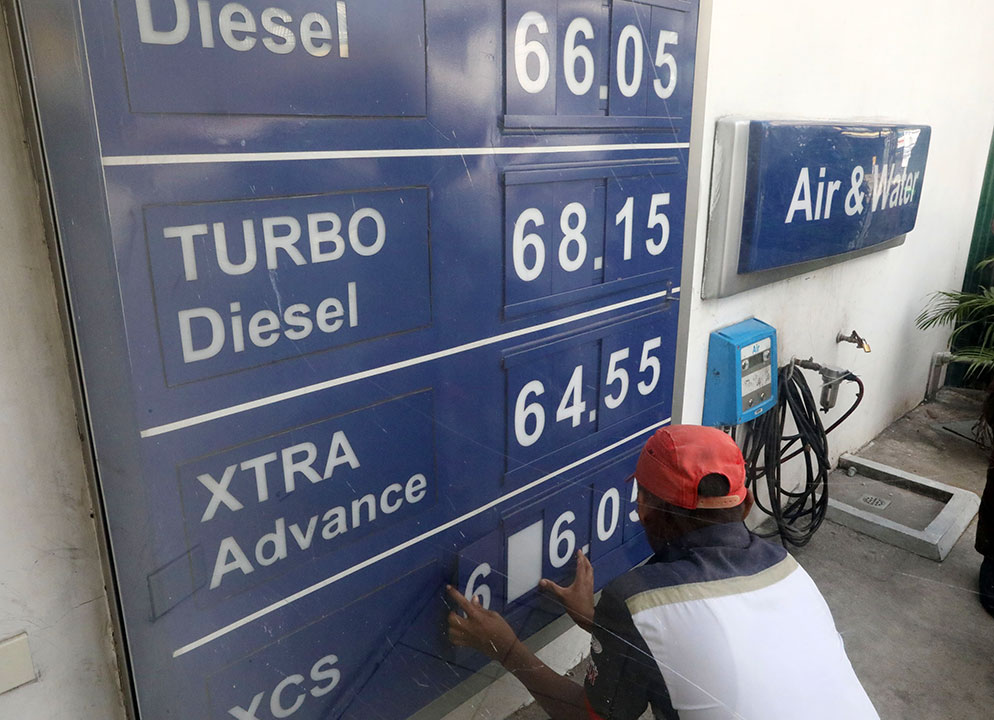 THE SERIES of fuel price hikes this month may likely reverse or temper the current inflation downtrend, analysts said.    
"It is not hard to imagine that the oil price hikes in August will probably have an effect on overall inflation," Ser Percival K. Peña-Reyes, associate director of the Ateneo Center for Economic Research and Development, said in a phone interview.
So far this month, oil companies have raised pump prices by P5.60 per liter for gasoline, and P9.20 per liter for both diesel and kerosene.
Fuel retailers are scheduled to announce pump price adjustments today (Aug. 28).
On Friday, Brent futures rose by $1.12 or 1.3% to settle at $84.48 a barrel, while US West Texas Intermediate crude increased by 78 cents or 1% to settle at $79.83.
The sharp rise in global crude oil prices has pushed pump prices higher in recent weeks. This is mainly due to the oil production cuts from the Organization of the Petroleum Exporting Countries and its allies.    
"The uptick in pump prices will result in a less pronounced fall in headline inflation," Nicholas Antonio T. Mapa, senior economist at ING Bank N.V. Manila, said in a Viber message.
Headline inflation slowed to 4.7% in July from 5.4% in June. In particular, transport inflation contracted by 4.7% in July, a faster annual decrease from 3.1% in June.
For the first seven months of the year, inflation averaged 6.8%. The Bangko Sentral ng Pilipinas' (BSP) latest baseline projections still show a return to the 2-4% inflation target range in the fourth quarter.
However, the BSP slightly raised the 2023 average inflation forecast to 5.6% from 5.4% previously, citing wage hikes and the recent increase in global oil prices. It also hiked the inflation projection for 2024 to 3.3% from 2.9%, previously.
Rizal Commercial Banking Corp. Chief Economist Michael L. Ricafort said the recent fuel price hike could drive up prices of other goods and services.
"The higher base/denominator effects on global crude oil prices could diminish and eventually normalize especially starting September 2023," Mr. Ricafort said. "This could lead to some risk of re-inflation for the coming months especially by early 2024."    
Other risks to the inflation outlook include the impact of storm damage on agriculture, higher rice prices, and recent wage hikes in the National Capital Region.
"Inflation could reaccelerate in the coming months in light of these developments, but slowing demand may offset inflation. If demand remains robust, inflation could reaccelerate," Mr. Peña-Reyes said, adding that consumer spending is expected to further slow.
Mr. Ricafort said the peso depreciation against the dollar may have also increased the prices of imported fuel and other products.
The local unit closed at P56.57 versus the dollar on Friday, depreciating by 1.4% or 81.50 centavos from its P55.755 finish on Dec. 29.    
Meanwhile, China Banking Corp. Chief Economist Domini S. Velasquez said the BSP should remain on "standby" to mitigate any possible financial market volatilities given the US Federal Reserve's hawkish statements over the weekend.    
"An excessive peso depreciation can still prompt BSP to hike. To aggravate the situation, we are also seeing higher food and oil prices possibly driving inflation higher this second half of the year," she said.   
US Federal Reserve Chair Jerome H. Powell on Friday said they are prepared to raise interest rates as necessary to ensure inflation falls within target.    
"A key takeaway from Jackson Hole is that the Fed has reiterated that it will keep interest rates elevated for a longer period of time. As a consequence, even with inflation falling within the BSP's target for the Philippines, cutting of policy rates may be delayed to preserve interest rate differentials," Ms. Velasquez said.    
For ING's Mr. Mapa, Mr. Powell's statements were "balanced," citing that the US Fed is open for a pause but is still ready to hike more if necessary.    
"The BSP will continue to be data dependent and not wedded to a particular strategy. Rate hikes are possible if the Fed continues to hike while also remaining open to pausing or cutting should the Fed do so," Mr. Mapa said.    
The BSP will next meet on Sept. 21 to discuss policy. — K.B. Ta-asan