Philippines to boost military presence in South China Sea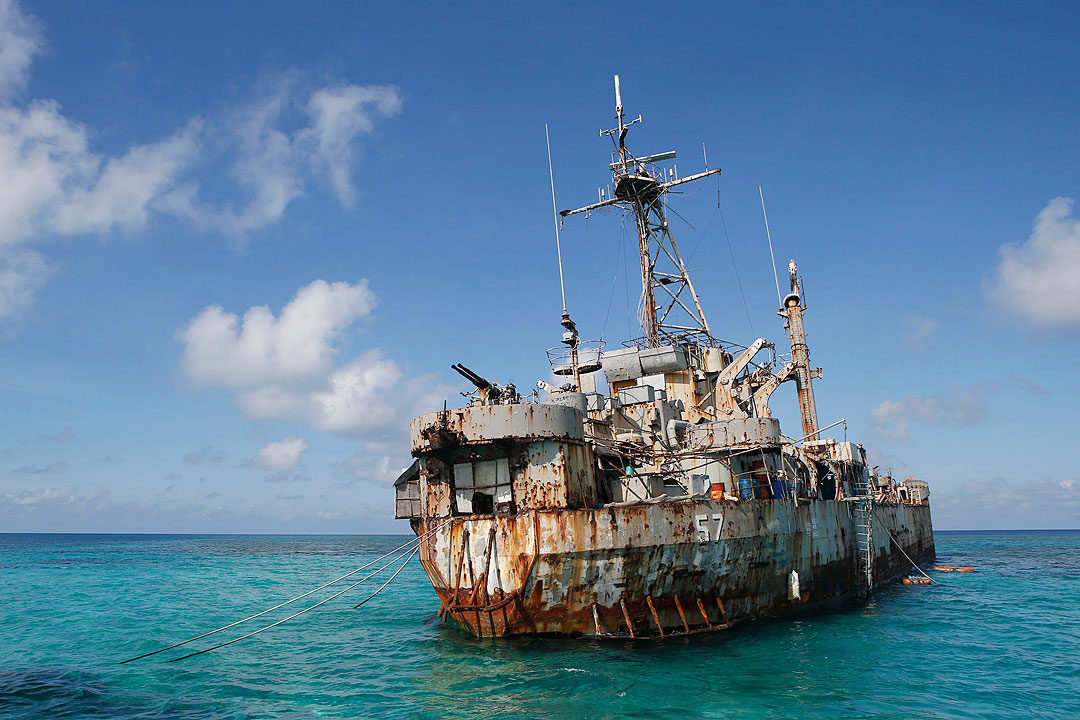 By John Victor D. Ordoñez, Reporter
ARMED Forces of the Philippines (AFP) Chief General Romeo S. Brawner, Jr. on Wednesday vowed to boost the country's military presence in the South China Sea amid rising tensions with China.
"Right now, we have small structures on the islands that we are occupying," he told lawmakers in Filipino during his confirmation hearing.
"But this is not enough for us to project our forces. We have few vessels from the Philippine Navy, from the Philippine Coast Guard and the Bureau of Fisheries, but this is really a small number compared with other countries," he added.
The military chief was responding to Senator Ana Theresia N. Hontiveros-Baraquel's question about what he plans to do about China's militarization of the sea.
Mr. Brawner said the "name of the game" in the South China Sea is "effective presence." "Whoever has many ships gets the advantage," he added, noting that there were more than 400 foreign vessels in the disputed waterway.
Tensions between the Philippines and China have worsened after the Chinese Coast Guard fired water cannons to block Manila's attempt to deliver food and other supplies to a grounded ship at Second Thomas Shoal on Aug. 5.
The shoal is about 200 kilometers from the Philippine island of Palawan and more than 1,000 kilometers from China's nearest major landmass, Hainan Island.
Since 2014, China has substantially expanded its ability to monitor and project power throughout the South China Sea via the construction of dual civilian-military bases at its outposts in the disputed Spratly and Paracel Islands, according to the Asia Maritime Transparency Initiative.
"These include new radar and communications arrays, airstrips and hangars to accommodate combat aircraft and deployments of mobile surface-to-air and anti-ship cruise missile systems," it said.
At the hearing, where lawmakers confirmed Mr. Brawner's appointment, Senator Francis N. Tolentino urged the military chief to consider halting a 2004 defense agreement with China on an exchange program for Filipino and Chinese military students, which was meant to strengthen military ties.
Mr. Brawner said he had ordered the military to stop sending Filipino officers and students to China after the Aug. 5 incident.
"We need to revisit this agreement, and we might need to fix some of its provisions to make sure China agrees with them and that is our direction," he said in Filipino.
Last week, Ms. Hontiveros-Baraquel filed a resolution seeking an inquiry, in aid of legislation, into the Philippine Coast Guard's capacity to safeguard outposts in the South China Sea through additional marine radar stations and automatic tracking systems for increased surveillance.
She said the coast guard should get as much as P600 million in intelligence funds.
Senator Francis "Chiz" G. Escudero earlier proposed to build a pier and lodging structures for Filipino soldiers and fishermen at Second Thomas Shoal, which the Philippines calls Ayungin.
He said he would propose a P100-million budget for the Department of Public Works and Highways or Philippine Coast Guard to build the pier.
The Senate on Aug. 1 adopted a resolution urging the government of President Ferdinand R. Marcos, Jr. to take China's harassment of Filipino fishermen and coast guard vessels in the South China Sea to the United Nations General Assembly.
It called on the Department of Foreign Affairs to bring international attention to China's harassment and its continued disregard of a 2016 arbitral ruling by a UN-backed tribunal that voided its claim to more than 80% of the South China Sea.
In the ruling, the five-member court said China had violated the Philippines' sovereign rights in its exclusive economic zone by building artificial islands and for failing to prevent its citizens from fishing in the zone.
China has largely ignored the ruling, calling it void. Aside from the Philippines and China, Brunei, Malaysia, Taiwan and Vietnam also have claims to parts of the waterway.