Reinvigorated Vera all set for another title defense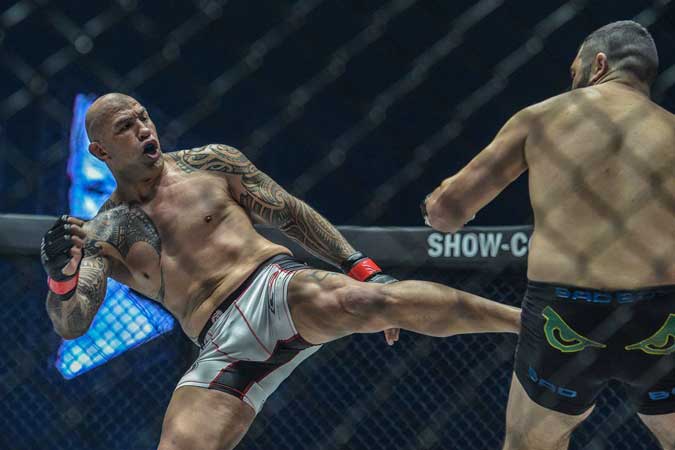 By Michael Angelo S. Murillo, Senior Reporter
A "REINVIGORATED" Brandon "The Truth" Vera is set for another title defense of his ONE Championship world heavyweight title this weekend.
And while playing on the big stage is no longer alien to him being in high-level mixed martial arts (MMA) competitions for a good two decades now, Mr. Vera, 43, admits that his upcoming fight carries added significance because of recent choices he made both in his family life and career.
The new parent with wife Jessica to son Atreyu Timothy, Mr. Vera recently decided to uproot their life in Asia and move to Florida in the United States part-time. 
There he also got to join fellow ONE campaigners and former champions Aung La N Sang of Myanmar and Vietnamese-Australian Martin Nguyen at the renowned Sanford MMA under legendary coach Henri Hooft.
The twin moves, Mr. Vera shared, gave him added perspective, particularly in his career at this stage.
"Even this far along in my career, I feel like a little kid again. I haven't felt like this since I first started competing. I'm talking about back in 2005, I haven't felt like this since. Everybody has been using the words reinvigorated. I'm just really, really happy that I could be a kid again and go play," Mr. Vera (16-8) said.
The Filipino-American fighter, who traces his Philippine roots to Quezon province, was a former Ultimate Fighting Championship fighter who in 2014 moved to ONE where he has been the heavyweight champion since 2015.
Mr. Vera said training at Sanford MMA this time around has been a gem as he girds for his title defense fight against Indian wrestling champion Arjan "Singh" Bhullar (10-1) at "ONE: Dangal" on May 15 in Singapore.
Like a sponge, he said, he was absorbing all the lessons his coaches were sharing to have the best possible game plan come fight day.
"Out of all the techniques, out of the perfect training schedule at Sanford MMA, coach Henri Hooft, coach Greg [Jones], how they communicate, out of everything that I could tell you, the best part of me moving to Sanford is that I got to become just a student again," he said.
"I got to go into the gym, and just do what the coach says. I get to go play with the boys. I get to try new things. I get to go be a student of this beautiful game again."
Mr. Vera last fought in October 2019 where he fell short in his attempt to nab the ONE Championship light heavyweight title from then champion Aung La and be a two-division champ.
He is now seeking to extend his reign as heavyweight champion against Mr. Bhullar, who he expects to give him a notable challenge.
"ONE: Dangal" will be held at the Singapore Indoor Stadium and will be broadcast here over One Sports at 6 p.m. and on May 16 at 12 a.m. over TV5.