PSEi drops on profit taking, higher virus cases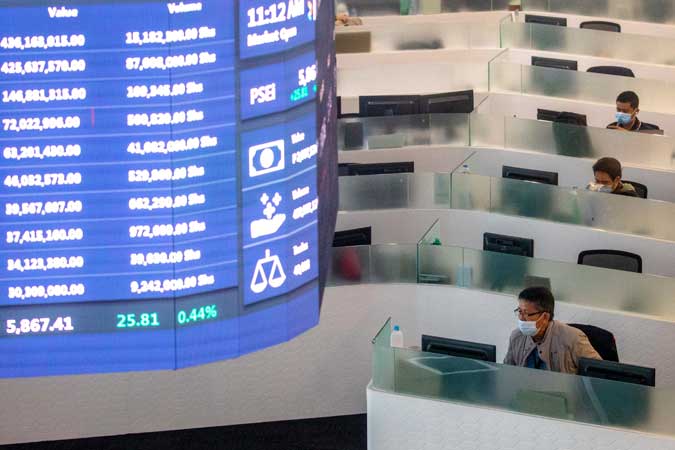 STOCKS started the week in the red as investors took profits amid the increase in coronavirus disease 2019 (COVID-19) cases and as the shift in the US Federal Reserve's rate hike expectations continued to affect sentiment.
The Philippine Stock Exchange index (PSEi) went down by 24.21 points or 0.35% to close at 6,827.17 on Monday, while the all shares index lost 12.16 points or 0.29% to end at 4,154.74.
"The local bourse declined this Monday, together with its regional peers, as the latest developments with the Federal Reserve continued to weigh on investor sentiment," Philstocks Financial, Inc. Senior Research Analyst Japhet Louis O. Tantiangco said in a Viber message.
Fed officials last week moved their first projected rate increases from 2024 into 2023, with 13 of 18 policy makers foreseeing a "liftoff" in borrowing costs that year and 11 seeing two quarter-percentage-point rate increases, Reuters reported.
"For today's session, the market briefly fell back to the 6,700-level but managed to cut losses," AB Capital Securities, Inc. Junior Equity Analyst Lance U. Soledad said in a Viber message on Monday.
"The market started the week with losses on increased selling pressure amid elevated new COVID-19 cases, although our market did much better than its Asian peers which suffered serious losses, similar to what happened to US equities markets last Friday," AAA Southeast Equities, Inc. Research Head Christopher John Mangun said in an e-mail.
All sectoral indices closed in the red on Monday except for property, which gained 38.78 points or 1.17% to end at 3,332.08.
Meanwhile, holding firms declined by 96.39 points or 1.39% to 6,839.94; mining and oil shed 108.02 points or 1.16% to 9,203.02; industrials went down by 44.95 points or 0.48% to 9,319.08; services gave up 7.42 points or 0.47% to end at 1,551.23; and financials lost 0.91 point or 0.06% to finish at 1,490.49.
Value turnover decreased to P5.86 billion with 2.43 billion shares switching hands on Monday, from the P9.8 billion with 2.25 billion shares traded on Friday.
Decliners outnumbered advancers, 138 versus 64, while 50 names closed unchanged.
Foreigners logged P238.45 million in net purchases on Monday versus the P856.75 million in net selling recorded on Friday.
For today, analysts expect progress in the vaccination program to affect investor sentiment after the government secured 40 million doses of the COVID-19 jab made by Pfizer, Inc. and BioNTech SE, with delivery expected to begin in late September.
"We expect the deal signed between the government and Pfizer to provide [a] sustained appetite for bargain hunting despite continued profit taking," AB Capital Securities' Mr. Soledad said.
He said he expects the index to end between 6,800 to 7,000 today.
Philstocks Financial's Mr. Tantiangco also said he expects an uptick on Tuesday due to bargain hunting ahead of the Bangko Sentral ng Pilipinas' policy meeting. — K.C.G. Valmonte