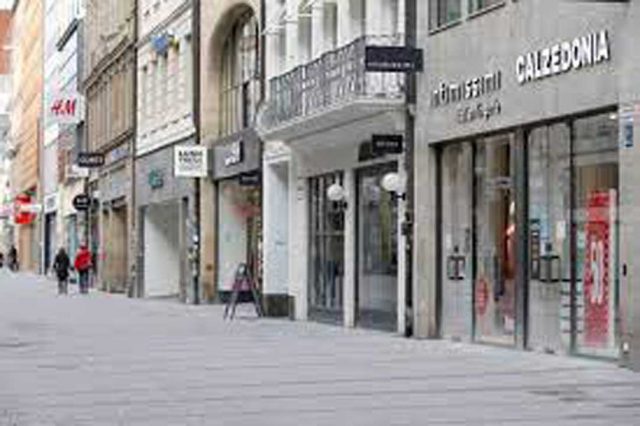 GERMANY'S likely next ruling coalition is pushing ahead with tougher measures to tackle record increases in coronavirus cases, including requiring companies to let employees work from home (WFH) where possible.
The proposed law also in some cases limits access to the workplace to people who are vaccinated, recovered or provide a negative test, according to parliamentary documents published Wednesday. The Social Democrats, Greens and Free Democrats aim to use their Bundestag majority to get it through the lower house of parliament.
"The current pandemic situation in Germany is dramatic," Chancellor Angela Merkel told a conference of municipal leaders Wednesday. "The fourth wave is hitting our country with full force."
The new legislation, which replaces existing emergency powers that will expire on Nov. 25, is designed to provide a nationwide framework while giving regions room to tighten restrictions in coronavirus hot spots where need-ed.
Olaf Scholz, who aims to be sworn in to replace Merkel as chancellor early next month, has described it as an effort to "winter proof" Germany against the disease and prevent hospitals becoming overloaded.
Many German states, particularly in the worst-affected regions like Bavaria, Saxony and Thuringia, have already taken steps to keep people who aren't vaccinated or recovered out of shops and restaurants and away from public gatherings.
"We urgently need to make progress on vaccinations," Merkel said. "It's not at all too late to make a decision for the first vaccination. Everybody who is vaccinated protects themselves and others."
The battle to keep a fourth wave of the virus in check and encourage more people to get immunized is being fought across Europe. Austria already introduced curbs for the unvaccinated, and the Netherlands implemented a partial lock-down.
Ireland has reintroduced some coronavirus disease 2019 (COVID-19) restrictions as it grapples with surging infections and a rising number of hospitalizations. Starting Thursday, people should work from home where possible, while bars and restaurants must close by midnight. Cinemas and theaters will now require proof of vaccination.
In Italy, tighter restrictions are set to kick in automatically as infections near a six-month high. Some regional leaders want to replicate the Austrian model and have asked that any new curbs apply only to the unvaccinated.
Belgium is considering new steps to stem a sharp rise in cases. The government in Brussels is considering new curbs, including mandatory working from home several days a week and requiring kids to wear masks in school from nine years old.
While the measures represent a "downside risk" for the region's recovery, "it looks to me that the economies have learned to live with the pandemic or the lockdowns a little bit better than initially," said Erik Nielsen, chief economist at UniCredit SpA.
Eastern Europe, where many states are grappling with low vaccination rates, is one of the worst-hit regions in the world. Slovenia has the highest infection rate in the world, while Bulgaria, the bloc's least-vaccinated and poorest nation, leads the world in the number of fatalities per capita.
Hungary is suffering the highest infection levels since March, but President Viktor Orban is resisting restrictive measures ahead of parliamentary elections next year.
Germany's RKI public-health institute reported another record number of daily cases Wednesday, and the seven-day incidence rate per 100,000 people hit a new high of 319.5. The number of deaths from COVID increased by 294, the most in more than six months and taking the total above 98,000.
Merkel and Scholz will hold a video conference with the leaders of Germany's 16 states. Merkel said state leaders must focus on setting a threshold for hospitalization rates that would trigger stricter measures. Re-gional officials must also make an "urgent" push for inoculating Germany's population.
"We still have too large a group of people who aren't vaccinated and they're making life more uncertain for those who are," Stephan Weil, the premier of the state of Lower Saxony, said Wednesday in an interview with ZDF television.
"We unfortunately have to put people who are not vaccinated in a situation in which they have to prove everywhere and all the time that they don't pose a danger," he added.
Germany's vaccination campaign stuttered in recent months, though it has picked up pace again in recent weeks, pushing the share of fully inoculated citizens up to about 68%, according to health ministry data. That compares with almost 78% in France and nearly 75% in Italy. — Bloomberg