Bringing development beyond roads and leisure spots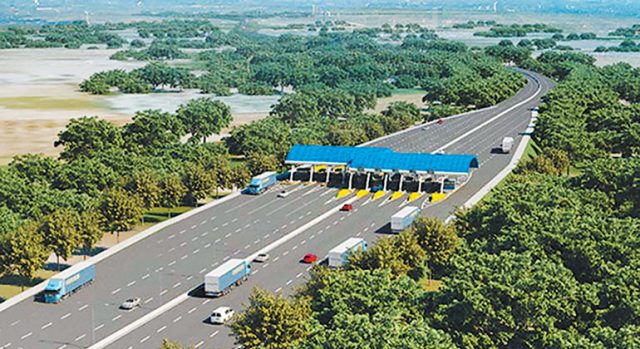 More than serving consumers, road and property development have their particular share in contributing to socioeconomic development. Part of Metro Pacific Investments Corp., tollway developer and operator Metro Pacific Tollways Corp. (MPTC) and upscale real estate developer Landco Pacific Corp. (Landco) continue in their services in spite of the disruptions caused by the coronavirus disease 2019 (COVID-19) pandemic.
Expanding beyond North Luzon — where its flagship North Luzon Expressway (NLEx) connects Metro Manila to the northern provinces — MPTC sets its sights on provinces in South Luzon and in the Visayas, and even within the Southeast Asian region.
At the 45-km Cavite Laguna Expressway (CALAX), which stretches from CAVITEx in Kawit, Cavite to South Luzon Expressway Mamplasan Interchange in Biñan City, Laguna, the 10.7-km Laguna side of the project from Mamplasan Interchange to Santa Rosa-Tagaytay Interchange is fully open to motorists. Also, two key interchanges of the expressway located near Laguna Technopark were opened August last year.
The first side of the Cavite side of the expressway, the Silang East Section, is 93% complete, according to MPTC unit MPCALA Holdings, Inc.
Meanwhile, the 8.25-km Cebu Cordova Link Expressway (CCLEX), which will link directly connect Cebu City to the municipality of Cordova across the Mactan channel and provide an alternate congestion-free route to the Mactan Cebu International Airport, is targeted for completion this year.
In addition to this, the MPTC unit behind this expressway, the Cebu-Cordova Link Expressway Corporation, together with Metro Pacific Investments Foundation and the local government of Cordova, Cebu opened the Mangrove Propagation and Information Center, designed to serve as the center for the propagation of mangrove trees in the town's coastal areas.
Another ongoing project is the NLEx Connector Road, an eight-kilometer toll road linking the tail of NLEx Harbor Link Segment 10 at C3 Road in Caloocan City to Polytechnic University of the Philippines in Sta. Mesa, Manila. It is targeted for completion in 2022.
As of January, MPTC's NLEX Corporation (formerly Manila North Tollways Corporation) and the Department of Public Works and Highways (DPWH) are working on the first five-kilometer section of NLEX Connector from Caloocan Interchange, C3 to España, Manila. It is expected to be finished by the end of 2021.
In addition, NLEX Corp. announced last February that the 8.2-km expansion of the Subic Freeport Expressway (SFEX) was officially opened. The project increases expressway capacity to a double carriageway with lanes in each direction from the single two-way carriageway. Construction included two new bridges and a tunnel.
Nevertheless, amid the national and global battle against COVID-19, MPTC has done its share in helping curb the spread of the disease.
April last year, a month after COVID-19 started spreading in the country, MPTC donated 350 beds to boost the capacity of the quarantine facility at the Philippine International Convention Center. This is in support of DPWH's "Heal As One" project.
The company also reported that it distributed tens of thousands of food packs and rice through local governments in communities along their highways in North and South Luzon, Cebu, and even in Indonesia.
Moreover, employees of MPTC personally pitched in to raise over a million pesos in donation to purchase personal protective equipment sets for frontliners.
Bouncing back sustainably
As the pandemic largely impacted real estate and tourism, Landco quickly adapted to the situation by refocusing its budget and efforts to what is currently essential.
Erickson Y. Manzano, president and CEO of Landco, told BusinessWorld that the pandemic gave them the respite they need to "clean house".
"As construction and sales significantly slowed down at the onset of the community quarantine, we channeled our energies to our back office: Title Transfer, Customer Service, Finance, and IT," Mr. Manzano shared. "We focused on getting in touch with our customers and update them on their titles, implement a more efficient enterprise-wide system to replace SAP, and streamline our operations."
On the operations front, he continued, Landco got its resort and staycation certifications from the Department of Tourism, making its spaces ready for accommodation in the 'now normal'.
Landco offered its Crusoe Cabins for those who wanted to work from the beach. This enabled Landco to keep its whole team employed throughout the pandemic, 90% of whom live in the community where Crusoe is located.
After the success of Crusoe Cabins, Millennial Resorts Corp. (MRC), a Landco affiliate, has recently launched Cocoons, unconventional hotel 'rooms' made out of repurposed drainage pipes, complete with modern amenities and conveniences. 
"We have big plans for MRC and we believe that it will be one of the catalysts which will help jumpstart our local tourism industry," Mr. Manzano said, adding that sustainability remains a large part of their operations.
"Manny Pangilinan (Landco's chairman) is also very serious about sustainability. With his direction, Landco's BeachTowns (Club Laiya and Casobe) are both LEED registered. MRC is on track to get an EDGE Certification, a Sustainability Certification from the International Finance Corp. (of the World Bank) by the end of 2021," he added. — Adrian Paul B. Conoza