Young designer transforms thrifted bedsheets into fashion statements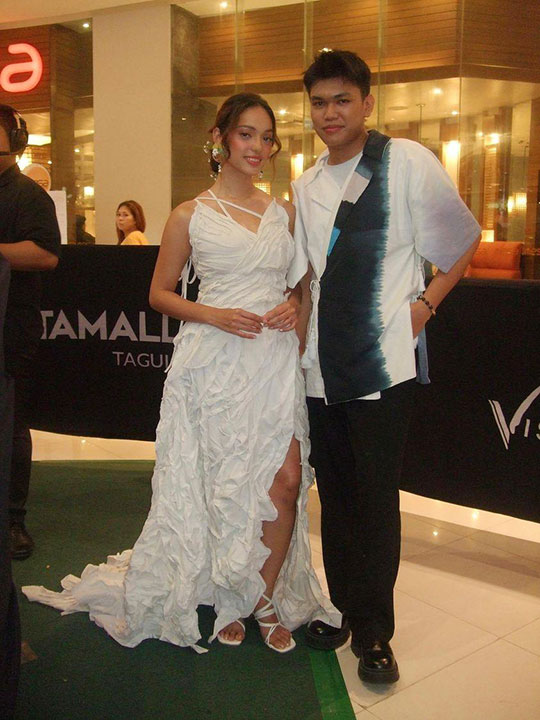 THE RECENTLY concluded Revive and Renew Upcycling Fashion Competition hailed Darius Jireh Juson as the Top Designer for his project which transformed discarded queen-sized bed linens from ukay-ukays (secondhand stores) into capsule wardrobes.
A project of leadership development organization JCI Manila, the event encouraged the next generation of eco-conscious designers to showcase their ingenuity and passion through modish ensembles made from discarded materials.
Mr. Juson, an alumni of the Fashion Design and Merchandising Program of the De La Salle-College of Saint Benilde, took his inspiration from the Lady of the Lake, a character from the legend of King Arthur and the Knights of the Round Table. He reimagined her as a modern muse of second chances.
"She was awakened by the urgency to warn the world of climate emergence," he was quoted as saying in a press release. "She had the ability to grant anyone's mission creating an impact on the environment."
The young designer converted queen-sized cotton bed sheets into a two-piece outfit, complete with a draped multi-strap bodice and a free-sized and modular detachable train.
"It is a capsule wardrobe with functionality and versatility in mind," he explained. "The top skirt can be worn separately, either elevated for a formal look or dressed down for a casual feel," he added. "It can be integrated for an errand look, resort wear, or even bridalwear."
He likewise highlighted the importance of diverse styling options to prolong the life of the garment with the end-user. "I approach sustainability like a circular framework by reintegrating post-consumer waste in the cycle," he stated.
His work also bagged the Bingo Plus Foundation Special Award.
The contest's jury include stylist, menswear and streetwear designer Bang Pineda, Department of Interior and Local Government Undersecretary and Professional Models Association of the Philippines President Marge Gutierrez, fashion designer Kristine Ordinario, and author and entrepreneur Brian Poe Llamanzares.
Mr. Juson is no stranger to sustainable fashion. He, together with fellow Benilde FDM alum and business partner Allesandra Gutierrez, will be relaunching their social enterprise REPAMANA. Grounded in the principles of circular economy, the brand treats waste — from rejected fabrics to floral scraps — as the primary sources of materials.
"REPAMANA breathes new life and higher value to the end product and gives them modern translations with endless styling possibilities," he expounded.
It also aims to employ persons deprived of liberty as seamstresses to give them a renewed sense of purpose and dignity in their work.
"Through these intentional choices, every stitch, every fabric selection, and every hand involved in REPAMANA supports the story of second chances towards a more meaningful connection with our garments," Mr. Juson said.