OCTA: COVID positivity rate rose a bit in Philippine capital region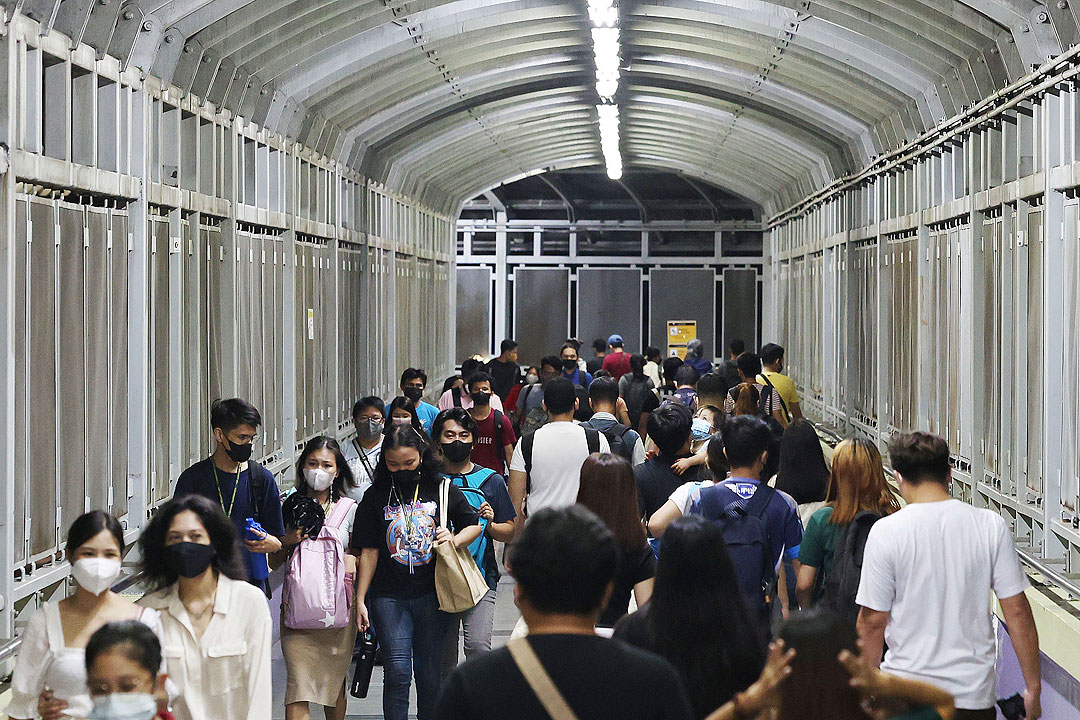 By Kyle Aristophere T. Atienza, Reporter
THE CORONAVIRUS disease 2019 (COVID-19) seven-day positivity rate in the Philippine capital region has increased slightly, according to a pandemic monitoring group.
The National Capital Region (NCR) posted a positivity rate of 12.4% for Nov. 27 to Dec. 3, up from 11.1% a week earlier, the OCTA Research Group said in a report posted on Twitter.
"The positivity rate is still increasing but slowing down," OCTA fellow Fredegusto P. David said in a Facebook Messenger chat. "It might still increase within the next one to two weeks to the peak."
Among the provinces, Nueva Ecija in northern Philippines posted the highest positivity rate at 39.1%. It was followed by Camariñes Sur in the Bicol Region at 38.8%, Isabela in Cagayan Valley at 38.6% and Ilocos Sur in the Ilocos Region at 36.2%.
Tarlac province was also on the list with a 25.3% positivity rate, followed by Albay with 23.7%, Benguet with 22.6%, Cagayan with 21.4% and Kalinga with 20.8%. 
Still, a decrease was observed in the positivity rate of Albay, Batangas, Benguet, Bulacan, Cavite, Isabela, Kalinga, La Union, Mountain Province and Tarlac, Mr. David said.
The OCTA researcher earlier told BusinessWorld the Philippines might record as many as 3,000 infections in December as Filipinos celebrate Christmas.
Mr. David had said daily cases in the country might significantly increase if there were threats from new coronavirus subvariants.
The Philippines posted 7,731 COVID-19 infections in the past week with a daily average of 1,104, the Department of Health (DoH) said in a bulletin on Monday.
The national daily average from Nov. 28 to Dec. 4 was 4% lower than a week earlier, it said. Of the new cases, two were severe and critical, it added.
DoH said 134 new deaths were verified in the past week, 19 of which occurred on Nov. 21 to Dec. 4.
The agency said 534 or 22.1% of 2,413 intensive care unit (ICU) beds had been used as of Dec. 4, while 5,177 or 25.3% of 20,452 non-ICU beds were occupied. There were 595 severe and critical admissions, it added.
Philippine health authorities expect a spike in coronavirus infections during the holidays in the absence of restrictions.
Daily infections could hit 1,114 to 2,294 by the end of December, while active cases could reach 18,000, DoH Epidemiology Bureau director Alethea R. de Guzman said last week, citing increased mobility, social gatherings and eased restrictions.
She said existing vaccines could help minimize hospitalizations even after new variants enter the country.
Edsel Maurice T. Salvaña, a member of DoH's technical advisory group, has said coronavirus deaths would remain low as long as vaccination and boosting rates were pushed.
He added that using face masks could still prevent outbreaks, decrease cases and protect people from other respiratory illnesses.
Weekly coronavirus infections globally remained stable on Nov. 21 to 27, compared with the previous week, with just under 2.7 million new cases reported, the World Health Organization (WHO) said in a weekly report on Nov. 30.
New deaths during the week decreased by 5% from a week earlier, with about 8,400 deaths. WHO said 637 million confirmed cases and 6.6 million deaths had been reported globally as of Nov. 27.
The Philippines has fully vaccinated 73.63 million people, according to the DoH bulletin. It added that 20.94 million people have received booster shots.
In a separate statement, DoH said 5.33 million or 48.9% of 10.8 million Filipino kids aged 5 to 11 have been fully vaccinated against COVID-19.
More than 10 million children aged 12 to 17 have also been fully inoculated against the disease, it said. More than one million of them have received their first booster shot.
Cases of COVID-19 were first reported in Wuhan, China in December 2019. The Philippines posted its first COVID-19 case on Jan. 30, more than a week after a Chinese who tested positive for the virus arrived in the country.
Youngsters in China have been holding protests against their government's "Zero-COVID" policy that forced millions of people to stay at home. Critics have described the policy, which was also blamed for the country's economic woes, as "draconian."
On Monday, the Associated Press reported that the Chinese government was easing some of its stringent anti-COVID-19 rules, with authorities saying that new variants are weaker.
But the country has yet to say when it will end the zero-COVID policy.