Five presidential candidates lay down specifics of their plans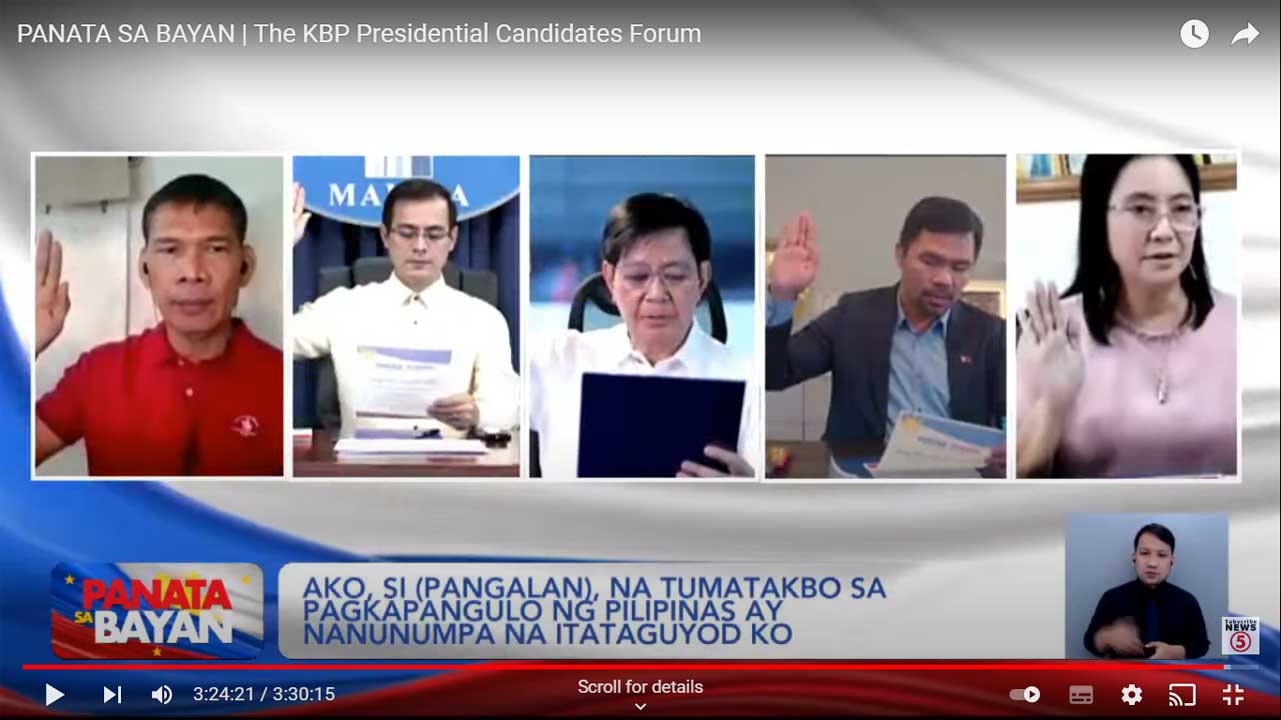 FIVE PRESIDENTIAL aspirants attended a widely broadcast presidential forum to lay down the specifics of their six-year plan if they are elected as executive chief in May.
During the Kapisanan ng mga Brodkaster ng Pilipinas (KBP) Presidential Forum, which stretched out over three-and-a-half hours on Friday, the five presidential aspirants who attended discussed a wide range of topics, from unemployment insurance to housing, from corruption to the situation in the South China Sea.
LENI ROBREDO
Vice-President Maria Leonor "Leni" G. Robredo said she plans to focus on providing assistance to small businesses and strengthen local industries.
Public employment programs and unemployment insurance programs will also be enforced to provide for those who lost their source of livelihood, especially during the pandemic, she said.
She vowed that under her leadership, discrimination in jobs will be removed as the age of an individual and their educational degree will no longer affect their right to work.
The country will also assert its sovereignty over its portion of the South China Sea, she said.
Tertiary hospitals will be built in every region and province, while proper support and benefits will be given to front liners. Barangay health units will be provided with adequate supplies.
Ms. Robredo also plans to raise the education budget to at least 6% of the gross domestic product (GDP) to implement better learning programs and provide higher pay for teachers.
MANNY PACQUIAO
On the other hand, Senator Emmanuel "Manny" D. Pacquiao reiterated his 22-point agenda, noting his top five priorities: stop corruption, improve employment, focus on healthcare, improve internet signal, and develop renewable energy.
Under his administration, he said that students will have free education until graduation. To cope with online learning, he will ensure teachers are given laptops and students provided tablets.
The boxer-turned-politician will also focus on providing support for farmers and fisherfolk. Importation, he added, must be stopped as the country should be exporting instead.
ISKO MORENO
In his 10-point-agenda, Manila Mayor Francisco "Isko Moreno" M. Domagoso seeks to allocate 1.3% of the country's GDP for housing, translating to 1 million units for 4.5 million Filipinos in six years, he said. He also said that he will push to increase spending on education to 4.3% of GDP.
The aspirant also seeks to create more jobs and support micro, small, and medium enterprises (MSMEs) by increasing the loan pool to P30 billion from P1.5 billion.
Better financial experts will be tapped to manage government agency spending, Mr. Domagoso said, noting that he is also looking to employ a more creative economic strategy.
Government spending on research and development will also be raised to 2% from 1% of GDP, while technology start-ups will be prioritized.
The Manila mayor made a pledge to fishermen that under his presidency, they will be able to fish in the South China Sea unhampered, unharmed, and safe.
He also pushed for a diverse and inclusive government that ensures social harmony, self-confidence, and self-identity.
PANFILO LACSON
Senator Panfilo M. Lacson reiterated his strong determination to fight corruption in the country while prioritizing solutions for the pandemic, poverty, job loss, government debt, and education.
If elected, he said he will begin his administration with an internal cleansing to throw out undisciplined government agencies and officials.
His platform, he added, will be science-based, data-driven, and future-proof. He said that P260 billion will be invested in the Universal Healthcare Act, while fiscal stimulus packages will be given to MSMEs.
Mr. Lacson also seeks to end the country's import dependence. He plans to ensure a thorough reform of the budget to provide adequate funds to the sectors that need it.
LEODY DE GUZMAN
Under the leadership of labor leader Leodegario "Ka Leody" de Guzman, MSMEs will be allotted P125 billion to create more jobs and help those who have lost their source of livelihood, he said.
He maintained his proposal to impose a wealth tax on 500 of the richest individuals in the country as it will help fund the health sector, agricultural sector, among others, he noted.
Mr. De Guzman also plans to take back the nation's money allegedly stolen by the Marcoses and use this to fund the nation and his platform.
The country should also have more discussions with nations recognizing the Philippines' sovereignty and territorial integrity, he added, as he pushed for an independent foreign policy.
If elected, climate change and the environment will also be given more priority as Mr. De Guzman plans to cut the use of fossil fuels and support renewable energy sources.
ONLINE GAMBLING
Ms. Robredo said the issue of establishing online gambling in the country should be discussed thoroughly with not only those who applied for the franchise, but also the affected community. In the same way, Mr. Lacson said the social costs of online gambling should be studied before approval for a franchise is given.
Mr. Domagoso and Mr. Pacquiao said that they accept that online gambling will continue in the country, whether or not it is deemed legal. So the best way to deal with it is to ensure that it is under the government's authority so that it may be observed and properly regulated.
On the other hand, Mr. De Guzman was strongly against online gambling, noting that many lives have been ruined due to it. The focus, he added, should be on more productive programs.
LAND RECLAMATION
All candidates, except the labor leader, were for land reclamation as it is a new source of income for the country, though they all gave the caveat that environmental effects should be considered. Mr. Domagoso noted that reclamation will help provide funds and jobs without adding a burden to taxpayers.
Mr. Lacson said that so long as the decision to reclaim land is science-based and data-driven, it should be done. The implementation should be based on need. Ms. Robredo said the same, noting that experts and the community involved should be consulted.
As for Mr. De Guzman, he said only big capitalists will benefit from reclamation. The people and the environment will receive nothing and may be gravely harmed, he said.
All candidates were also agreeable to continuing projects under the current administration's Build Build Build program while expanding it further to improve the country's infrastructure.
ILLEGAL DRUGS
To solve the issue of illegal drugs, Ms. Robredo suggested amending the country's laws to specify penalties on specific violations made. In the same way, Mr. De Guzman said the provisions under the law should be tightened to properly arrest financers and drug lords, as well as rehabilitate victims.
Mr. Domagoso, meanwhile, said he would focus on the root of the problem – the supply chain. There must be an issue with the port of entry, he pointed out, as most of the illegal drugs come from outside the state.
As for Mr. Lacson, he said his plan was both comprehensive and holistic. It will not be limited to law enforcement but will prioritize prevention and rehabilitation together with market constriction and demand reduction.
All candidates say they plan to improve the country's agricultural production by developing the sector and halting the country's heavy reliance on imports.
At the end of the forum, the presidential aspirants all took an oath stating that they would support a clean, honest, and fair election elections, and, if elected, that they would work with integrity and preside over a government without corruption and misdeeds, working to assure a dignified life to Filipino families, and work in the interests of the nation and its citizens, especially the poor.
The forum was moderated by Karen Davila of ABS-CBN News and Rico Hizon of CNN Philippines.
Presidential aspirant Ferdinand "Bongbong" R. Marcos, Jr. had been invited to attend the forum, but declined due to a "conflict in schedule." He instead had a one-on-one interview with Korina Sanchez-Roxas which included a cooking session.
The official election campaign period will begin on Feb. 8, and election day itself is May 9. — Alyssa Nicole O. Tan