Pacquiao says stance on China row reflects public sentiment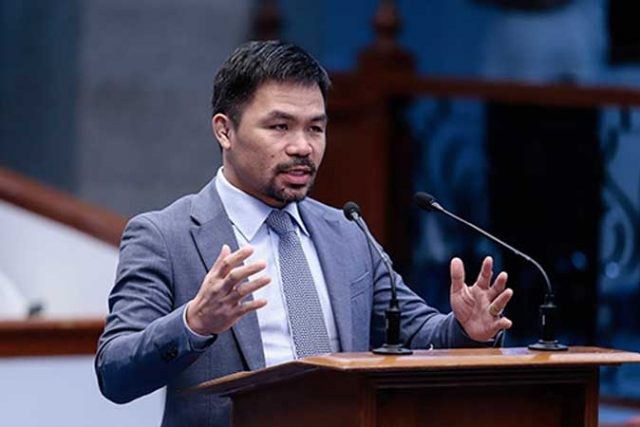 SENATOR and boxing champion Emmanuel "Manny" D. Pacquiao on Wednesday said his stance on the sea dispute with China reflects public sentiment, refuting President Rodrigo R. Duterte's quip for him to educate himself on foreign policy before commenting on the issue.
"I firmly believe that my statement reflects the sentiment of majority of the Filipinos, that we should stand strong in protecting our sovereign rights while pursuing a peaceful and diplomatic solution to the dispute," he said in a statement.
The international boxing champ, who belongs to the ruling party, noted that while he respected Mr. Duterte's opinion, he "humbly disagrees" with his "assessment of my understanding of foreign policy."
"I am a Filipino voicing out what needs to be said in defense of what has been adjudicated as rightfully ours," he added.
Mr. Duterte earlier said Mr. Pacquiao had a "very shallow knowledge" of his administration's policy on the South China Sea.
The tough-talking leader said this a month after the boxer criticized his China stance as lacking.
Meanwhile, presidential spokesman Herminio L. Roque, Jr. said he would run for an elective position next year once Davao City Mayor and presidential daughter Sara Duterte-Carpio decides to run for president.
"I would run with the administration but I think I will only run if Mayor Inday Sara will run for the position of president," he told ABS-CBN News.
Mr. Roque also said he would support a possible bid by Senator Lawrence T. Go for the presidency, with Mr. Duterte as his running mate, if Ms. Carpio decides not to run. 
Mr. Duterte on Tuesday night claimed to have discouraged his daughter from running for the post. "Do not ever, ever commit the mistake of running for the presidency," he said, adding that she would not get anything back.
He also said he would retire from politics when his six-year term ends next year.
Ms. Carpio is among those being considered by the President to become the ruling party's standard bearer in the 2022 elections, Mr. Roque said last week.
Albay Rep. Jose Maria Clemente S. Salceda had said Ms. Carpio would run for President and is building an alliance with various political groups.
Mr. Salceda, a member of the ruling PDP-Laban, said at least five political parties would support Ms. Carpio's presidential bid.
Political analysts have said calls for Ms. Carpio to run for president could be an attempt to create an artificial clamor.
Mr. Roque said it is unlikely for Ms. Carpio and Mr. Go to go against each other in the 2022 elections.
"It's hard to believe that the Duterte family has no dynastic plan when we're seeing their electoral machinery up and about, roaming everywhere, already prematurely campaigning," Party-list Rep. Ferdinand Gaite said in a statement on Wednesday.
He said the administration is just employing the same "I'm-not-running' campaign formula" as they did in 2016. — Kyle Aristophere T. Atienza