First Morales fight turning point in Pacquiao's career — analyst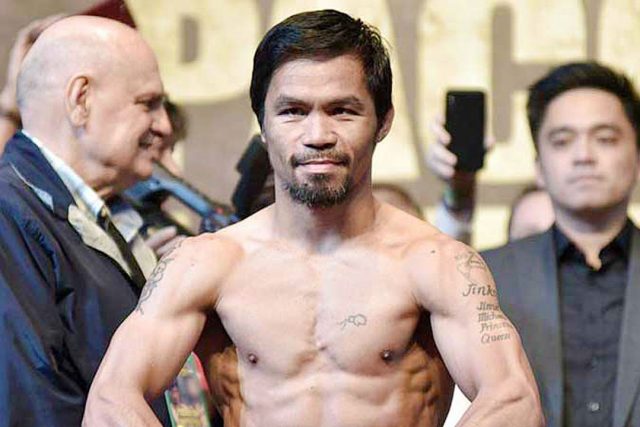 By Michael Angelo S. Murillo, Senior Reporter
MANNY "Pacman" Pacquiao announced his retirement on Wednesday, dropping the curtain on a legendary boxing run which lasted for two decades.
The General Santos City native Mr. Pacquiao exited the game as boxing's only eight-division world champion, compiling a record of 62-8-2 with 39 knockouts. He is a 13-time world champion, three-time fighter of the year, hailed as 2000s' Fighter of the Decade, and holds the record of being the only boxer to win world titles in four different decades.
All these solidified his place as among the best in the sport of boxing all-time.
He fought and defeated other legends in the sport like Marco Antonio Barrera, Juan Manuel Marquez, Erik Morales, Oscar De La Hoya, Miguel Cotto and Shane Mosley.
For boxing analyst Nissi Icasiano, of all the many great fights that Mr. Pacquiao was part of, the first of his trilogy fight with Mexican Morales was notable as it pretty much served as a turning point in his career.
"In my book, the best fight of Manny Pacquiao in his career was the first fight against Erik Morales. I truly believe that fight brought out the best in him and it served as the jump-off point to where he is at right now in sports history, not just boxing," said Mr. Icasiano in an interview with BusinessWorld.
Messrs. Pacquiao and Morales first fought on March 19, 2005 for the vacant World Boxing Council (WBC) and International Boxing Association (IBA) super-featherweight titles. It was the Filipino legend's first outing in the 130-lb division.
Pacman, however, lost to the Mexican legend by unanimous decision, with all judges scoring the fight 115-113 for Mr. Morales.
The two reengaged in January 2006 with Mr. Pacquiao exacting payback with a 10th-round technical knockout win.
The last fight happened in July of the same year. Pacman also claimed the win with an impressive third-round knockout.
"The first fight against Morales was a huge turning point in his (Pacquiao) career. It was a hard-hitting and honest fight, with both fighters landing punches and combinations throughout. Every time Pacquiao looked like he was about to take charge, Morales would rally. Yes, he lost that fight, but it did more good than harm career-wise," the analyst said.
"If we recall, that's Manny's first fight at 130 pounds. Plus, he was dealing with issues outside the ring, one of which was a contract dispute with Murad Muhammad. He got a cut above his right eye early in the fight. Aside from it being a test of character in the ring, Manny just blew off the ceiling of his potential from that. I don't think we would have a bona fide first-ballot Hall-of-Famer in Manny Pacquiao if not for that fight," Mr. Icasiano added.
While it remains to be seen if the decision of 42-year-old Mr. Pacquiao to hang up his gloves stays, Mr. Icasiano said the boxer's standing as a legend is already set.
"There will never be another Manny Pacquiao. I even think it's blasphemous to imagine a boxer to eclipse what he has accomplished in the sport… We're fortunate that our generation had an athlete like him who transcended the four corners of the ring."