Max's Group returns to profit with P55M, cites 'growth surge'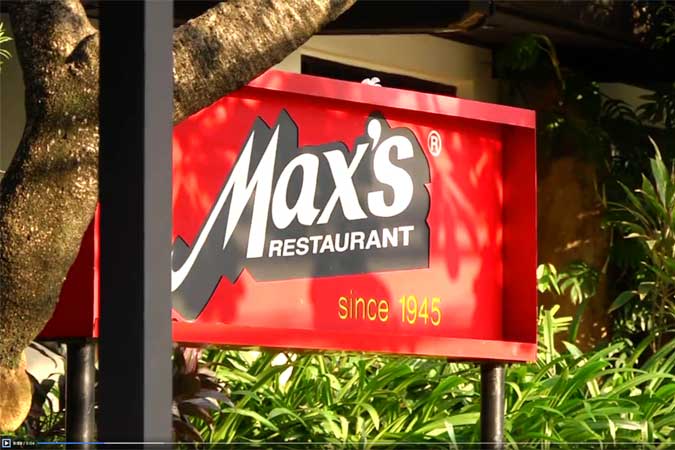 MAX'S Group, Inc. swung to profitability as it posted a P54.74-million attributable net income in the second quarter on the back of stronger revenues.
The listed company said in a stock exchange disclosure on Thursday that its attributable net income for the quarter is a turnaround from the P431.19-million attributable net loss it had in the same period a year ago.
Max's Group's revenues for the quarter rose 67% to P1.78 billion. From the total, restaurant sales accounted for P1.40 billion, followed by commissary sales at P262.34 million, and franchise, royalty, and continuing license fees at P118.99 million.
Second-quarter system-wide sales, consisting of sales generated by company-owned and franchised stores, went up 82% to P2.91 billion, while cost of sales also increased 16% to P1.22 billion.
Operating income for the quarter rose 140% to P186 million while earnings before interest, taxes, depreciation, and amortization (EBITDA) reached P405 million.
For the first half, Max's Group posted a P390.72-million attributable net income, a reversal of the P599.70-million net loss it had in the similar period last year.
Robert Ramon F. Trota, Max's Group president and chief executive officer, said the company's portfolio showed resilience amid headwinds.
"Despite ongoing challenges both locally and internationally, including heightened restrictions in the front-end of the second quarter, we take pride in the growth surge we achieved, particularly with our renewed focus on our 'core of core' brands of Max's Restaurant, Pancake House, Yellow Cab Pizza Co., and Krispy Kreme," Mr. Trota said.
"In fact, our total first-half sales via our delivery channel nearly doubled pre-pandemic levels, even as the government allowed customers to return to dine-in throughout much of these first six months. This proves the strongly-entrenched demand for the brands we operate," he added.
Revenues during the January-to-June period fell 4% to P3.62 billion. Of the total, restaurant sales contributed P2.82 billion, followed by commissary sales at P566.65 million, and franchise, royalty, and continuing license fees at P230.84 million.
First-half systemwide sales improved 3% to P5.75 billion while cost of sales dropped 21% to P2.58 billion.
Six-month operating income reached P332 million while EBITDA amounted to P1 billion.
Meanwhile, Max's Group's store network as of end-June covered 14 territories with 597 Philippine sites and 60 stores situated across areas in North America, the Middle East, and Asia. From the total, 95% or 625 stores were operational.
Max's Group Chief Operating Officer Ariel P. Fermin said the company had been able to improve its profitability despite the volatility and uncertainty of the market.
"We committed to our stakeholders that [Max's Group] would continue to represent financial viability and strong shareholder value as we accelerated three years of strategy into three quarters of execution," Mr. Fermin said.
"Strategic management of our total supply chain, continued strong alliances with our lessor partners, margin management in our menus to combat raw material inflation, and efficiencies in our restaurant systems have all combined to create a business model that clearly works even with the tempered revenues in a pandemic," he added.
On Thursday, shares of Max's Group at the stock exchange fell 1.48% or nine centavos to end at P6 apiece. — Revin Mikhael D. Ochave