Manny Pacquiao faces new foe as Errol Spence, Jr. out injured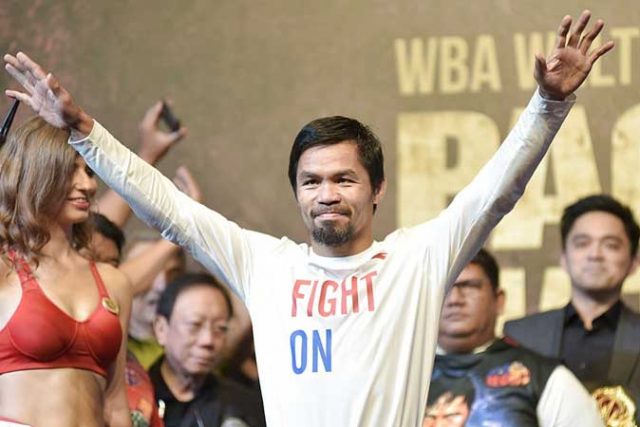 Will

f

ight Cuban Yordenis Ugás on Aug. 22
By Michael Angelo S. Murillo, Senior Reporter
FILIPINO boxing superstar Manny D. "Pacman" Pacquiao will have a new opponent for his ring return next week after his original foe pulled out because of injury.
In an announcement on Wednesday, promoters of Mr. Pacquiao's fight on Aug. 22 (Manila time) said Cuban Yordenis Ugás will now be facing the eight-division world champion, taking the place of American Errol Spence, Jr. who suffered a career-threatening eye injury that would require surgery.
Mr. Pacquiao, who is also a sitting senator of the republic, expressed his disappointment over not being able to fight current International Boxing Federation and World Boxing Council welterweight champion, Spence but understood the situation and wished the injured fighter well in his surgery and road to recovery.
The American champion also expressed disappointment with the turn of events just as he vowed to come back stronger after surgery.
"I'm very disappointed that I won't be able to fight Manny Pacquiao on Aug. 21. I was excited about the fight and the event. Unfortunately, the doctors found a tear in my left eye and said I needed to get surgery on it ASAP and that there was no way I could fight with my eye in that condition," Mr. Spence said in a statement.
In 35-year-old Mr. Ugás (26-4, 12 KOs), Mr. Pacquiao will face a fighter who currently holds the World Boxing Association welterweight title, which used to be in the hands of the Filipino champion.
Despite the sudden change, Mr. Pacquiao was still grateful that his fight would push through and that he looks forward to getting the victory.
"This is the best training camp I have had since the first [Marco Antonio] Barrera fight [in 2003]. I am grateful it won't be wasted," said Mr. Pacquiao (62-7, 39 KOs) in a Viber message.
"I look forward to showing everyone that Manny Pacquiao is still here to give the fans a good show," he added.
POTENTIAL FIGHT OF THE YEAR
For boxing analyst Nissi Icasiano, it was just unfortunate that a potential fight of the year was side-tracked by an injury but shared that what Mr. Spence has to deal with is something serious.
In an interview with BusinessWorld, he said he expects Mr. Pacquiao to make the necessary adjustments and be ready against Mr. Ugás.
"For sure, it's disappointing on the part of Manny Pacquiao. Aside from making adjustments with less than two weeks to go, he's looking at the dividends that he could possibly get. Winning against Spence, who is a younger and super talented boxer, will resonate so much and will put him on a much higher pedestal," the analyst said.
"Stylistically, this fight against Yordenis Ugás favors Manny Pacquiao. He is too tentative and upright for the fighting senator. I expect Pacquiao to dart in and out with ease against Ugás," Mr. Icasiano added. — with Alyssa Nicole O. Tan