With a knapsack filled with letters and parcels, the kartero (mailman) was ready for another day at work.
The job, a source of income.
So, how did he end up here?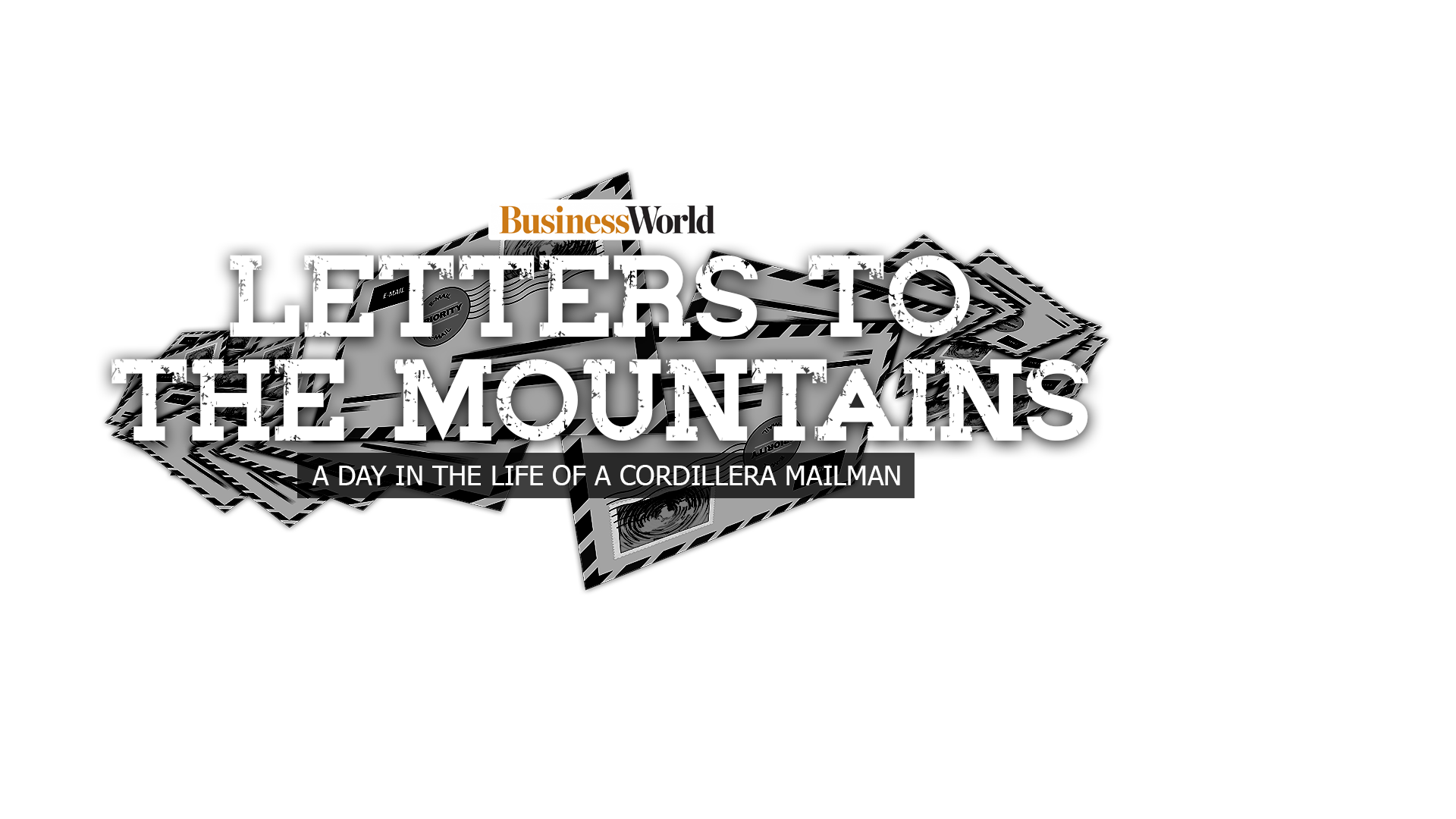 LETTERS TO THE MOUNTAINS
A day in the life of a Corillera mailman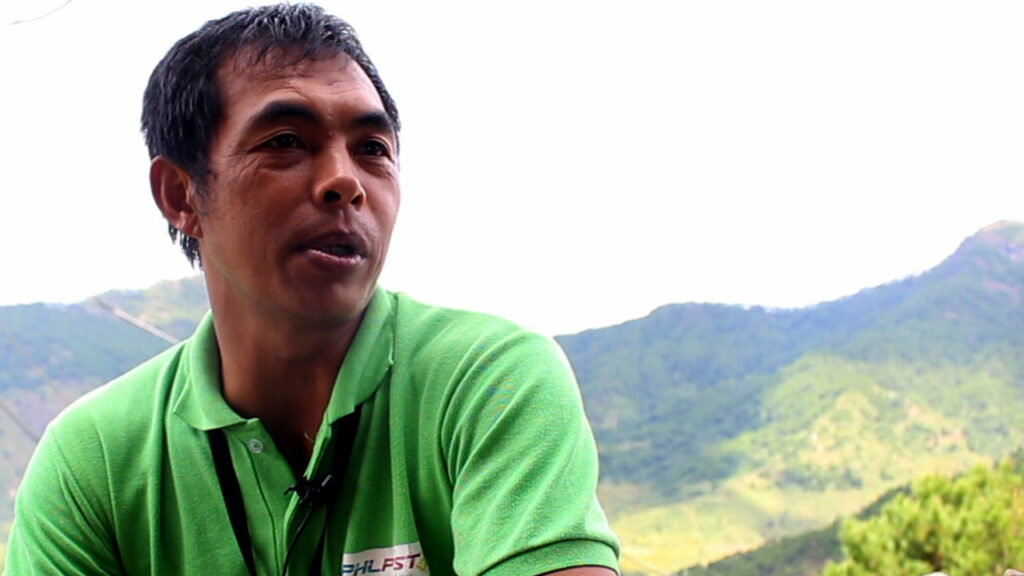 Jordan H. Bungtiwen, 41, had been a kartero for the Philippine Post Office (PHLPost) for roughly five months when a team from BusinessWorld tagged along with him on Nov. 23, 2022.
Mr. Bungtiwen services Tadian, a small town of 19 villages, in the mountainous Cordillera Administrative Region in North Luzon. Remote and landlocked, it has about 21,000 residents who rely on Mr. Bungtiwen. He splits letter carrier duties with the town's postmaster, Gertrude L. Lampacan.
Mr. Bungtiwen's route offers breathtaking views but is not a walk in the park as some would think. As routine as his journeys may be, this time to deliver national IDs, the long walks, rough roads, the up and down paths have always posed a physical challenge.
Despite this, Mr. Bungtiwen, who used to work as a village watchman in Tadian and only made P13,000 every three months, said he is grateful for his new job as a mailman.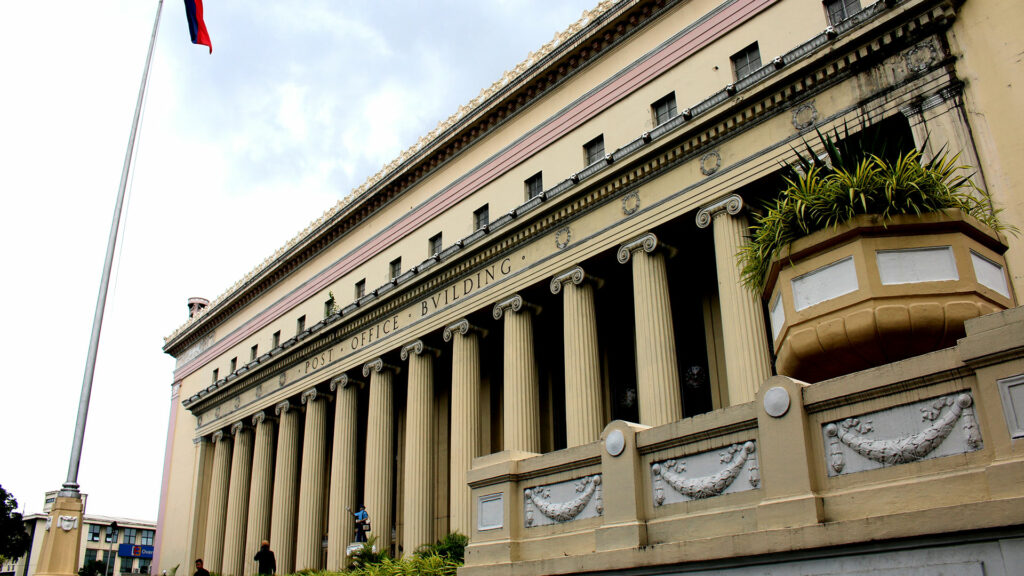 THE PHILIPPINE POST OFFICE
THE PHILIPPINE POST OFFICE
Mr. Bungtiwen is one of the 4,200 mailmen employed by the government-run PHLPost, which has been in operation for over two centuries.
The office was formalized as a postal service provider between 1783 to 1784 and has since been the go-to courier for all 81 provinces in the country.
Manila became the country's hub for letters sent and received to and from Spain upon the establishment of its first post office in 1767.
Spanish ships carried Philippine mail to Europe via Mexico in 1783. Postal offices likewise sprouted in Cavite, Batangas, Bulacan, Tondo, Pampanga, Bataan, and Laguna.
In 1875, Spain became part of the Universal Postal Union, the primary forum for cooperation among postal sector players. But it was not until 1922 that the Philippines joined the forum as a sovereign entity.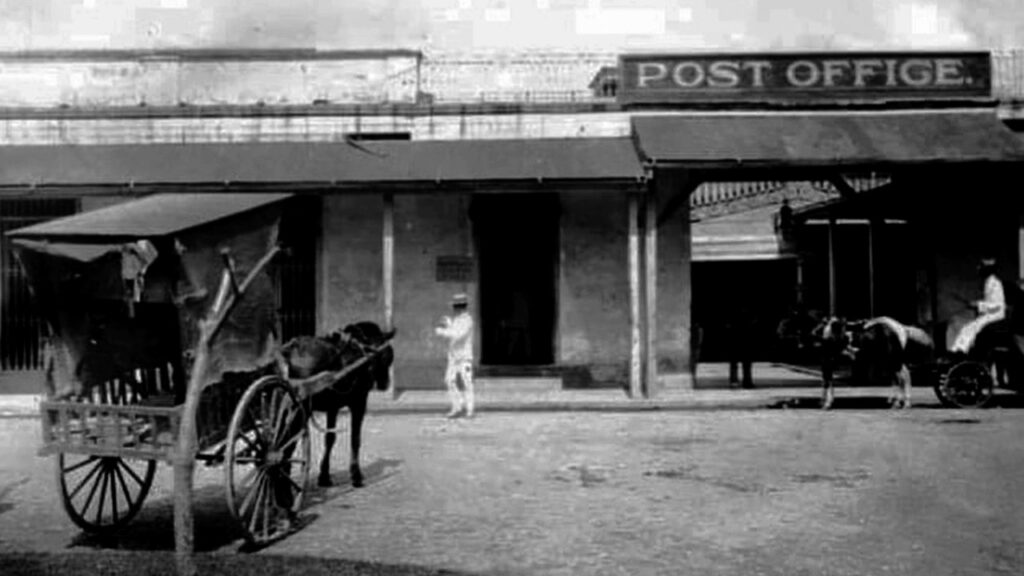 WE WILL REACH YOU

,

POSTMASTER GENERAL ASSURES
Norman N. Fulgencio, the postmaster general, said his office's mandate is its key differentiator.
"Sa mga fifth, sixth class municipalities, wala naman diyang (In fifth and sixth class municipalities, you are not going to find) private corporations," he said in an interview.
It is our mandate to serve each individual, Mr. Fulgencio noted. "Whether it's in the mountain or the smallest island…pupunta kami diyan once a week, once a month, depende kung gaano ka kalayo (We will be there once a week, once a month, depending on how far you are)."
"We will travel by boat for two, three days to reach you," he added. https://youtu.be/ZRqquQV4adA
WE WILL REACH YOU

,


POSTMASTER GENERAL ASSURES
Norman N. Fulgencio, the postmaster general, said his office's mandate is its key differentiator.
"Sa mga fifth, sixth class municipalities, wala naman diyang (In fifth and sixth class municipalities, you are not going to find) private corporations," he said in an interview.
It is our mandate to serve each individual, Mr. Fulgencio noted. "Whether it's in the mountain or the smallest island…pupunta kami diyan once a week, once a month, depende kung gaano ka kalayo (We will be there once a week, once a month, depending on how far you are)."
"We will travel by boat for two, three days to reach you," he added.
The post office's sorting center in Pasay City handles all incoming and outgoing air mail for the country. There is a separate sorting center in Manila specifically for sea mail.
According to Rosario A. Adriano, the acting manager of PHLPost's Business Lines Department, there are two daily dispatches for outbound international mail.
"Domestic parcels leave at 4:00 a.m. to be distributed across regional post offices," she said in an interview. "International parcels are dispatched to the airport at 8:00 a.m. to 10:00 a.m., and also at 4:00 p.m. to 8:00 p.m."
Incoming mail arrives from 10:00 p.m. to 1:00 a.m. daily.
All items at the arrival dock undergo x-ray scanning by Customs officers. Those requiring additional inspection are marked with an "X" and taken to the inspection area within the sorting facility.
Parcels are checked to ensure that no prohibited items pass through, said Roger M. Tumlos, acting manager of the express mail exchange department. Customs taxes apply to parcels with a value of more than P10,000.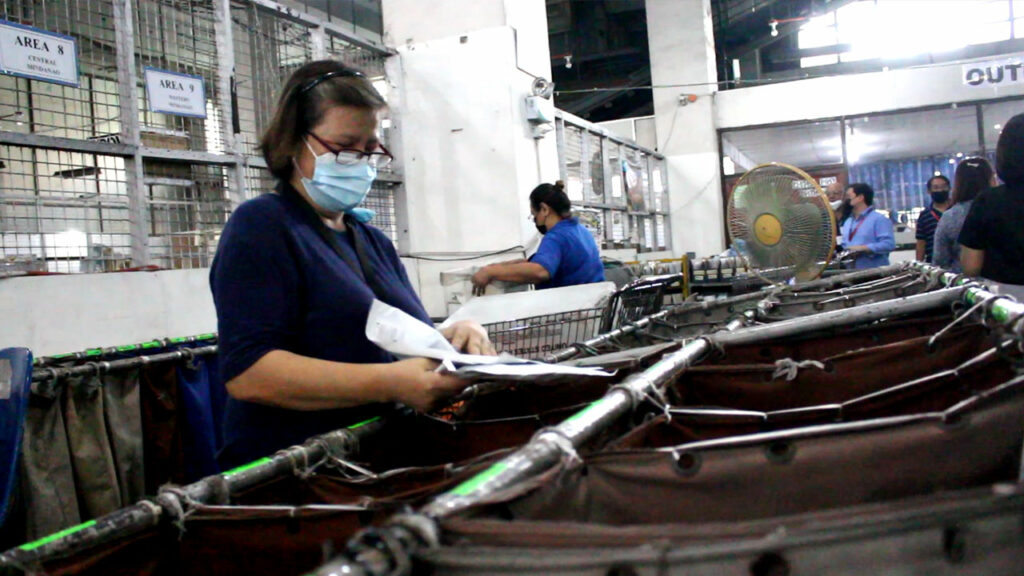 "There are also items that are regulated, meaning they are allowed, provided they have permits from the concerned government agencies," he said, referring to plants, firearms, and compact discs (CDs).
"Actually, konti na lang ang contraband items (only a few contraband items manage to pass through)," Mr. Tumlos added.
"Paminsan-minsan, illegal drugs ang pumapasok, pero marami pa rin yung mga medications, lalo na yung mga gamot sa cancer. Mahal kasi dito. (Illegal drugs would sometimes come in, but a lot of times we see cancer medications being sent, because they're expensive here)."
Mr. Tumlos said such medications, bought from countries like India and Pakistan, are released, although these are still subject to the maximum allowable quantity.
PHLPost's express mail service or EMS delivers time-sensitive items locally or internationally. More than 40 countries have EMS exchange deals with the Philippines.
Letter posts, on the other hand, are items under two kilos, including priority mail and registered mail, which is accorded mail security, with the entire process being recorded from acceptance to delivery to the addressee.
When a recipient's address is incorrect or incomplete, the package is often returned to the sender.
As the PHLPost's systems were only partially digitalized at that time, surface mail staff in their Manila sorting center still wrote down the details of undelivered letters and parcels in a logbook.
In 2021, during the peak of the COVID-19 pandemic, PHLPost delivered 109.3 million letters and parcels, a 40% increase from the previous year, mainly due to the e-commerce boom amid strict quarantine rules. The number of undelivered items also rose sharply, from 2.4 million to 4.3 million, an 81% increase from 2020.
Just after daybreak, Mr. Bungtiwen woke up to a cool breeze after a restful night's sleep.
His family's home, which was constructed under a government aid program, stands on a mountain.
According to the mailman, eating a hearty breakfast of corn porridge provides him with enough strength to fulfill his daily tasks.
After preparing his usual workday essentials, his logbook and a packed meal for lunch, Mr. Bungtiwen donned the green PHLPost uniform in place of his red pambahay (comfortable housewear) shirt.
He set off from his home for another day of deliveries to the residents of Tadian.
It was 8:00 a.m., and Mr. Bungtiwen arrived just in time to start his day as a mailman.
With walls still covered with soundproofing boards from its time housing a radio station, the Tadian post office is Mr. Bungtiwen's place of work.
He took his time sifting through parcels, carefully plotting the delivery route in his mind. His deliveries that day were all national IDs.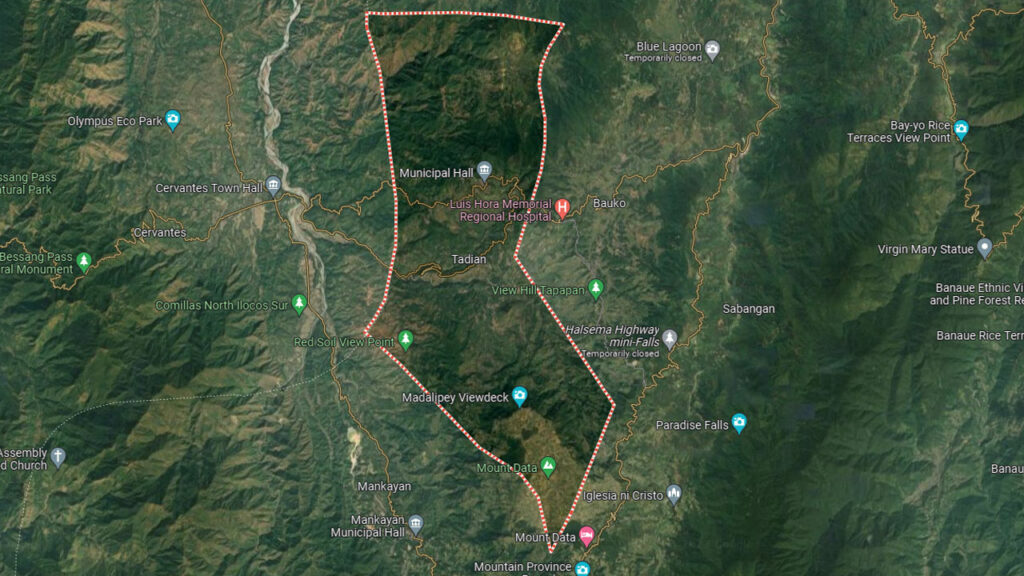 The 19 villages in the Tadian town are separated from each other by mountains, rice paddies, and concrete roads.
Maria Abigail D. Tarroza, researcher and news editor at PHLPost's corporate communications division under the office of the Postmaster General, said that the letter carriers are trusted members of their respective communities.
They have to be, she said, especially in areas where conflicts are rife.
Mr. Bungtiwen, originally from Ifugao, moved to Tadian after meeting his Duagan-native wife.
That sunny day, the mailman was scheduled to visit three villages: Lubon, Duagan, and Sumadel.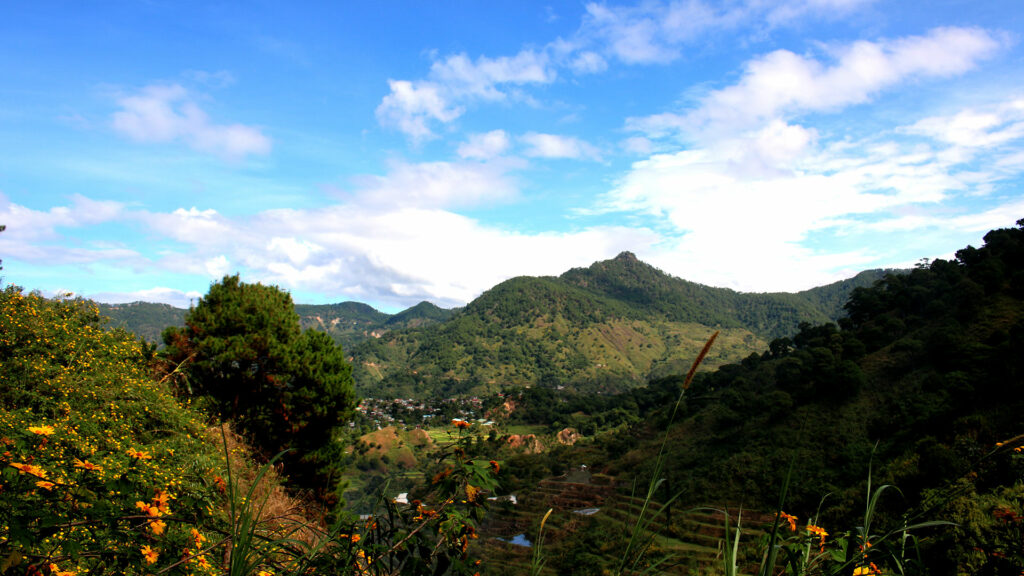 The path to Lubon, the first destination in the day's schedule, snaked here and there, making one wonder where the path ended, until – quite suddenly – an opening appeared, revealing a rice field, a large pile of rocks, and a cemented staircase leading to the community.
Everyone seemed to know the Tadian town's letter carrier.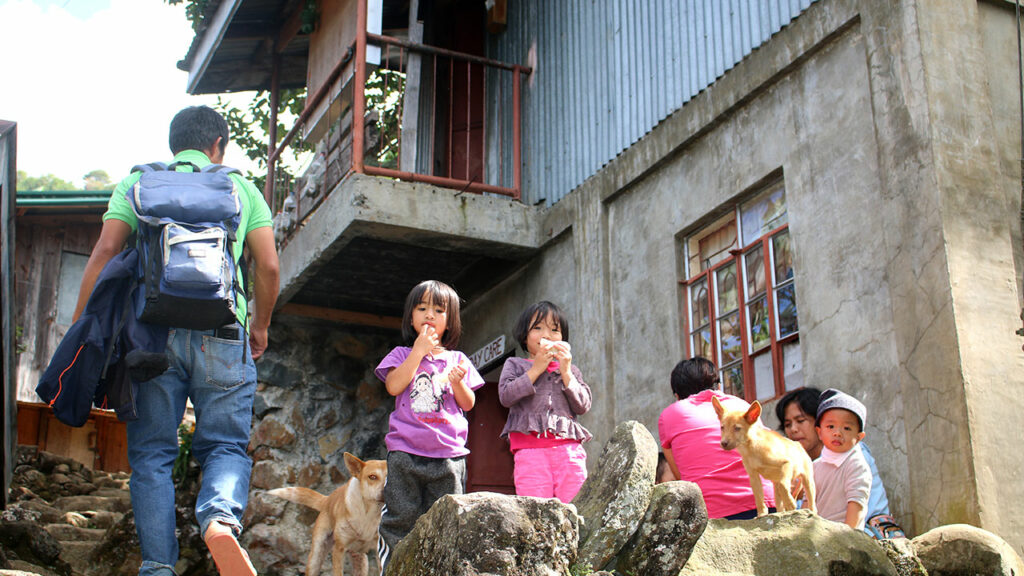 He happened to pass by a daycare center, where the children shyly played hide-and-seek with visitors, even as they gamely smiled for the camera. Mr. Bungtiwen's wife, Josephine, also happened to work for a barangay daycare center herself.
Lubon's residents were enjoying a quiet morning tending to their children when Mr. Bungtiwen dropped by to fulfill his tasks. Today, all the mail recipients were home, which made ticking off the to-do list easy.
After all the mail had been dispatched, Mr. Bungtiwen proceeded along his journey, where he bumped into a local herding his carabao home. He also passed by an abandoned car or two that had now become part of the scenery.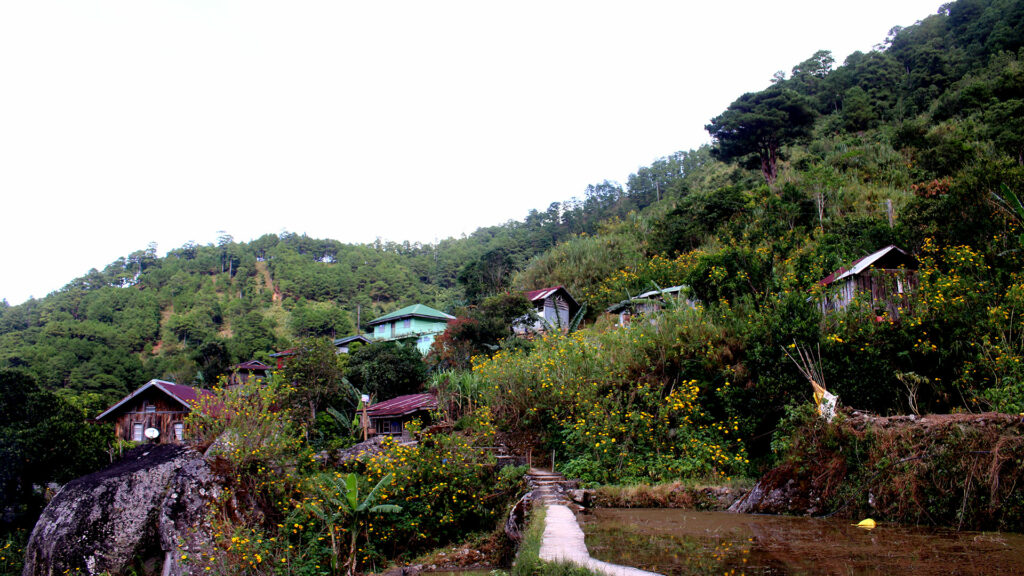 Shortly past 1:00 p.m., and it was off to the second village, Duagan.
With about 200 to 300 residents calling it their home, the place was even more remote than the first.
It was so remote that visitors were rare, and thus easily spotted.
Reaching Duagan meant traversing a road that was only cemented part of the way through, and then crossing another set of rice paddies.
There was no dearth of warmth in Duagan. Visitors lucky enough to drop by during a break in the village hall's activities were offered refreshments and a place to rest.
Visitors in the area would notice a sign outside the hall that read, "No Spitting Momma," which was not a reference to one's mother. "Momma" was a local chewing gum made from betel nut and may include tobacco and peppermint. Its reddish hue often stained a person's teeth.
The group reached the third and final destination, Sumadel, as dusk approached, and the mountain chill had set in.
Sumadel had more concrete structures than the previous two villages, including a roofed basketball court and a gym atop a nearby mountain.
The vibe in the community was close-knit.
From the school children milling about the community hall to the family by the riverbank and the shopkeeper in the sari-sari store (mom-and-pop shop), Mr. Bungtiwen went about his task with a practiced air.
He delivered his final mail just as dusk set over the countryside.
According to the Ms. Lampacan, it was not unusual for Mr. Bungtiwen to deliver mail past the typical work hours of 8:00 a.m. to 5:00 p.m.
"One time our mayor saw Jordan past 6:00 p.m. in one barangay and asked, 'What are you still doing here?'" Ms. Lampacan said in Filipino. "That's because past five is when the residents come home each day from work."
The residents of all three villages were friendly people who seemed surprised to see outsiders.
"What brings you here?" was the common and bemused question residents asked of outsiders as they exchanged pleasantries with the mailman in a mixture of the local languages Kankanaey, Aplay, and Ilocano.
Ms. Lampacan, who accompanied the team and Mr. Bungtiwen, said that some were not keen on receiving their national IDs anymore.
"It's not accepted as a valid ID in the Tadian branch of the Department of Social and Welfare Development, as well as in LANDBANK Bontoc, because it doesn't show the person's signature," she said in Filipino.
LANDBANK told one resident to get a voter's ID instead, the postmaster general added.
Mr. Bungtiwen's job is not easy, especially during the rainy season, but his perseverance stems from his desire to provide a better life for his family.
He has big dreams for his four children, including his eldest son, who is pursuing a college degree and aspiring to become a police officer.
With his current daily wage of P500, he and his wife, who works at a daycare center, can better provide for their family's needs, the mailman said.
He treasures his children's aspirations, knowing that they hold the key to the family's success.
"Pangarap kong makatapos sila ng kanilang pag-aaral (My dream for my children is for them to finish their studies)," he said.
No matter how high the mountains or remote the places are, the challenges he faces daily seem inconsequential compared to his dream of a better future.
THE CENTRAL POST OFFICE BUILDING
THE CENTRAL POST OFFICE BUILDING
PHLPOST's central building in Lawton, Manila now features a refurbished postal stamp museum, a new café, and elevators for staff and the public. The neoclassical design has been preserved
"Even if you slice it crosswise or lengthwise, it's very symmetrical," Ms. Tarroza said.
Designed by architects Juan M. Arellano and Tomas B. Mapua and inaugurated in 1931, the central post office is situated at the terminus of Padre Burgos Avenue and was meant to connect the main business and government centers (Escolta and Intramuros via the Pasig River) then.
"Communications and also logistics facilitate commerce," Ms. Tarroza said. "At that time, this was the hub of communications technology."
What the public sees now is the same structure that was erected before World War II.
"We've had some superficial renovations, like repainting and cleanups, but so far as the major components of the structure, wala pa namang binabago (nothing has changed yet)," she said.
The building's classification in 2018 as an important cultural property by the National Commission for Culture and the Arts is a boon, added Ms. Tarroza, because it is "afforded some guardianship by the (commission); it signifies this building can be budgeted for restoration."
CUSTOMER CARE AND COMPLAINTS
CUSTOMER CARE AND COMPLAINTS
The PHLPost customer care team, headed by Merlita C. Ponpon, assists around 500 customers daily with their inquiries, mostly pertaining to the status of their mail.
"They ask, 'Dumating na po ba? Kailan ide-deliver? Na-deliver na po ba sa tao na pinadalhan namin?' (Has it arrived? When will it be delivered? Has it already been delivered to the addressee?)," she said.
Conveyance is a cause of delay, Ms. Ponpon added. "Kasi yung mga airlines, may mga instances na congested pa rin sila sa (There are instances when airlines experience congestion in the) airport. That's one cause."
"Is this (the handiwork of) the Bureau of Customs (BoC) or the post office?" asked a Twitter user who said he was only able to receive his parcel, a Christmas present from his sister, on April 20.
The Twitter user alleged that the parcel was opened and that his sister assumed that "sending a two-kilogram parcel from the UK for P4,200 means I will receive it quickly." He added that he also had to pay P112 in taxes.


"The P112 charge has been there for [maybe] 20 years. We have not added any service charge [since]," Mr. Fulgencio said. "It is a legitimate charge."
He said the process is for parcels from the airport to go through the BoC for inspection.
"Maraming dahilan (There are many reasons) why it was opened, but the standard process is, if there is a package they want to inspect (for possible duties and taxes) … the post office will open it in front of the BoC and the owner of the package," he said. "Once it's agreed that, okay, this is less than $200 dollars, you don't have to pay anything, then that's the time we tape it back."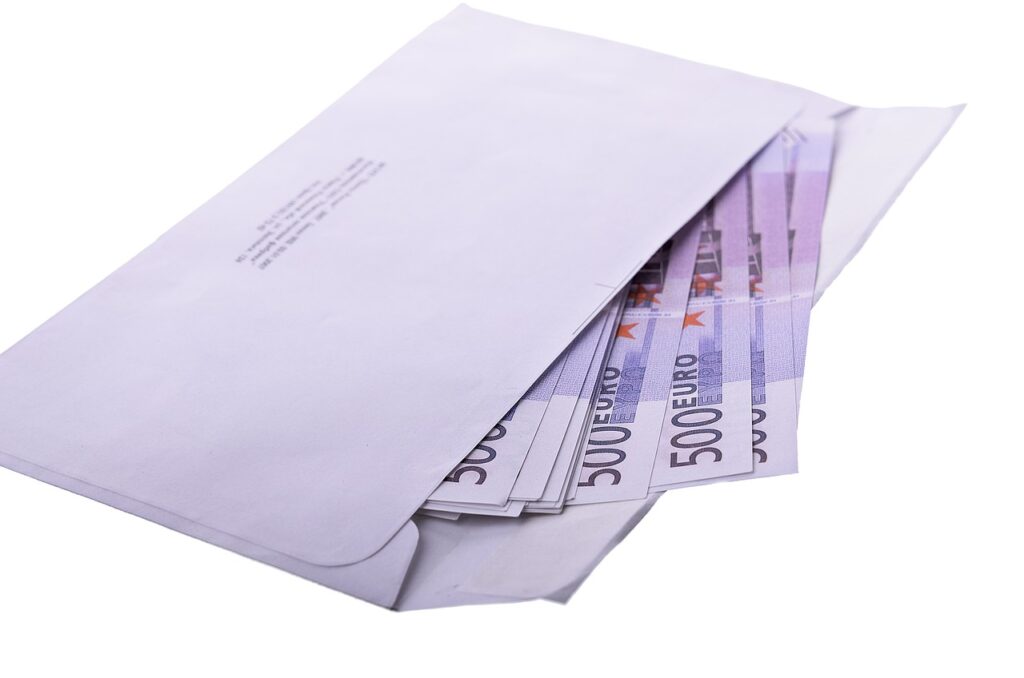 At the same time, Mr. Fulgencio also reminded the public that enclosing money inside envelopes for mail isn't allowed.
"Ang hirap i-justify nun dahil ikaw lang nakakaalam na may pera dun (It's hard to justify it because you're the only one who knows that there's money in there)," he said. "To be fair with the postal employees, may pera pala yan; dito ba yan nawala o doon (was the money lost at the destination or at the point of origin)?"
"Although kung may nawala and binuksan ng postal employee… dapat ma-reprimand yun (if a postal employee had something to do with a lost item, then he must be reprimanded)," he added.
Credits: Report by Patricia B. Mirasol, Produced by Jino D. Nicolas, Sam L. Marcelo and Arjay L. Balinbin, Photos and Videos by Earl R. Lagundino and Joseph Emmanuel L. Garcia, Graphic Design by Fortunato V. Dañas, Layout and Web Development by Criselda R. Valentin