Peso weakens vs dollar on budget balance, BoP data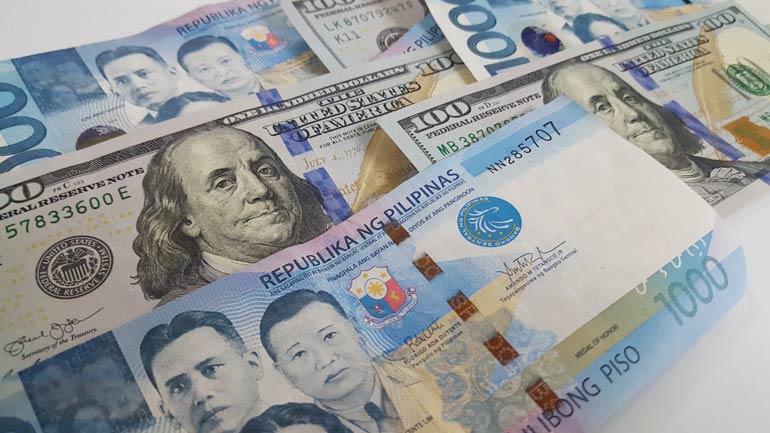 THE PESO retreated versus the greenback on Tuesday due to data showing below-target government spending and a balance of payments (BoP) deficit in the first half.
The local unit closed at P50.42 per dollar on Tuesday, losing seven centavos from its Monday finish of P50.35, data from the Bankers Association of the Philippines showed.
The peso opened Tuesday's session at P50.27 versus the dollar. Its weakest showing was at P50.425, while its intraday high was at P50.265 against the greenback.
Dollars traded declined to $842.13 million on Tuesday from the $944.37 million recorded on Monday.
The peso weakened following the release of June budget balance data, which showed spending was below target in the first semester, Rizal Commercial Banking Corp. Chief Economist Michael L. Ricafort said. BoP data also contributed to the risk-off sentiment, he added.
The Bureau of the Treasury on Tuesday reported that the government's budget deficit was at P716.1 billion in the first semester, 30% lower than the P1.018 trillion programmed for the period. This, as overall spending missed the target by 10%, while revenues beat the six-month goal by 5%.
Meanwhile, the country's BoP position stood at $312-million deficit in June versus the $80-million surplus logged a year ago. Year-to-date, the BoP gap was at $1.939 billion, a reversal of the $4.109-billion surfeit seen in the first semester of 2020.
The central bank attributed the BoP deficit to the National Government's payment of its debt obligations and other expenditures, while analysts said this was due to the continued recovery in imports.
Meanwhile, a trader attributed the continued depreciation of the peso to market expectations of a hawkish statement from the US Federal Reserve.
The Federal Open Market Committee is holding its policy review from Tuesday to Wednesday, where it is expected to discuss the timing of its planned tapering of its bond purchases and surging inflation.
For Wednesday, Mr. Ricafort gave a forecast range of P50.25 to P50.45 per dollar, while the trader expects the peso to move within P50.25 to P50.40. — L.W.T. Noble