A million-peso oven is just one of the attractions of CCA's new campus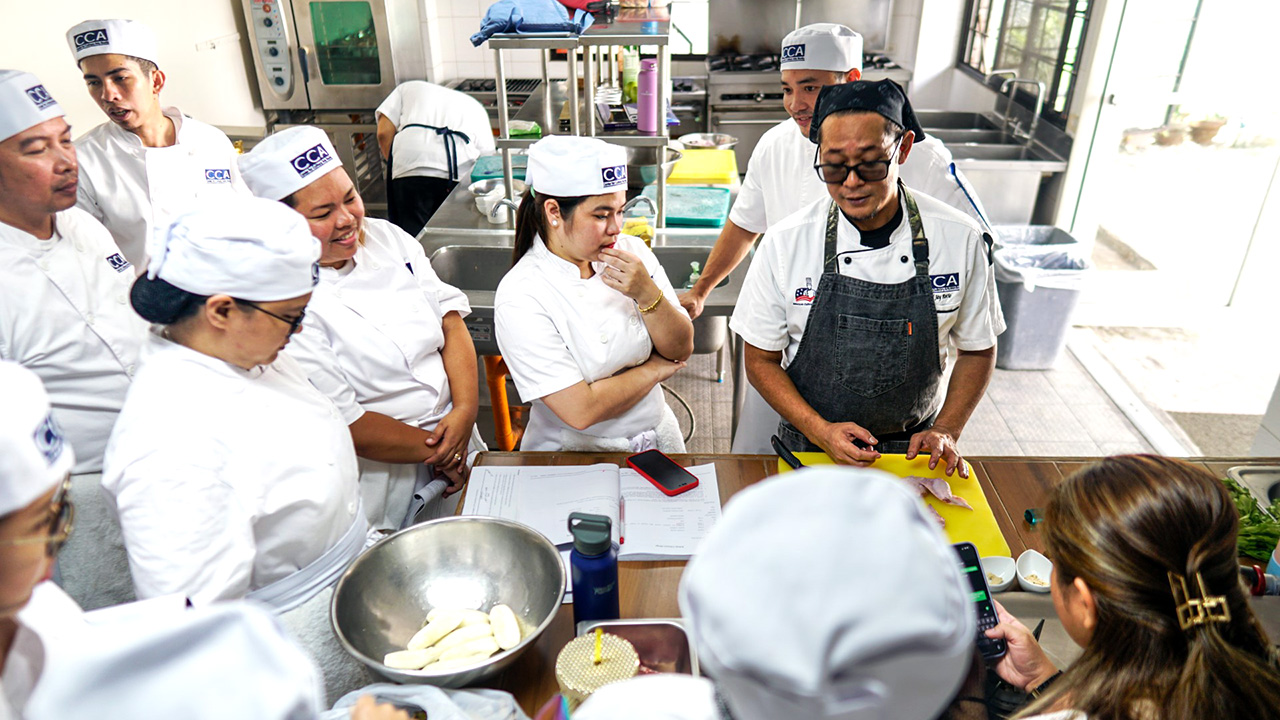 The 27-year-old cooking school makes a big move to BGC
THE CENTER for Culinary Arts (CCA) Manila is moving its flagship campus from Katipunan Ave. down the C5 highway to BGC.
The new campus, leased from the University of the Philippines Bonifacio Global City (BGC) complex, houses an all-stainless-steel kitchen with 45 individual stations. It also has gas stoves, induction hobs, griddles and ovens, sous vide machines, and even smoke guns. "It's the largest kitchen, I believe, in the country now," said chef Philip John Golding, Culinary Director of CCA Manila, during an Aug. 31 campus tour. Mr. Golding also showed the school's pantry, which he says has about P300,000 worth of ingredients at any given time.
There were a host of classrooms and conference rooms (of course), but also a demo kitchen, in which the school's most expensive single piece of equipment is located: the latest model of the Rational iCombi Pro, an advanced oven costing more than P1 million.
The new campus began construction right before the pandemic, but only opened its doors in January of this year. "We feel like it's a welcome change," Badjie Trinidad, President of CCA Manila, told BusinessWorld. "For a very long time, we've been in the Katipunan area. Now we're opening more programs, collaborating more with the industry, being accessible and providing a community for the students [which] is very important now."
CCA Manila has been around for 27 years, and with that age comes the need to maintain its equipment, which partly explains the move. "Of course it needs to be redone. Maintenance. The equipment has been there for so long, and it was time to upgrade," said Ms. Trinidad, whose mother, Annie Guerrero, founded the school after establishing the Cravings restaurant (which has also expanded into several more outlets). "We were doing so well in terms of programs, faculty; but then when it comes to physical facilities, parang mababa lagi iyong score (we get low scores). To have it renovated — [we] might as well bring it to an area that's more accessible."
FORGING PARTNERSHIPS
The move to the UP BGC campus also reflects various academic partnerships the school has. Ms. Trinidad simply said about getting the space, "It just so happened that UP was given this space, and since we're all alumni of UP also, they said that there would be a possible area for us to rent and lease out from them. That's how it started."
They already have a running partnership with the UP Los Baños campus in Laguna for a Diploma in Culinary Agripreneurship. The school is also developing a kitchen in the UP Diliman campus, inside the University Hotel. This would become the site of their short courses, especially one that concentrates on Filipino cuisine.
They are setting up several satellite kitchens: one facility is being planned in Tagaytay for a plant-based kitchen and cooking course, while they also took over the kitchen left behind by Gourmet Gypsy in Quezon City's Maginhawa St. when chef Waya Araos-Wijangco moved to Baguio. That kitchen will host its lifestyle culinary programs (mostly short courses, but also a program that benefits food vloggers and celebrities). They are also building a kitchen with Thames International as part of an academic partnership. It also has a partnership with the University of Asia and the Pacific, under the university's Bachelor of Science in Entrepreneurial Management, Major in Culinary Arts (a part of the coursework is spent in CCA's kitchen).
"We have to keep forging partnerships, wherever it is, to help us fulfill whatever their goal or their dream is," said Ms. Trinidad.
Ms. Trinidad says that they keep track of their alumni through tracer studies, which show them where their students have gone and what their employers say about them. "Kapag nag-hire daw ng CCA, alam na nila iyong gagawin nila (when they hire students from CCA, the alumni know what to do)," said Ms. Trinidad, speaking about feedback they receive from employers, both here and abroad.
"What keeps us going is seeing our success stories. When we hear about our graduates doing well, we forget all the hardships we had to go through."
For inquiries and enrollment details, visit the official website at http://www.cca-manila.edu.ph. — Joseph L. Garcia