A diverse mix of celebrities flexes their comedy muscles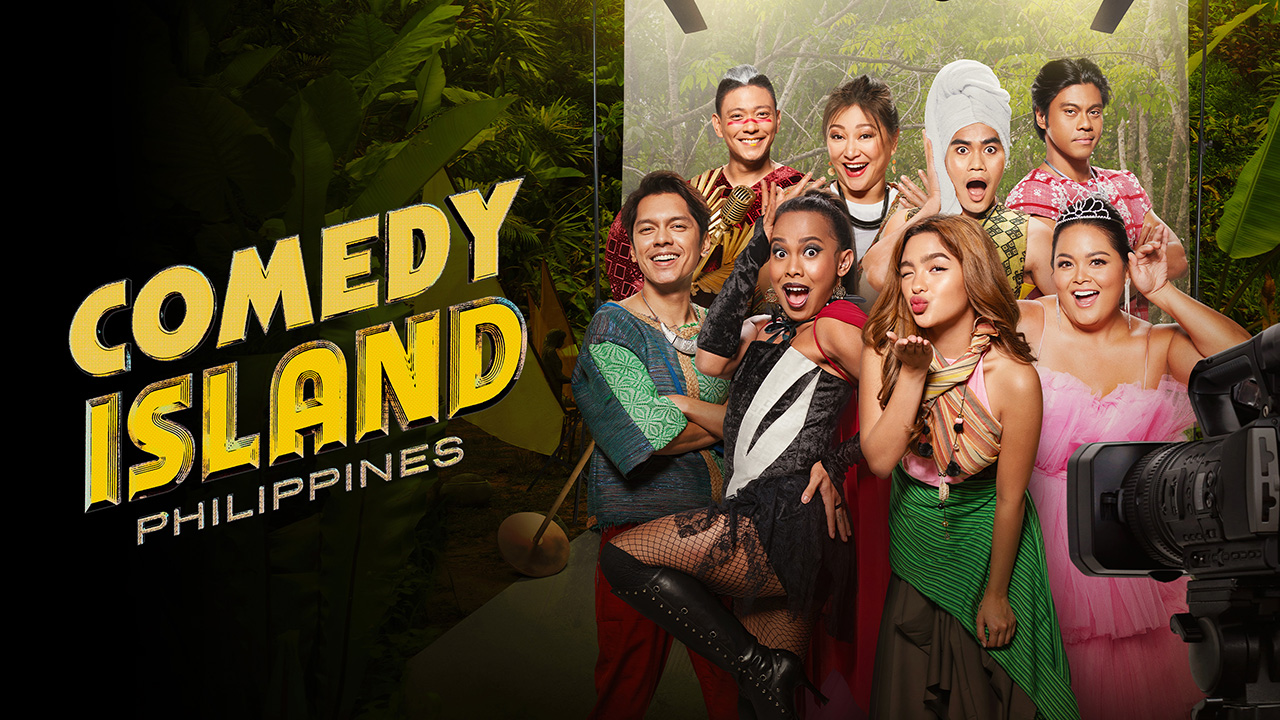 COMEDY icons, dramatic actors, and social media stars come together in Comedy Island Philippines, a series which premieres on Aug. 31 on Prime Video. The series is a hybrid of scripted scenes and unscripted fun that allow the contestants to show their improvisational comedy chops.
Comedy Island Philippines presents a story where the protagonists find themselves stuck on a magic island with the world possibly ending, but it also pits the cast members against each other in unscripted scenarios to determine a winner.
The cast — actors Carlo Aquino, Rufa Mae Quinto, Andrea Brillantes, Jerald Napoles, and Cai Cortez, internet stars Awra Briguela and Justine Luzares, and Drew Arellano — are supposedly washed up on the shore of the mysterious Tawa-Tawa Island. For the fictional "Centennial Games," the castaways must compete in various games and improvise to survive and escape the island.
Though Ms. Quinto, Mr. Napoles, and Ms. Cortez have previously shown off their comedy skills on film and television, it will be a first for many of the unexpected wild cards.
"Noong inalok 'to sa 'kin, kinabahan ako. Kaya tinanggap ko (When I was offered this job, I got nervous. That's why I accepted it)," said Mr. Aquino at a press conference at the Teatrino in Greenhills on Aug. 30.
Known for more dramatic, heartthrob-type roles, he approached the challenge of Comedy Island as exciting new ground that he could explore along with the other cast members, he added.
For Ms. Brillantes, a young, sweet, and quirky actress with a wide following on social media, the show is also her chance to show that she has skills that many Filipinos have not yet seen.
"Feeling ko kasi may potential talaga ako maging comedian (I really feel like I have the potential to be a comedian)!" she said at a press conference.
In a self-deprecating manner, she added that even if others may be better at making people laugh, she balanced the cast by providing all of the "cuteness."
Quark Henares, Prime Video's head of original content for the Philippines, said that the goal was to have a diverse cast and put them in a place where they can unexpectedly let their talents shine.
"Awra Briguela and Justine Luzares, for example, are comedic internet personalities who haven't really seen improv comedy. It's a different, exciting environment for them," he said.
Even for the host (known as "Master of Celebrities" in the show) Drew Arellano was challenged since he had only hosted shows as himself and not as some flamboyant, improvising character.
"There's something that would kind of attract every sort of comedy or entertainment fan. We put it all together and let them play," said Mr. Henares.
REPRESENTING THE PHILIPPINES
The six-part series, produced by Amazon Studios in collaboration with BASE Entertainment Asia, is one of three versions in a franchise, along with Comedy Island Indonesia and Comedy Island Thailand.
All three were filmed on the same island in Phuket, Thailand, albeit at different times using different variations of the set.
Tanya Yuson, a producer at BASE Entertainment Asia, said this led to many logistical challenges, from weather inconsistencies to having to figure things out on the fly, since this was the first ever series of its kind.
"The brief actually came from Amazon Studios APAC. They have a regional head for unscripted content so they just gave the concept to us and, for the most part, trusted each country to execute it their own way," she explained.
The cast was handpicked carefully to ensure an interesting mix of diverse professional backgrounds, from comedy stalwarts to young celebrities.
"Improv classes and workshops were given to all of them beforehand, to make sure they would be equipped to take on the various games, skits, and activities in the show," said Ms. Yuson.
For Randolph Longjas, the director of Comedy Island Philippines, an important part of making the series as Filipino as possible was drawing from local mythology for the scripted story.
Growing up in Leyte, he drew from stories of the mythical island of Biringan, an advanced city that can provide gifts to humankind but that no one can explicitly talk about or ever visit.
"I wanted the universe to be relatable in terms of our folklore, from how the cast ended up there to why the island even exists. I adapted the concept of Biringan for Comedy Island, but I just named it Tawa-Tawa," Mr. Longjas said.
He added that his initial story pitches to Ms. Uson didn't pass, and he only had the mythical concept as a wild card. "She said no to the first three [ideas], and when I presented this one, she instantly said it was perfect," he said.
WHAT COMES NEXT
The six-part series will launch with three episodes streaming back-to-back each week over a two-week period, from Aug. 31 to Sept. 7.
On whether a second season is being planned, Mr. Henares said that it will depend on the success of the show.
As head of Amazon Originals for the Philippines, he added that Filipinos should take pride in the fact that the series will be available on Prime Video not just locally, but in over 240 countries and territories worldwide.
"Philippine humor is different and will be interesting for non-Pinoys. We're kengkoy (jokesters) and wholesome and we lean more towards the family-friendly, action, and adventure genres. Our comedy is very feel-good," he said.
Comedy Island Philippines joins the thousands of TV shows and movies in the Prime Video catalogue, including exclusive local Filipino titles such as Fit Check: Confessions of an Ukay Queen, Cattleya Killer, Ten Little Mistresses, Walang KaParis, and Deleter.
Mr. Henares also gave a rundown of upcoming Filipino titles to look forward to on Prime Video — from In My Mother's Skin, the Filipino horror film that garnered acclaim at Sundance Film Festival, and the rambunctious next season of Drag Den with Manila Luzon.
"We really want to delight everyone, from serious films to comedy to horror to romcoms. We come out with homegrown content at least once or twice a month," he said.
Prime Video is available in the Philippines for P149 per month. For more information, visit www.primevideo.com. The streaming service offers a free seven-day trial. — Brontë H. Lacsamana