Agriculture output growth seen flat over rest of term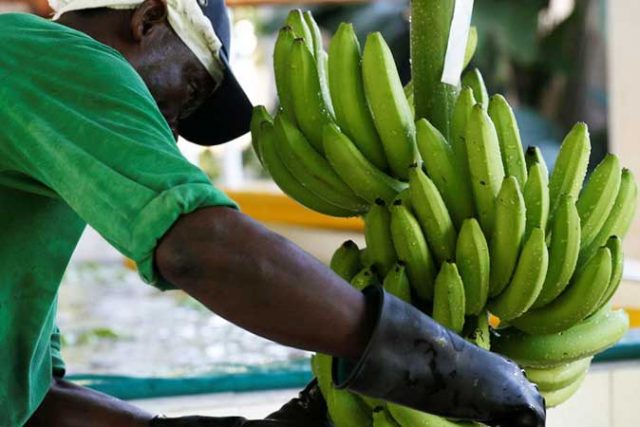 By Revin Mikhael D. Ochave, Reporter
THE GROWTH of the agriculture sector is expected to be flat to lower over the remainder of President Rodrigo R. Duterte's term, according to industry groups and experts.
Mr. Duterte will deliver his sixth and final State of the Nation Address on July 26 and is due to end his term in June 2022.
Calixto V. Chikiamco, Foundation for Economic Freedom president, estimated that "for 2021, (agriculture output) might be flat or even negative, depending on further disruptions caused by the pandemic lockdowns, control of the spread of African Swine Fever (ASF) and adverse weather. In the first quarter, agricultural production dropped 3.3%, so positive growth for the year would be optimistic," Mr. Chikiamco said via mobile phone.
However, Mr. Chikiamco said Mr. Duterte should be credited with the signing of Republic Act No. 11203 or the Rice Tariffication Law that removed quantitative restrictions on rice imports.
"It is significant because the law caused rice prices to stabilize and raised billions in revenue from tariffication that went into a Rice Competitiveness Enhancement Fund.  Unlike the period before liberalization, rice price inflation is no longer a major factor in consumer price increases," Mr. Chikiamco said.
"Secretary (William D.) Dar has steered the Department of Agriculture (DA) correctly in addressing the structural problems of the agriculture sector and pursuing an agribusiness modernization strategy. However, he lacks the time and the agricultural budget to implement his strategy," he added.  
Mr. Dar said in a mobile phone message that the government posted record production of 19.44 million metric tons of palay — or unmilled rice — in 2020, increasing rice self-sufficiency to 90% and lowering rice prices. It also achieved higher production for other crops such as corn and coffee.  
Mr. Dar added that the DA can do more during Mr. Duterte's last months but urged the government to increase its budgetary support for agriculture.  
"(The DA) has P80-billion budget in 2021. We submitted to the Department of Budget and Management (DBM) a budget of P250 billion for 2022. The government must show the way in increasing its budgetary support for agriculture as this will encourage the private sector to come in big and invest in the sector," Mr. Dar said.  
"The use of technology and innovation must be a way of life in the sector to have higher productivity and farmer incomes," Mr. Dar said.
Raul Q. Montemayor, Federation of Free Farmers national manager, said in a mobile phone message that the group is not expecting much heading to Mr. Duterte's final months as president. 
Mr. Montemayor said the Duterte administration should focus its remaining efforts on improving the income and welfare of farmers and improving the efficiency of the food system and value chain.
"Mr. Duterte has not really laid down clear policies and directions for the agricultural sector from the very start.  His agricultural policies are determined mainly by the economic managers, with a bias towards imports and inflation control at the expense of farmers," Mr. Montemayor said.
Mr. Montemayor added that the government cannot consider the Rice Tariffication Law and Republic Act No. 11524 or the Coconut Farmers and Industry Trust Fund Act as accomplishments.
"Both laws were enacted despite opposition and criticism from farmer groups. The laws are only accomplishments for them and not for the agriculture sector since they rammed it through over the objections of farmers," Mr. Montemayor said.
Rosendo O. So, Samahang Industriya ng Agrikultura chairman, said the group is also not expecting much in the final year of the administration, adding that retail prices of agricultural commodities are higher compared to the previous administration.
"Per Philippine Statistics Authority (PSA) record, regular-milled rice was P34 per kilogram (/kg) in 2015, now it is P38/kg. Pork was P190/kg and chicken was P120/kg, in 2015. Now, it is P330/kg and P160/kg, respectively," Mr. So said in a statement over the weekend.
In a mobile phone message, Tugon Kabuhayan convener Asis G. Perez said he backs the creation of a fisheries department.
"We should pursue the creation of Department of Fisheries and Aquatic Resources as a long-term structural foundation of proper management, conservation protection, and sustainable utilization of the country's resources," Mr. Perez said.
Mr. Perez, also a former Bureau of Fisheries and Aquatic Resources (BFAR) national director, said the group is "cautiously optimistic" moving forward since the DA is working with the fisheries industry in increasing production amid the loss of access to fishing grounds in the West Philippine Sea.
"We also need to increase BFAR's capabilities by adding more people and vessels for enforcement," Mr. Perez said.
Roy S. Kempis, Pampanga State Agricultural University professor, said the DA cannot do much more since its efforts are subject to the absorptive capacity of the farmers and rural agriculture entrepreneurs.
"However, the government could energize the agricultural community by clustering and linking them to commercial markets through companies/businesses providing some resources and access in return of volume and consistency of supply in a fair price system," Mr. Kempis said in a mobile phone message.
Glenn B. Gregorio, Southeast Asian Regional Center for Graduate Study and Research in Agriculture director, said the government can move towards more integrated infrastructure support for fisheries, help make agriculture more resilient to natural hazards and calamities, and provide long-term interventions in areas such as biosecurity in livestock and poultry.
"What we need is a more science-based and forward-looking structure, institutional, and operational reforms in the agriculture sector that must be sustained across different administrations," Mr. Gregorio said in an e-mail interview.
Maura David de Leon, president and CEO of stevia grower Glorious Industrial and Development Corp., said in a mobile phone interview that the government can help in providing farmers with more accessible credit to boost production.
Ms. De Leon said Mr. Duterte and the next administration can help by preserving agriculture areas for food production, establishing agribusiness hubs for every district or province, and providing incentives to young farmers and entrepreneurs.
"Translating basic farming to agricultural entrepreneurship through national policy could change the perspective of young individuals that agriculture is a promising and worthwhile professional undertaking. Institutionalizing the business perspective in agriculture will attract the youth to embrace and continue cultivating their farmland," Ms. De Leon said.