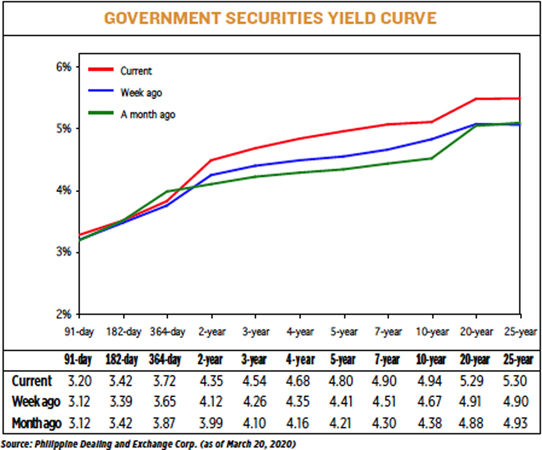 GOVERNMENT SECURITIES (GS) yields went up across-the- board last week as market players grapple with uncertainties brought by the coronavirus disease 2019 (COVID-19).
On average, GS yields went up by 25.8 basis points (bps) week on week, according to the PHP Bloomberg Valuation Service (BVAL) Reference Rates as of March 20 published on the Philippine Dealing System's website.
At the secondary market on Friday, yields on the 91-, 182- and 364-day Treasury bills went up 7.5 bps, 3.1 bps, and 6.7 bps, to fetch 3.199%, 3.422%, and 3.721%, respectively.
At the belly, yields on the two-, three-, four-, five-, and seven-year Treasury bonds (T-bonds) rose by 22.6 bps (4.348%), 27.2 bps (4.536%), 33 bps (4.681%), 38.7 bps (4.797%), and 38.8 bps (4.900%).
Rates on longer-term papers likewise climbed, with yields on 10-, 20-, and 25-year T-bonds up by 26.7 bps (4.940%), 38.5 bps (5.291%), and 40.5 bps (5.301%).
"Local yields rose across-the- board as market participants liquidate positions amid strong cash demand following the implementation of the enhanced community quarantine [last] week. There was also some upward pressure over prospects of fiscal support locally and globally which might entail higher borrowing rates for sovereign issuers," a bond trader said in an e-mail.
UnionBank of the Philippines, Inc. Chief Economist Ruben Carlo O. Asuncion likewise attributed last week's yield movements to increasing preference for cash: "Normally, yields should be declining during these uncertain times. But instead, it is moving higher. This may mean that there is a lack of liquidity in the market as investors seek to raise cash.," he said.
In a separate e-mail, ING Bank N.V.-Manila Senior Economist Nicholas Antonio T. Mapa said local GS yields tracked other markets in emerging economies with a "broad risk-off tone" enveloping Asia.
"Despite central bank action, bonds sold off on extreme uncertainty as markets remain skittish over growth prospects," Mr. Mapa said, referring to last Thursday's widely expected policy rate cut by the Bangko Sentral ng Pilipinas (BSP) to shield the economy against the impact of COVID-19.
President Rodrigo R. Duterte placed Luzon under enhanced community quarantine until April 13 in order to contain the spread of the virus in the country.
There were 380 COVID-19 cases in the Philippines as of Sunday morning with 25 deaths.
On Thursday, the BSP's Monetary Board (MB) slashed policy rates by 50 bps, reducing the overnight repurchase rate to 3.25%. Likewise, overnight lending and deposit rates have been trimmed to 3.75% and 2.75%, respectively.
This latest rate cut follows the 25-bp reduction in February, bringing the cumulative reduction in the BSP's key policy rates to 150 bps since 2019, almost completely unwinding the 175 bps in hikes implemented in 2018.
The central bank also imposed additional regulatory relief measures amid business disruptions due to the Luzon-wide quarantine meant to contain the spread of the virus. Among these measures, according to BSP Governor Benjamin E. Diokno, include the authorization of "time-bound, temporary relaxation of BSP regulations on compliance reported by banks, calculation of penalties on required reserves, and the single borrower limits."
For the week, analysts expect yields to continue moving northward.
"Yields might move sideways with some upward bias, especially in the long-term end of the curve, amid rising expectations of expanded fiscal stimulus locally and abroad. However, there might still be downward pressure on short-term yields amid likely aggressive dovish moves from the BSP and other major central banks abroad, particularly the US Federal Reserve and the European Central Bank," the bond trader said.
ING Bank's Mr. Mapa said yields "will likely be pushed higher again this week " until we see a turn in the tide in the fight against COVID-19."
For UnionBank's Mr. Asuncion: "We will probably see more of the uptrend but there may be a downward pressure as global central banks try to drive rates lower." — Jobo E. Hernandez