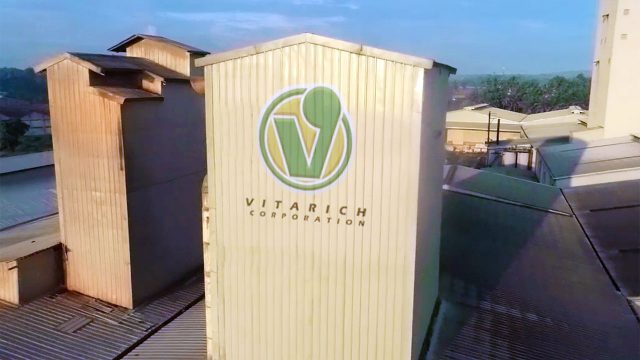 VITARICH Corp. swung to profitability as it posted a P90.42-million net income for the second quarter on the back of higher revenues and growing customer demand.
Its second-quarter net income is a reversal of the P81.54-million net loss it suffered a year ago.
Vitarich said in a stock exchange disclosure on Monday that revenue for the quarter rose 59% to P2.41 billion from P1.51 billion a year ago.
For the first half, Vitarich posted a P276.94-million net income, higher by 24 times compared with its P11.56-million profit a year earlier.
"The historic performance was fueled by growing customer demand and increased pricing along with lower costs of raw materials and more efficient production from higher plant capacity utilization," Vitarich said in the disclosure.
The company's revenue in the first six months amounted to P4.4 billion, up 15% as all product categories improved.
Vitarich said its feeds segment, which accounted for 48% of total revenue, posted a 3% increase to P2.1 billion due to stronger order intake from distributors driven by new entrants in large poultry farms and end-customers switching products, and new commercial clients.
Its foods segment, which contributed 44% of total revenue, posted a 26% jump to P1.9 billion on the back of volume growth after the relaxing of lockdown restrictions and higher prices.
Revenue from the farm segment, which shared the remaining 8%, rose 43% to P340.6 million due to higher volume and prices from the sale of day-old chicks.
Meanwhile, Vitarich said its operating income improved by almost nine-fold to P382 million.
"The progress reflects the company's multi-year plan to scale up and improve efficiency, with operating expenses now at 6% of total revenues from 10% for the same period in 2016," the company said.
Ricardo Manuel M. Sarmiento, Vitarich president and chief executive officer, said the business secured internationally recognized management systems for food safety and quality such as ISO Food Safety and Management Systems (FSMS) and Hazard Analysis Critical Control Point (HACCP) certification as part of efforts to support growth and transformation.
"In the five years since our turnaround and corporate rehabilitation exit in 2016, Vitarich has consistently restored profitability, while investing in manufacturing facilities, and research and technology development," Mr. Sarmiento said.
"Today, our record-high performance, long-term demand expectation, and strengthened balance sheet with reduced debt give us increased confidence in our midterm outlook of progressive margin expansion. We continue to evolve our strategy towards a fully integrated business model focusing on higher value activities," he added.
Moving forward, Mr. Sarmiento disclosed that the company expects to spend P330 million for its capital expenditures this year.
On Monday, shares of Vitarich at the stock exchange rose 1.28% or one centavo to end at 79 centavos apiece. — Revin Mikhael D. Ochave